It's been a year since the dwellers of Vault-Tec's vault 76 emerged in post-apocalyptic Appalachia. They chased down the ghostly clues of the past, trying to figure out what happened have made Appalachia a safer place. Now, people have returned. The Settlers want a place to call home, while the Raiders – who occupied the territory first – see them as squatters and want them gone. Neither side is willing to learn from the past. And then there's you: Seven-Six, the last vault dweller to emerge. Caught in the middle of a brewing war and searching for a long-lost treasure, it's time to choose a side…
So, better late than never, right? Right? RIGHT?!
Well, sort of. This free (or at least free to anyone who owns the Fallout 76 base game) DLC was supposed to debut towards the end of 2019, before it was pushed to back to the first quarter of 2020… and then to a date at the start of the second quarter… and then another week after that. Clearly, it's been an uphill battle for the developers. But as long as the end result is worth it and manages to right all the wrongs of Fallout 76's botched debut then everything's peachy-keen. So has the wait for the Fallout 76 DLC been worth it?
In some ways it truly is, but If players were expecting an all-new game with original content to last a few years, then forget about it. For the most part, this is a re-tooling of the base game, making it more in line with what traditional Fallout players expect: human NPCs, dialogue trees, speech checks, choices and consequences, DJs, improved sound and lighting, and a general sense that your actions impact the world and the people living in it. The original story, for those who are new to the game, is still there to be played through – you just get your information a bit differently, now that the world is inhabited. You chat with characters, rather than reading notes and listening to holotapes.
That may not sound like much but it does make a noticeable difference, and if you're a new player starting from scratch then you'll get a far more immersive experience. As reboots go, this is about as solid as anybody could have wanted and it doesn't feel like the NPCs and their dialogue have been shoehorned in. It all feels like an organic fit. Their addition doesn't necessarily make the story any better or worse, but it's far more interactive and that's what players needed rather than a dead world. If nothing else, it all makes for a better and more enjoyable base game.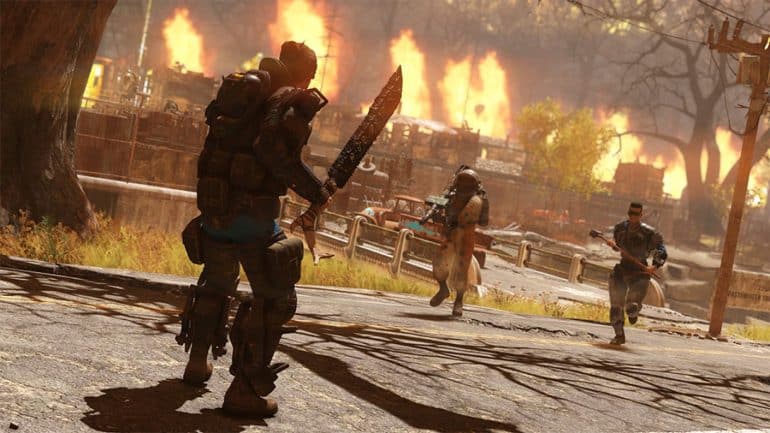 Then there's the new content, which is what veteran players of the game will have been chomping at the bit for. This is a bit of a problem. For all the time that's gone into it making it, it's easy to blaze through it all in a couple of days. Which isn't to say it's lousy… it's just really short. There's promise though, and word has it that additional Fallout 76 DLC expansions will be coming, so don't feel too ripped off.
The new Wastelanders questline focuses on a mission from the (now physically returned) Overseer. She wants you to get cosy with the Settlers and Raiders, vaccinate them from the Scorched plague, gain their trust, and then work with either side to gain access to a mysterious new vault containing a Federal Reserve stockpile of gold… amongst other things. The rewards are supposedly plentiful but don't get your hopes up.
You'd imagine that, in a post-apocalyptic wasteland, gold would be pointless. You'd probably be right, too. Hell, we only have to look at modern history to see that true wealth is measured in toilet rolls. Thankfully, you can point out the stupidity of pulling off a glorified bank heist with the Overseer, and gripe about it. Still, it's all about the journey and not the destination. Which is kind of a good thing, because the conclusion to the DLC is like travelling all the way to Wally World only to find it closed.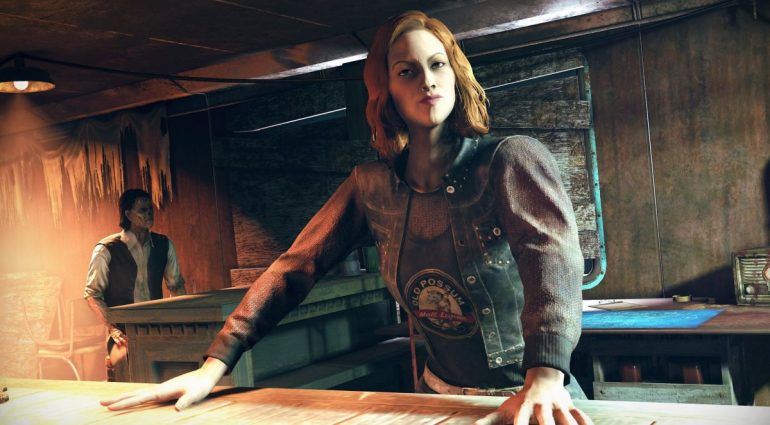 The Settlers are run by Paige, a character more bland than beige wallpaper; he makes Preston Garvey look like Shaft by comparison. The Settlers are an okay bunch with little in the way of personality. The Raiders, by contrast, have had some serious work done to make them well-rounded, complex characters fuelled by various motivations. Not only that but they've got some quirky folks amongst them, including powerhouse super-mutant Gail and her troublemaking human ward Ra-Ra, the lovable Weasel with her artificial voicebox, and Lou – a ghoul so lucky that he can't die, which is great except he wants to commit suicide. This motley crew are led by Meg, a surprisingly kind-hearted, no-nonsense Raider who has no time for prejudice in her gang.
Players will get to explore new and altered locations, discovering buried Chinese bases, new vendors and shops, and mothman cultist camps, as they race to crack Vault 79. There are a couple of other arcs, which will see you helping out the locals at the Wayward bar (Mort, voiced by Jason Mewes, is hilarious), while another couple of storylines will help gain the new-found allies at your camp. Of those, Beckett and DaGuerre have involved quests and three others give occasional reward tasks… or ask you to pull their finger. Don't ask.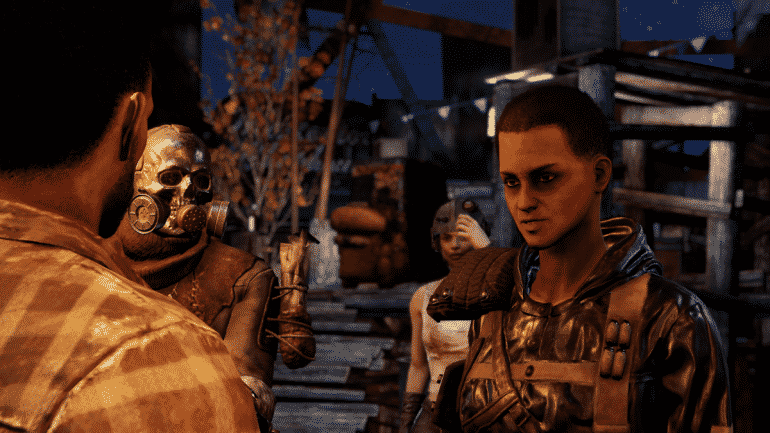 Additionally, there are the new repetitive daily missions which send you on never-ending fetch-quests for faction reputation. These quests rapidly lose their appeal, and create the impression that you're the only competent person trapped in Idiotville. It doesn't help that you're rarely thanked for your efforts across the board – as an example, even after giving the Settlers a stack of gold, Paige didn't acknowledge my generosity, making my choice feel hollow. Owing to the nature of the multiplayer world, you're pretty much stuck with many of these Wastelanders whether you like them or not. Yes, some choices do lock content storylines or eliminate certain characters, but many aren't the world-changing decisions you may have hoped for.
Aside from the shortness of new content and the typical Bethesda bugs and glitches of characters clipping into objects, stuck conversations, etc., a real issue here is the return of weak endgame mechanics. The original base game's grand finale became a boring Groundhog Day loop of grinding for legendary weapons, armour and scrip, and now they've "improved" it by forcing players to grind for treasury notes and gold bullion… which you then can use to buy plans for special new items you unlock after grinding for reputation, as long as you also grind for scrip to buy legendary modules, vault steel too… and on and on it goes. Did Bethesda model their endgame mechanics on the increasingly stupid level of spa doors from that episode of Frasier? Because that's how it feels.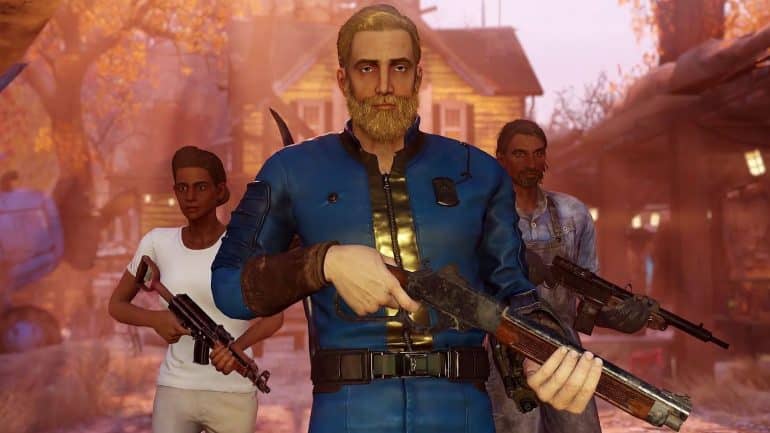 Yes, winning in Fallout 76 grants you the "reward" of being allowed to grind for even more crap. Nobody wanted that. They wanted proper endgame content.
There's a lot to get to grips with and enjoy, and a fantastic platform for even more content. Will this help rescue Fallout 76 and please its diehard fans, while winning over new gamers? Hopefully so. The wasteland just got a lot more interesting, and it's well worth a visit even if you don't want to stick around there.
The Review
Fallout 76: Wastelanders DLC
Complaints aside, there really are significant improvements to the game here and Bethesda should be proud of themselves. They've put lots of work into making this something that's enjoyable, and as a new beginning, it really does succeed – even with that weak endgame for the older players.
Review Breakdown
Storyline

0%

Gameplay

0%

Graphics

0%

Replay Value

0%

Sound and Music

0%