"…We have consistently worked to improve and evolve the experience based on your feedback." – Bethesda Game Studios. If that statement is true, then Bethesda Game Studios and Fallout 76 are completely tone-deaf to the community of players. That's because, on a day in which the game was supposedly "celebrating" the atomic war, Bethesda dropped an unwanted bombshell on its Fallout players… and they retaliated in astonishing ways.
The Fallout 76 community, generally acknowledged as one of the most helpful, friendly and easy-going in gaming, delivered a massive backlash to Bethesda both online and even in the game itself. While some simply complained on forums, others altered their CAMPs to reflect their harsh feelings while one individual actually bought out a "FalloutFirst" web domain, lashing out by altering Bethesda's own Fallout announcement in an amusing profanity-packed rant.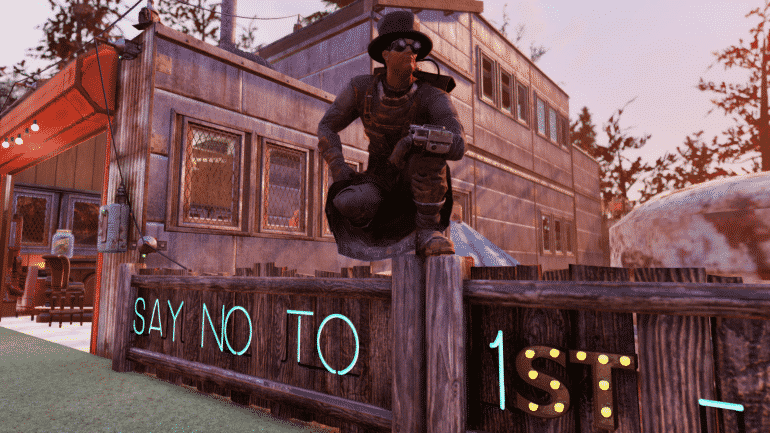 The reason? Fallout 1st, a new mode which gives subscribers the option to play on a private world. And it has little to do with the cost, and more to do with the addition of Scrapboxes.
For players, the stash limit of the game has been a sore point since its launch. Players have spent countless hours grinding for scrap in order to build and modify items. Unlike in earlier games like Fallout 4, which had an infinite stashbox limit to make the grind more tolerable, in Fallout 76 the stashbox was initially limited to 400lbs. Over time, it was gradually raised first to 600lbs and then 800lbs. The reason for the limited stashbox limit? Apparently, in part, it was to ensure that the game runs smoothly – an almost laughable concept now, given the game's notorious instability and regular crashes across all platforms even at the best of times.
The new mechanic of the Scrapbox, however, allows players to have access to an infinite amount of collected junk – an apparent contradiction to the reasons given for not being able to implement this feature. This presumably means that either the stash limit all along was bogus, and the only way to get past this problem (which shouldn't exist at all) now rests behind a paywall, or the system has been reconfigured.
Either way, the point is that all players should be able to benefit from something which appears to have been one of the features of the base game which players already paid for. After all, it was Bethesda Softworks vice president Pete Hines who once advised players to "Store away. Not aware of any limit" back in 2018. That may have been true once, but now it seems like players have to pay extra for that privilege.
The game has recently faced increasing scrutiny from its dedicated fanbase over "utility items" like scrap kits and repair kits, and the Scrapbox definitely falls into this category. While not pay-to-win by the literal definition, they can grant a genuine advantage over other players in certain circumstances. Forum users have repeatedly warned that items like these have been the start of a slippery slope towards pay-to-win, but previous items have been available in the Atomic Shop for atoms, an in-game currency which can be gained through simple grinding in the base game.
The new Scrapbox, however, is different; it represents one of the first genuine benefits for players to come solely from real-world money.
Reddit and other chat forums have been flooded with countless complaints from players, while some of YouTube's most dedicated Fallout 76 fans and content creators have voiced their own thoughts on the matter.
Fallout lore expert Oxhorn issued a statement on Twitter, saying "I am also frustrated that this paid membership eases two arbitrary pain-points in the game. CAMP limit in the form of the Scrapbox, and fast travel cost in the form of the Survival Tent. To avoid accusations that Fallout 1st is becoming 'pay to win', Bethesda should include solutions to both of them in the base game…"
Miz Tracey, another Fallout 76 YouTuber, said: "I'm not gonna lie, I'm really bummed with this update. The fact that you have to pay for unlimited scrap storage after they told us it was impossible, because they said it was a problem with servers, but now you can do it if you pay for it, it's kind of a slap in the face… I've always tried to be very positive, but I'm kind of out of positivity right now."
"It's kind of a slap in the face," echoed JuiceHead, who argued both the positives and negatives of the Fallout 1st subscription. "Just last week we saw the official delay of Wastelanders from Bethesda, and in that they actually talked about utility items in Fallout 76 and how they were going to expand that category… just a few days later we see this new addition that is definitely pretty far on the pay-to-win scale – this Scrapbox in particular…"
Further backlash from the community revolved around the additional Survival Tent C.A.M.P. that paying customers gain with the purchase of Fallout 1st, acquiring the much-requested Ranger Armor outfit and an Icons and Emote pack – none of which are available in the Atomic Shop. As for the cost, many are questioning paying an equivalent fee of US$12.99 per month or US$99.99 per year for a world that, at present, can't be modded in any way and provides a near-identical gaming experience to the base game.
And for those who are buying into Fallout 1st, the controversy never ends. An increasing number of players are already claiming that items placed in their infinite Scrapboxes have disappeared, losing them valuable in-game resources. Others have noted that "private world" doesn't mean private servers, and complaints springing up about players listed as friends being able to join the world without being invited.
After the announcement that the highly-anticipated Wastelanders downloadable content would be postponed until Q1 next year, player morale has hit new lows. Even though many agree that they would rather have a polished game over another rushed and flawed game, many players feel that Bethesda has taken their goodwill for granted. The release of Fallout 1st appears to be pushing the limits of that goodwill to breaking point, leaving the future of the game increasingly in question.