Are you ready for a Face/Off sequel without John Travolta and Nicholas Cage? Well, it's happening.
The 1997 action thriller Face/Off was an absurd but entertaining movie about an FBI agent who switches faces with a criminal mastermind- which can obviously never play out well- in order to stop a terrorist plot.
Despite its absolutely ridiculous premise, the film was loved by fans and went on to earn $245 million worldwide making it the 11th highest-grossing film of 1997. Now, almost 24 years after the release of this cult classic, Paramount has decided to reboot the action blockbuster.
On Thursday, Deadline shared the news that multi-talented director Adam Wingard, who is also attached to the upcoming movie Godzilla vs. Kong, has been secured to direct and write the new film alongside co-writer Simon Barett.
After talks that the new project might be a remake of the classic film, Wingard took to social media to clarify his intentions. "I would NEVER re-imagine or remake FACE/OFF. It's a perfect action movie, Simon Barrett and I are writing a direct SEQUEL!" he wrote.
Thankfully, it seems that both Wingard and Barett share the same sentiments as his co-writer took to Twitter to share:
"Face/Off is a miraculous film, we would never attempt to directly recreate its magic, but we are very excited about what we have planned…"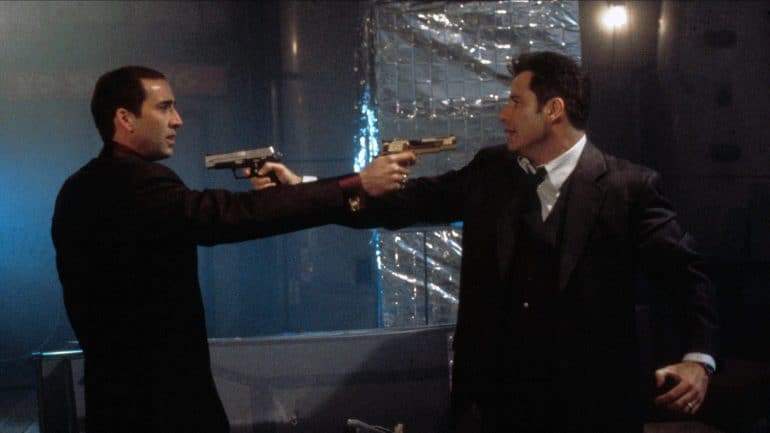 One cannot even begin to imagine what a 'direct' sequel for the original movie might hold in store, especially when the said sequel is rumoured to be recasting its iconic leads. John Travolta and Nicholas Cage formerly played enemies Sean Archer and Castor Troy, but are not currently set to return to the upcoming film in any way – which is possibly why the idea of a remake seems so difficult to digest.
Director Adam Wingard is certainly one of the best genre filmmakers of his time, but without Travolta and Cage, can a 'direct' sequel to Face/Off live up to the fame of its predecessor? It seems as though the director/writer has a tremendous feat on his hands if he is to do just that.
Currently, there is no known release date or synopsis available for the movie, but let's hope that Wingard takes to Twitter again to share more information on his upcoming project.
What do you imagine a direct sequel of Face/Off would look like? Do you think director Adam Wingard can pull off a sequel to this iconic movie?