2019 marks 10 years of Codemasters' license with Formula 1 to develop the official F1 game franchise. No small feat when you consider 10 years ago they would have been dealing with Mr Bernie Eccelstone, a notoriously tough negotiator and highly protective of his golden goose.
The main problem came with having to deal with the spider's web of bureaucracy that comes with dealing with motor manufacturers who spend hundreds of millions of dollars developing technology to make their car 1/10 of a second quicker, racing drivers who are as much brands as the shoes and watches they get paid millions to wear, and Mr Eccelstone himself, who micromanaged those early releases like he micromanaged everything else in the sport. The thought of Mercedes being okay with some kid sitting in front of his Xbox putting Lewis Hamilton in a Renault painted Ferrari red was just never going to happen.
Then F1 2016 happened.
I have made no secret of how impressed I was with that game. It became the benchmark by which I measured all other games, and not just in 2016, but every year since. I love the sport and the last 3 releases allowed me to stay in love with a sport which is, in reality, in a really bad place at the moment. Having a game that you can go to after waiting 2 weeks for a race on TV that has Lewis Hamilton qualify on pole and romp to the win leading every lap and every else behind him getting penalties for, you know, actually racing, takes the sting out of it a bit.
Liberty Media bought F1 from Bernie and Genii Capital a few years ago and though they have made some pretty dumb decisions, they have opened F1 up to the fans and this access is clearly visible in how this title has developed.
F1 2019 was released 2 months early. When I heard this I thought, "Uh-oh!" However, my concerns were misplaced.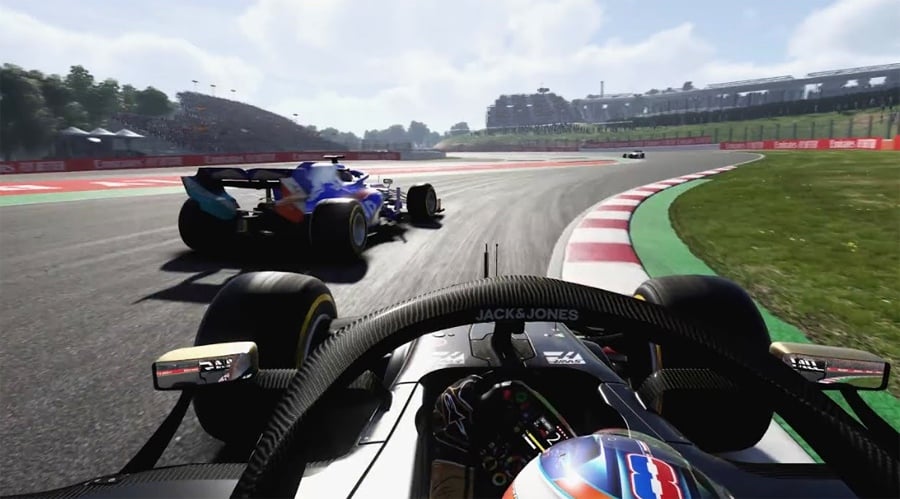 This years release is slicker and more beautiful than last years, and I believe that is due to the access granted to the developers by Liberty Media. Somehow Codemasters have made F1 2019 look better and feel more real. How the hell do they do that?
I'm sitting on a static couch in my lounge, playing on a steering wheel connected to my table. How do they make it feel like you are actually on a piece of tarmac, driving at 300km/h? And added to that, your brakes fade, your tires degrade and the car becomes lighter as you burn off fuel. It's just brilliant!
So we've established that F1 2019 looks better and feels more realistic, but is it really any different in essence to last years release? This is the challenge that plagues all annual releases, but the answer to that is a resounding yes.
The most notable addition in F1 2019 is the F2 feeder series. It makes perfect sense to have it as most F1 drivers come through F2 at the start of their careers. Alex Albon, George Russell and Lando Norris are all F2 Alumni currently in their rookie year on the F1 grid this year.
I have started watching the F2 races on F1 weekends because, quite honestly, it's more exciting than F1 right now. There are some incredible talents happening there and you have the drama of Michael Schumacher's son, Mick, earning his stripes under the watchful eye of the Ferrari Young Driver Academy, and Tatiana Calderon, the only female on the grid, finding out whether a woman can compete with a man on equal terms. It's really great stuff.
Though in F1 2019, it's a truncated version of the F2 season. You do 3 races and they have included 2 rivals for you to compete against and this adds a degree of narrative to what has been traditionally a fairly 2-dimensional racing sim. You compete for the attention of F1 teams and the rivalry gets intense.
Your rivals are pretty stereotypical caricatures of racing drivers. One is a really nice guy, think a young Daniel Riccardo, the other is an arrogant idiot, think a young Lewis Hamilton.
It's a fantastic addition because you have a tangible opponent to beat. In the past, the brand image of the drivers meant you could never really interact with them, but now you have someone you can really despise because of his stupid smug smile after beating you track or landing a sponsor you really wanted. On one occasion, after driving the best race I have ever driven and still being beaten, I went to bed thinking, "F* that guy…" I had to actually remind myself that it's just a game. And that's what makes this game so special. I haven't felt that kind of passion watching the actual F1 races in a while now.
Thanks to the Liberty Media style of management, you can now swap drivers between teams. Every year in F1, in the last 3rd of the season, they go into what's called Silly Season, where the drivers market opens up and teams approach drivers and vice versa and suddenly you have Daniel Riccardo driving for Renault. Now, you can do the same. Sebastian Vettel getting tired of Ferrari screwing his race strategy up? Send him to knock on McLaren's motor home door. All the top teams sick of Lewis Hamilton's self-righteousness? Send him to Williams. Fantastic.
You can now also customise your car's paint job. Do you think a Mercedes would look better in Ferrari's Corsa Rosso red? Go for it. Do you think McLaren looks better in the Senna era orange and white? Treat yo' self!
And all the good stuff that's made its way into the game over the last few years is still there: the car testing and development, the in-season events that raise your profile, everything that makes this game so much more than just a racing sim. Although it is still very much a racing sim, it's also now an adventure through the crazy, spectacular world of the pinnacle of motor racing.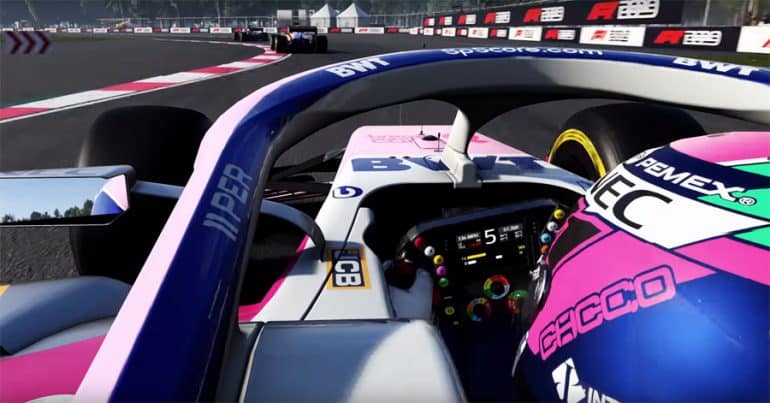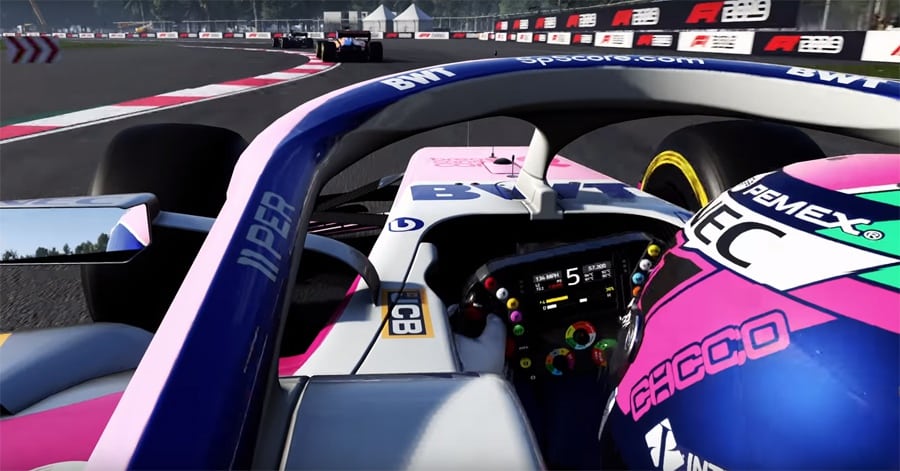 Codemasters has done it again. This years release will remain the absolute benchmark for all games I get the privilege of playing.
Mercedes has for the past 5 years created an F1 racing car that is near perfect and every year I think, well, how are they going to improve on perfection? The law of diminishing returns says the better you are, the harder it is to improve. But Mercedes does it, every single year, they make the perfect racing car.
This is what Codemasters has done with F1 2019. It's as close to perfection as 'dammit' is to a swear word.
The Review
F1 2019
F1 2019 is as darn near close to a perfect F1 game you can get. It's fun, looks great and makes you feel like an F1 driver.
PROS
The game looks gorgeous
So much content
Attention to detail
CONS
F2 career feels too short
Review Breakdown
Storyline

0%

Gameplay

0%

Graphics

0%

Replay Value

0%

Sound and Music

0%