I am in deep trouble. I have recently been flooded with a load of work that's got me working 11 hour days, 6 days a week and the Nerd Overlords at Fortress of Solitude has obviously gotten wind of this. I can imagine them gathering in a dark room in one of their secret locations, making their nefarious plans, the souls of fallen gamers in jars, glowing on the walls like trophies, planning how they are going to take over the world, one nerd at a time and my name comes up. How can they make me snap so they can claim my soul and use it to power their giant Nerd-gina, the machine that is slowly gestating Nerdtopia? The answer is easy, F1 2018!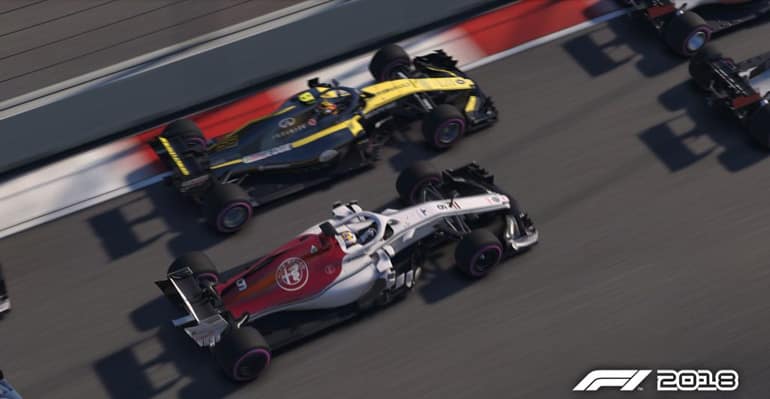 Let me try to explain what giving this game to me to review at this point in my life is like: Imagine you are drowning, then someone hands you a naked woman. You know you have to focus on swimming, or you're going to die, but you really, really want to play. Do you do the responsible thing and make sure you take care of your responsibilities, or do you go down happy? Well, decisions have been made and we will be selling our house soon and we assessed the kids and found the one we believe has the highest chance of becoming successful and we are going to keep her in school. The other one is pretty so she can marry rich. Now you may be asking, Was it worth it? The answer is a resounding yes!
I have made no secret of how I feel about this franchise. Since F1 2016, this franchise has been the gold standard in racing sims. Sure, it's not the hard-core racing sim rFactor is, but that's not really a game you play casually, that's the kind of thing the guys from MIT use to test their Computational Fluid Dynamics systems before building a spacecraft.
Now I'm not saying that F1 2018 can't or shouldn't be played casually, but to get the greatest satisfaction out of this game you need to commit, spend time, really invest yourself and do the full Career Mode.
My wife had some of "our" friends over (her friends). Inevitably the topic of how bad the men in their lives came up and things I either didn't do or did so long ago, came up. Again. To be honest, I switch off after about 3 minutes, but I do remember being told I have commitment issues. It was at that point I could take them to see how, after several dozen hour already, I have taken Alfa Romeo Sauber from the back of the grid up to a regular mid-field contender, how I am attracting the attention of Torro Rosso AND Force India as well having several fairly major performance updates pending for the start of the European leg of the season. Needless to say, that shut all of them up. Commitment issues, pffft!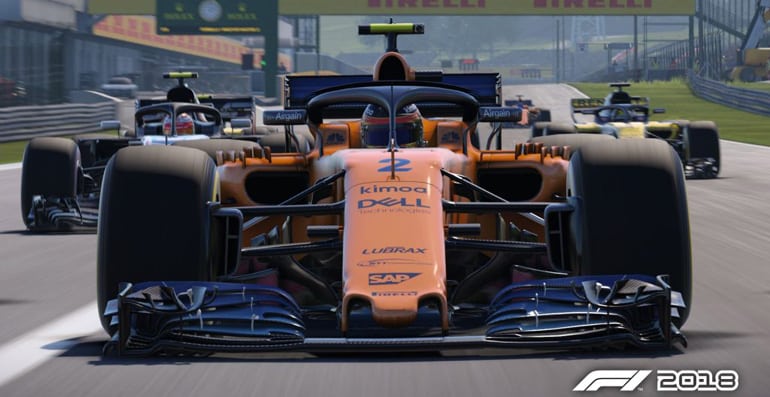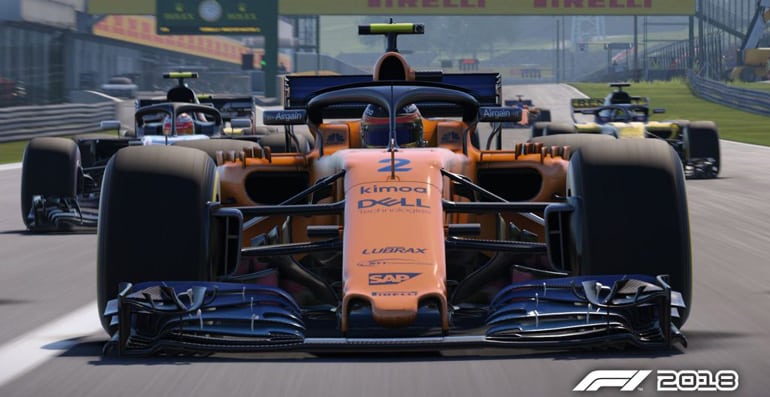 I commit to taking Sauber all the way to the front of the grid, no matter how many hours it may take. So it may be apparent I've lost my marbles, but that's what F1 2018 will do. It is so immersive. F1 2017 was an almost perfect game, in my opinion, so how do you improve on that? It's the law of diminishing returns, we hear about it all the time in F1.
At the start of a major regulation overhaul, like we had in 2014 with the death of the screaming V8 engine and the introduction of the little piece of Techno-Wizardry called the V6 Turbo Hybrid, development is ferocious and immediately noticeable, but as the tech gets more refined, the performance gains curve levels out as the increases become more incremental. That's why the teams were allowed 5 Power Units for 2014 and 15, then 4 in 2016 and only 3 this year (or in the case of Honda it was 20,20,20,20 and this year may be only 16 Power Units, maybe).
That's what F1 2018 is, a series of small, incremental refinements that have made an excellent game "excellenter".
I watch every single F1 race, I have maybe missed 10 races in 20 years, so I get what it's all about, now that Liberty Media has bought F1, the spectacle has increased. Say what you like about the Americans, but they know how to do spectacular! From the time that F1 theme starts playing, the hairs on my neck stand up, I get a little teary and often a little pee comes out, now I can experience that whenever I want! I don't have to wait 2 weeks between races, I just get behind the wheel and get as close as any of us ever will to being an actual F1 driver.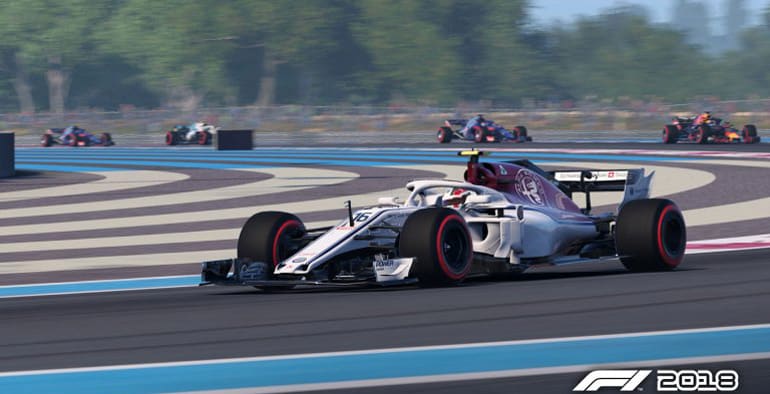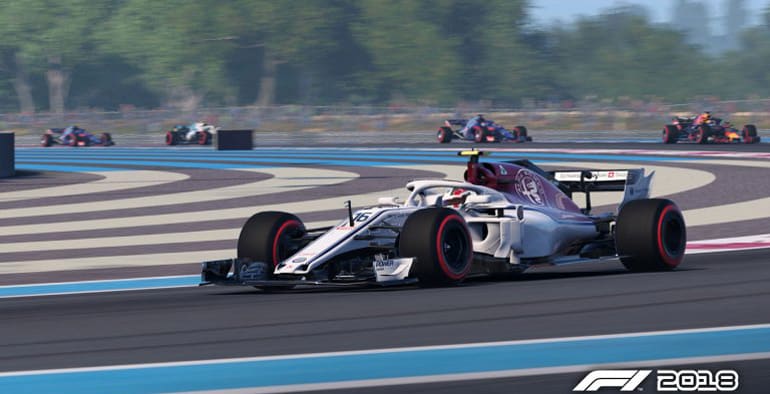 The entire experience is better. It's not one thing, it's a combination of a bunch of small things. The graphics are better. Not crisper, F1 2017 was so crisp it stopped being realistic at certain points. F1 is about precision and order in a world of utter chaos. Race day is dirty, dusty, often hot, and F1 2018 captures that. There is heat haze, there's dust and dirt that gets kicked up after a particularly tense battle on track. At certain points in the action replays, you can fool yourself that you are watching actual Sky Sports TV coverage.
The drivers still look a bit like they were done by a 3rd year in film school in Blender, but that's OK. Except for maybe the reporter, Claire. She looks a little insane when she accosts you after races, but she is hot, so, whatever. Her purpose is to help you build or destroy your career. She hits you with questions and you have a limit amount of time to choose a response. Based on your response, you will develop a reputation of being a Showman or a Sportsman.
I have noticed that Sportsmanship, ie: thanking your team, being humble and just generally not being a doos has gotten me the furthest. I have a great rep with my team, my contract has been renegotiated and I am getting attention from bigger teams higher up the grid. This really expands on the RPG-ness of the game, you really feel like everything you do has a consequence that ripples out across your entire career.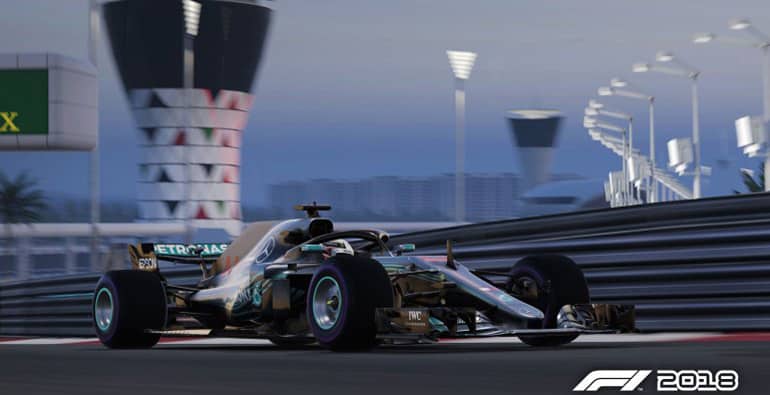 There are numerous challenges you can take part in over a race weekend, which gain you developmental points which you can spend on developing your car in the 3 main areas, namely Power Unit, Chassis or Aero. Earning these points is a lot easier now than it was in 2017 and the thrill I get when I see the performance progress bar slowly climbing is up there with watching my kids being born (just less gross).
I can go on and on about how excellent F1 2018 is. Some have said it's too similar to 2017 and not worth the money, but I say they are wrong. Everything is just that little bit better. The feedback thru the steering wheel is more tactile, the suspension and tyre wear are more realistic, how they make you feel like you are really in a racing car when there is no lateral force being exerted on your body is a total mystery to me, but the Super Nerds at Codemasters have just gotten better and better at it.
F1 2018 is totally 100% worth buying. If I didn't get it to review, I would be begging my dealer to take my money. To quote my Great Grandfather, this game "maak my stok-styf in die onderlyf", and I think that pretty much sums it all up.
Thank you Codemasters and thank you, Nerd Overlords at Fortress of Solitude, F1 2018 may have cost me everything, but it was totally worth it!