Be honest, when we first saw the trailer for Capcom's Exoprimal, we all thought the same thing.
Can you believe it's been more than three years since BioWare's underwhelming mech-suit game, Anthem, was released? From its first announcement, fans were worried that this game would turn out to be just a quick cash grab. Unfortunately, the game was marred with all kinds of issues, from being rushed to very little end game content, to just plain feeling un-fun and uninspiring at times.

During Sony's State of Play event, Capcom announced Exoprimal, a game that looks eerily similar to Anthem — albeit with dinosaurs. Fans initially thought that this would be the long-rumoured next iteration of Dino Crisis. Unfortunately, all they got was muscle-bound heroes in robot suits fighting off waves of dinos.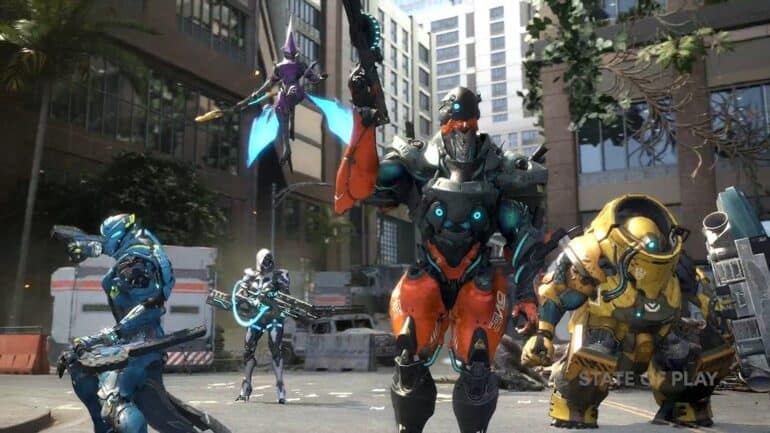 Just like Anthem, Exoprimal takes place in the far future where strange vortexes have begun to open in the sky and release a literal flood of dinosaurs onto our world. It's up to a squad of mech suit-clad heroes to stop the tide of dinosaurs and help mankind survive. Basically, it is a co-op game where you and your friends don robot suits and team up to fight off waves of giant reptiles. It literally, sounds just like Anthem which saw you and your friends fighting off various alien creatures in your robot suits.

Exoprimal even features unique robot suits each with its own abilities. There is a big bruit suit with a shield (which likely is the tank of the group), one with a machine gun and missiles (the all-rounder) and even one sporting two blades (the rogue of the team). The Suits in Anthem followed the same archetypes, letting players outfit their teams with different suits with similar abilities.

What does differentiate Exoprimal from Anthem, except for the Dinosaurs, is that the game will have a PvP element along with its PvE. Two teams will be facing off against each other and compete in various missions. The aim of these missions will be to complete the objectives as quickly as possible and you have to decide if you go against the other team or work together.

While Anthem took place in an open world, Exoprimal seems to revolve around missions and would not have an open world to explore. The PvP element was something that fans of Anthem (yes, there were a few) felt was missing. Hopefully, the addition of this in Exoprimal will help the game stand out.

It seems obvious that Capcom took at least some inspiration from the 2019 online multiplayer action role-playing video game. Hopefully, they didn't take too much inspiration and the game actually turns out to be good.
Can Exoprimal succeed where Anthem failed?