Stan Lee lived up to his nickname. He was indeed "The Man". 'Nuff said.
Actually, scratch that last part. That isn't 'nuff. Not by a long shot.
Stan Lee was a true legend, co-creating many of the biggest Marvel characters of all time. He was respected throughout the entire comic book industry across the entire world, changing the way that comic book stories were told and bringing depth to characters as nobody had ever done before. His storytelling and his creations have entertained billions of comic book fans, moviegoers, TV viewers and more. He was a one-man PR juggernaut, a businessman, a philanthropist, a former member of the Signal Corps and later a playwright with the US Army, a spokesperson, a movie, TV show and internet celebrity.
He was a husband, a father, and a friend to… well, seemingly to everyone.
The outpouring of condolences for his passing is already staggering. People from all walks of life have expressed the loss they're feeling, from A-list celebrities to ordinary everyday folks, because he really did mean that much to so many. In countless interviews and appearances, he had a natural charm, flair and mocking self-deprecation of a true storyteller – one who could win over audiences easily and turn fans into friends. For all his great storytelling, it was that ability to reach people on a personal level which helped him win over the readers of Marvel's superheroes.
He spoke to Marvel readers directly in his comics, with informal narration in the stories and playful one-on-one banter with fans in the letters pages. He spun out catchphrases that caught on quickly, even being paraphrased by world leaders years later. He gave nicknames to the writers and artists in the Marvel bullpen, introducing them to the world like they were celebrities and creating a personal bond. He led the Merry Marvel Marching Society in song, giving Marvel fans a sense of belonging at a time when reading comic books was still considered something embarrassing just for kids. He would inspire creators and readers alike, and changed the way that the world saw superheroes.
He had problems over the years, like anyone in life. Some problems were with other creators, other problems sadly became scandals and tabloid fodder. Yet through everything, he always showed his fans the same sense of respect and love that they showed him, and he always faced the front in the same way he encouraged Marvel's many True Believers too. In animation, he narrated countless stories and battled alongside Spider-Man and, in movies, he was seemingly omnipresent and could appear as a DJ, a postman or an intergalactic barber. He could do it all.
He could even break the boundaries of the MCU and appear in the DC universe if he chose to. Why? Because he was Stan Lee, because he could, and because he knew that it would entertain people. Because that's what he did better than anybody.
He was Stan Lee, and he always will be "The Man" even now he's gone.
And that still isn't 'nuff said. Nothing said is enough to describe who he was or the impact he had on so many of us. Sorry, Stan. It just can't be done. But from all of us, thank you. We'll never forget you.
Excelsior!
RELATED: Marvel Has Already Named the Strongest Avenger, & It Isn't Thor or Hulk
Remembering Stan Lee: How He Won Fans With Stan's Soapbox
When it came to turning average readers into lifelong fans, sometimes it takes a personal touch. And in 1965, Marvel and Stan Lee knew what they were doing. Up until that point, Marvel had been telling the best stories they could and attracting new readers. And, as was usual for the time, they would respond to some of the letters sent by those readers in the letters pages of their various titles. It was standard, something most newspapers, magazines and comics did already. However, Stan Lee tended to respond somewhat differently in Stan's Soapbox columns.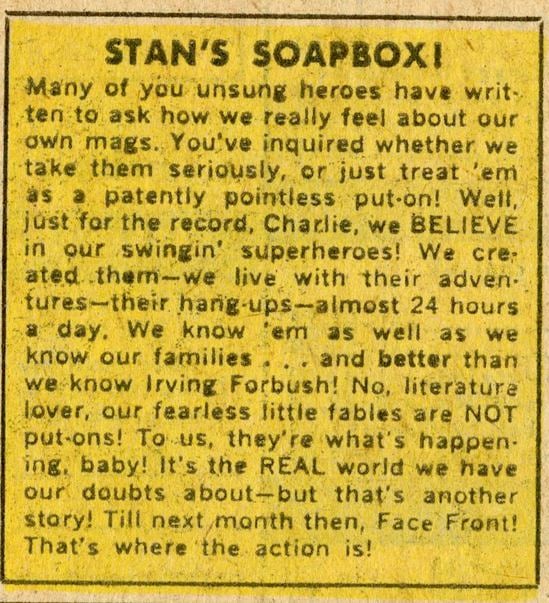 Abandoning the usual formality, his editorial responses to the letters received would address the readers by their first names – sometimes even shortening them, to make his responses even less formal. When somebody wrote in with a letter to "The Editor" or "Sir", he would change it and let people know that they could just call him "Stan". There were no formal titles allowed, and his replies were light and jovial. He spoke like he was everyone's best friend, just chatting personally. His replies conveyed the same friendly way of speaking with people that he had in real life, and it was a notable difference from the uptight letter columns of their "distinguished competition".
By 1965, the personal approach to dealing with fans went beyond the letters page, as they started to feature the Merry Marvel Bullpen Page – later to be known simply as Bullpen Bulletins/ The Bullpen pages covered special announcements and checklists to promote all their titles. Full of typical Stan Lee alliteration and self-deprecating hyperbole, reading them wasn't necessary but they were usually fun. More than that, they made readers feel like Marvel – and Stan – was talking directly to them. It presented the impression that Marvel wasn't just some humourless, faceless company.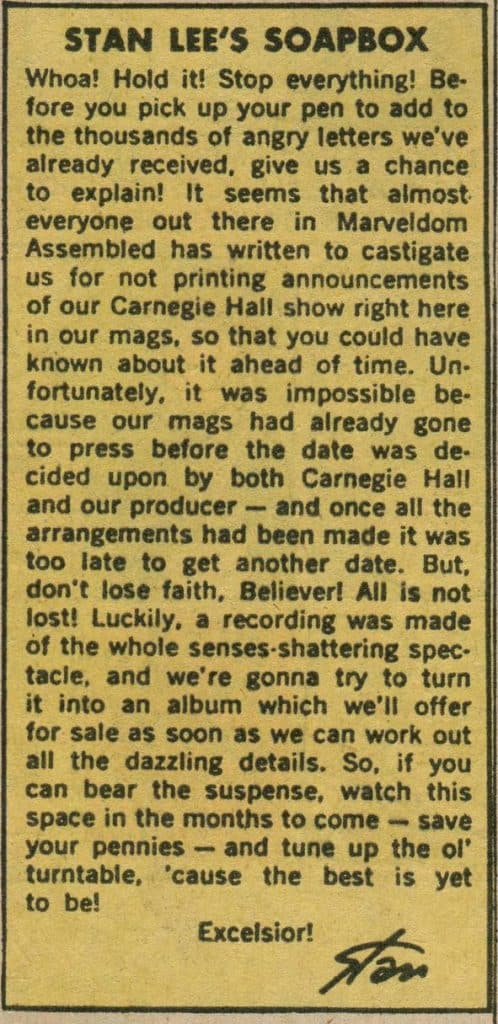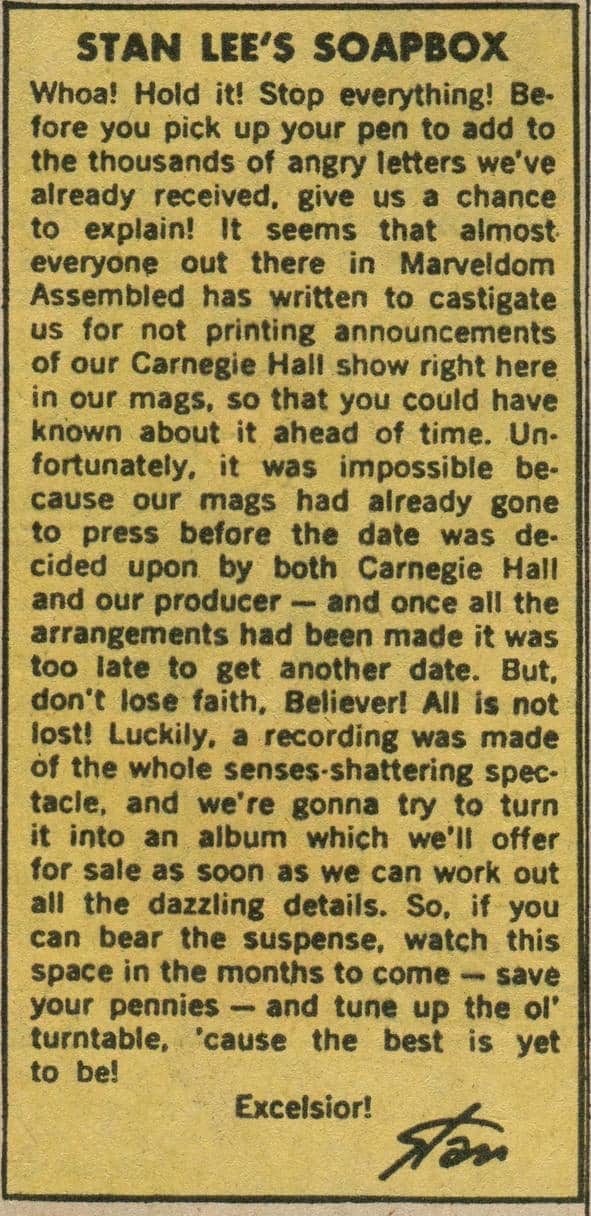 Plenty happened in those Bullpen pages, and readers got to learn of Marvel's various staff members, artists and writers. Readers got to know them by name – or nickname, more usually – and even if some of the Bullpen's supposed playful shenanigans were artificial or awkward it still helped to present an impression of fun that the readers could join in with. But the Bullpen's crowning achievement was Stan's Soapbox column, which debuted on the Bullpen page in 1967.
Each Soapbox column was a self-contained mini-essay from Stan, in which he would chat to the readers about whatever was on his mind at the time. Often, he would do what Stan tended to do best and simply promote Marvel, their comics, and whatever film, TV or other productions they might be involved with at the time. Occasionally, he would use the Soapbox to goof around or answer more direct questions from readers. But sometimes he would use his Soapbox for far deeper and more important reasons.
It was a time of war, and of social and political turmoil in America. Given the nature of some of the characters and comic books Marvel was creating, it was inevitable that things would get serious. Marvel had created characters like Black Panther, while the plight of the X-Men was an allegory for the Civil Rights movement battling against bigotry. As such, readers would repeatedly press Stan on what Marvel's political stance was. In September 1968, he penned a Soapbox on tolerance and in November of that year he was writing about bigotry.
He would use this platform to explain that Marvel tried to not take sides whenever possible, but that they weren't exactly neutral either – as fans well knew. The staff working there was like any diverse group of people, he explained, with each one having their own opinions and so, therefore, Marvel could never be politically defined. However, Stan made it absolutely clear that bigotry in any form was unacceptable, and that love and unity should always triumph over hatred and division. He would express that the human race had a divine destiny to treat others with tolerance and respect.
As Stan Lee pointed out in one of his Soapbox columns, Marvel Comics didn't have the answers to society's problems, and apologised that sometimes their attempts at highlighting society's problems were clumsy… but still, they tried to do what they could and wouldn't stop.
Stan Lee wrote hundreds of Stan's Soapbox columns and spoke to readers in a personal way which many readers weren't used to. He would let the readers know that he – and Marvel – cared about the things they cared about and viewed them as people, not just sales figures. His words, conveying his nature, made readers feel connected.
Stan Lee achieved a great many things in his life and co-created some of the greatest, most popular superheroes out there and those characters have brought in countless readers. But that small monthly column known as Stan's Soapbox still stands as one of his greatest achievements because it helped turn many of those readers into lifelong fans. Stan's Soapbox is so real, so personal, so… Stan.
RELATED: The 15 Most Powerful Characters In The Marvel Universe
Remembering Stan Lee: Fantastic Four #22 Review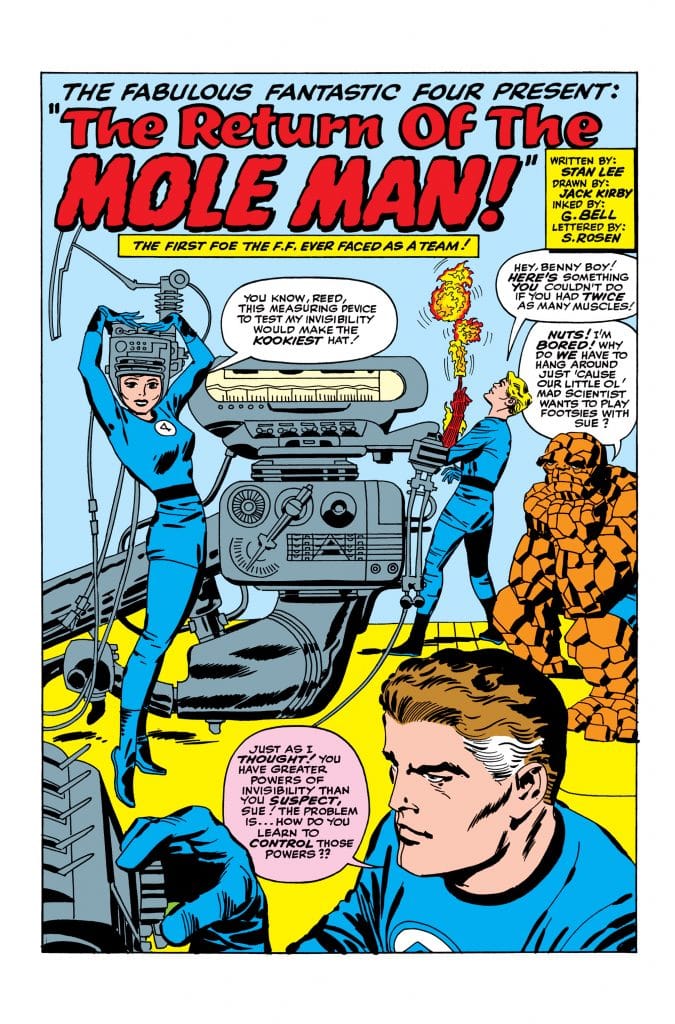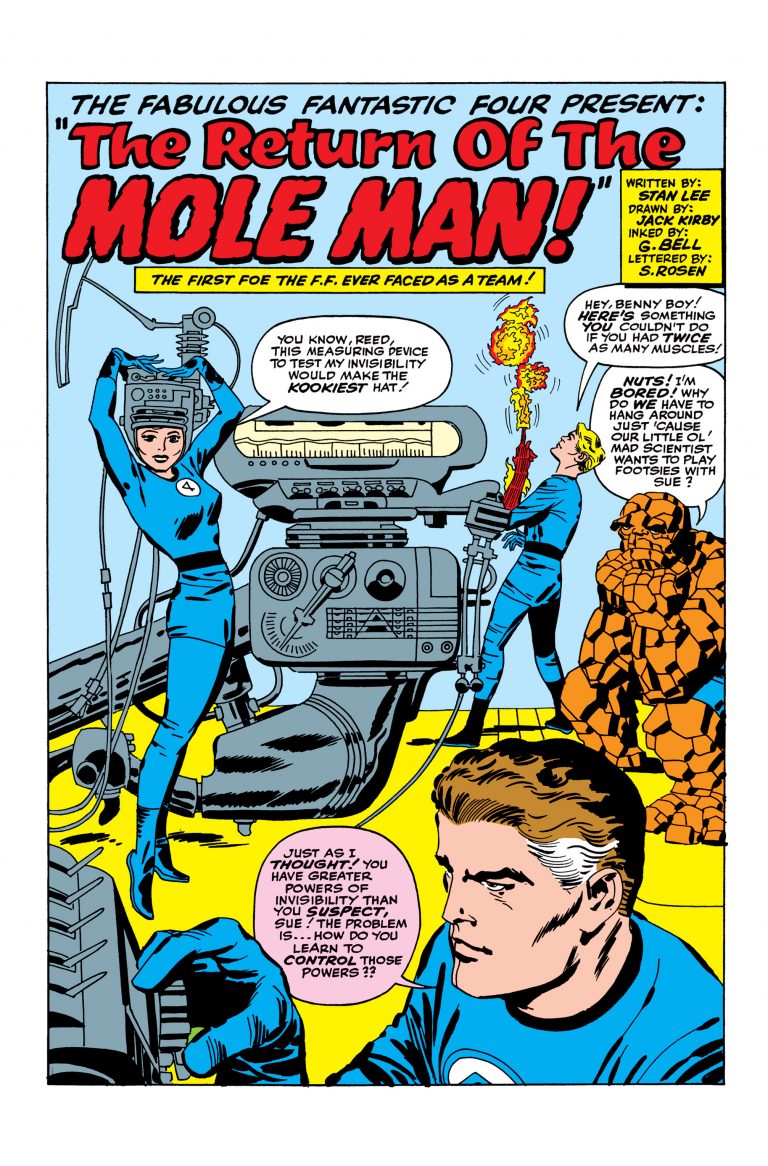 There are some stories that just stick with you, and Fantastic Four #22's is one of them. I've got a bunch of old original classic Marvel comics in my collection. They're originals, but in dreadful shape and not worth much in terms of cash. Fantastic Four #22 is my favourite though, and the sentimental value of the story for me is worth more than if the comic itself were in mint condition. Sure, it's the story where Sue learns the full extent of her powers and saves the team. That's almost good enough as it is. But it's the work of Stan Lee and Jack Kirby here which really makes it special for me.
It's a typical day at the Baxter Building, home of Marvel's First Family: Sue Storm is practising her invisibility, while Reed Richards – Mister Fantastic himself – reckons there's more to Sue's ability and figures that it's actually a type of force field. It's a good thing too because the local tenants are freaking out about all the property damage lately. Not only that, but the cops are annoyed because Reed's just accepted delivery of – get this, folks – a ballistic missile! Also, the Women's Canasta and Mah Jong Society are protesting, and the Thing and the Human Torch are sparring as usual. There's only one option left for the team:
It's time they go on vacation.
Their destination is a weird island that's for sale off the coast of New Jersey that Reed read about… in a pamphlet. They fly there in the amazing U-Car, but once on the island, they're captured by… the Mole Man! He's got a Doctor Evil-style plan which involves building hydraulic presses underneath every major city on Earth and lowering them all down to the planet's core to trigger an atomic war. Meanwhile, the Fantastic Four face individual challenges; the Human Torch is trapped in a vacuum, the ever-lovin' blue-eyed Thing is trapped in a room of cotton, Sue is stuck in a holographic chamber, and Reed gets gassed. Can they escape and team up to defeat the Mole Man?
The story in Fantastic Four #22, to be fair, is ridiculous and shows Marvel's first family at their most eccentric. I'm not kidding about the canasta and mah jong club, Reed ordering a ballistic missile like it's as normal as pizza delivery, or even the Mole Man's secret island being advertised in a pamphlet. There's more insanity and comedy going on than you can imagine, especially in the Baxter Building scenes at the start. Seeing the Thing handling phone calls with complaining residents is hilarious, while Reed getting the wrong number for Sam's Delicatessen is a riot.
By real-world standards, it's ludicrously far-fetched. And that's exactly the point. This story instantly pulls you in, presenting readers with characters and a world that's more Addams Family than Avengers. The weirdness just keeps building, each page delivering even more absurdity in a way that's captivating. A lot of the credit here has to go to Jack Kirby, whose art is truly stunning here with some of the maddest angles and images you'll ever see in comic book panels. The characters look fantastic (no pun intended), and there's a sense of weight to every object.
And then there's Stan Lee's writing… damn, it's brilliant. Yes, every character has more dialogue than can even comfortably fit in a word bubble. Every melodramatic statement is practically a speech in itself, with the characters almost narrating their own story even though it isn't necessary. And, as is usual in the world of Marvel comics back then, every sentence ends with an exclamation mark. But it's fun! Stan Lee was a true purveyor of wonder, and his writing may seem hammy at times… but here it's so imaginative and free-wheeling that it's some of his best work ever. Is Fantastic Four #22 too goofy? At times, possibly. But it's also unlike anything else out there, then or now.
Simply put, Fantastic Four #22 is a great read and one that I can't recommend enough. It's outdated in many ways, sure, but it's also entertaining from beginning to end. Telling not only an exciting adventure but also helping establish Sue's new power and status as one of the Marvel universe's strongest characters, Fantastic Four #22 is a classic in every sense of the word.
RELATED: Wow! Was Stan Lee Actually Playing An Old Captain America In The MCU?
Trolling Stan Lee? Really? Did Marvel's King Really Insult DC?
A long-lost interview with Stan Lee from 1977 has surfaced, which reveals that he'd been "trolling" DC Comics for decades.
Based on the click-bait headlines of those sites, the assumption was that 1977 Stan insulted, mocked and taunted DC, and has always hated them. The more sites that picked up on this story, the more each put a spin on it in their rewrites, deliberately making Lee sound worse. One site described his "disgust" at DC, while many made mention of the "furious and bitter" hatred between Marvel and DC which has existed over the years like an East Coast vs. West Coast rap rivalry.
However, the only real story is that the old interview itself was found. The contents of it aren't a story at all. There was nothing shocking about anything mentioned in the interview itself. It was just a typically amusing Stan Lee interview, albeit one where he had more hair than he does now.
Does Lee talk about DC? Sure, he mentions them. Briefly. Here's a rough synopsis:
He tells the story of how, when Marvel started outselling DC, DC's management team allegedly held meetings and would question what Marvel was doing differently to boost their sales, and if it was because of the covers. DC would then allegedly try to imitate what Marvel did with the covers, whether it was in terms of colour schemes or dialogue used. Upon learning this, Marvel would then respond by changing what they were doing on their covers. Allegedly, DC's management would then become frustrated.
Lee then talks about how the sales differences had nothing to do with the covers, but rather with the creators and management system of the two companies, and that Marvel was more professional but also had more fun. Basically, Marvel connected with their readers better. He also says that the competition is "miserable", although like with the entire rest of the conversation he says it with a playful chuckle – a clear indication that he's joking.
Anyone who knows of Stan Lee knows that most of what he says isn't to be taken too seriously. He constantly makes self-deprecating jokes, humblebragging one minute that he's a superior human being, the next pointing out that he's a hack writer who isn't worthy of any praise at all. He says that Marvel superheroes are to be taken seriously but also calls them the long underwear brigade. In the interview, he clarifies that being the head writer doesn't mean that he writes about heads because it's a silly throwaway gag. He might say important things, but he also peppers every story with a sense of humour.
But here's what really makes this "shocking" interview not very shocking at all: This isn't the only time he's told this story. In fact, he's said it almost word-for-word the same!
Watch 2002's Stan Lee's Mutants, Monsters & Marvels DVD interview with Kevin Smith, the chapter titled DC/Marvel: Friendly Rivalry to be specific. Lee tells exactly the same story as he did in 1977 about DC allegedly emulating Marvel's covers, their management's response when he would change the format of Marvel's covers in turn, and why the sales differences had nothing to do with covers at all. This isn't some deep, dark secret about Stan Lee's past which has only just come to light, as some sites would have you believe, and it certainly isn't news. It's been out there in the open for years.
More than that, in that interview he also explains the supposed DC/Marvel rivalry – which is almost entirely fake – and how it was hyped up by both companies just to get the readers more involved. Was there business competition between the two companies? Yes, creatively it was generally a friendly competition at most. Over the years the rivalry hype has worked, perhaps a little too well. It's sad to see that so many comic book websites have bought into it, or that if they're aware of the truth then they instead feel the need to perpetuate that supposed rivalry, using click-bait tactics to generate hits.
Meanwhile, as Lee has pointed out in various interviews over the years, when he was an editor at Timely/Marvel he would regularly meet up with National/DC's editorial director (and later publisher) Carmine Infantino for meals and drinks, while the creators from both companies would often meet socially too.
"Everyone thought DC and Marvel were having a big feud, but we were basically good friends. Every so often at night, or on a Friday, Carmine and I would head to The Friar Tuck and bring along writers and artists." – Stan Lee, New York Business Journal interview, 2015
Granted, Lee isn't perfect. Far from it. Over his many years in the business, he's made decisions and mistakes which have led to hostility with other creators. But hating DC, trolling them and being disgusted with them for decades? No. Since he's appeared in so many DC documentaries over the years and has even worked for them, the answer about how seriously the companies take the rivalry should be obvious. He's made some light-hearted comments about DC at times, but they've always been clearly in jest.
There's nothing new going on here. Stan Lee makes some jokes and lightheartedly takes a mild swipe at DC, but there's no malice there and certainly no trolling – at least not from him. The only trolling going on was from sites that really should have known better.
RELATED: Marvel Comics: 15 Things You (Probably) Didn't Know
Farewell, Joan Lee – His Personal Superhero
"Who is that exotic lady?" Those were the words uttered by an instantly smitten Stan Lee – playing himself – in the final episode of 1998's animated Spider-Man show, upon meeting the mysterious Madame Web. It's clear that the animated Stan takes a liking to Madame Web, and why wouldn't he? After all, her character was being voiced by Joan Lee, Stan's real-life wife. It also mirrors the reaction he had to her when they first met.
A British hat model and unhappy GI bride living in America's New York City after World War II, the two met by accident. A blind date had been arranged for Stan by a friend, but when he arrived to pick up his date he instead met Joan, and instantly fell in love with her. Describing her as the perfect woman whose image he had already drawn a thousand times and possessing an English accent he couldn't resist, Stan took Joan to lunch and apparently proposed to her straight away. She moved to Reno, Nevada, for the required six weeks so that she could obtain a divorce and then married Stan an hour later.
It was a relationship which lasted for 69 years and the pair were devoted to each other. She was Stan's muse and best friend and, according to many, she was the inspiration for Peter Parker's girlfriend Gwen Stacy. She also played a pivotal role in making Marvel Comics the success it later became, by encouraging Stan – who was depressed about his career and was considering leaving the struggling comic book industry – to write the story that he wanted to write and tell it the way he wanted to. The result of that was the creation of the Fantastic Four, the series which set the Marvel Universe in motion, with The Incredible Hulk, Thor, the X-Men and Spider-Man to soon follow.
In 1987 she wrote the novel The Pleasure Palace, and in the 1990s she did voice work on the animated Fantastic Four series, as well as playing the aforementioned Madame Web in the Spider-Man animated show. She featured rightfully alongside Stan in a cameo role in 2016's X-Men: Apocalypse, a fitting tribute to the role she's played in Marvel's history. Joan Lee was a wife, a mother, and as much a part of the Marvel family to fans as any creator. Like Madame Web, she was that exotic lady, a woman described by Kevin Smith as Stan's personal superhero.
RELATED: Who Is The Most Powerful Fictional Character?
Leonardo DiCaprio Biopic
According to Marvel legend Stan Lee, Leonardo DiCaprio was interested in playing the comic book creator in an upcoming biopic about his life.
Over the years, we've had dozens of films based on the creations of Stan Lee. It's no surprise then that the studios are interested in creating a film about the man behind the creations too. Even though Lee himself has made dozens of cameos in Marvel films and TV shows over the years, Lee's own tale has never been properly told on the big screen. That might soon change.
According to 94-year-old Lee, Oscar-winner DiCaprio, who is one of his neighbours, approached him about playing Stan the Man in a film adaptation of his life:
"Believe it or not, I've already discussed it with Leonardo DiCaprio. He's a neighbour of mine and we were talking one day some months ago, and he said, 'Boy it'd be fun to do your story on the screen.'" So I said, 'Well, I'll audition you.' Gotta make sure the guy can do it."
Lee also added that DiCaprio "has all the walls covered with big Marvel posters and everything. He's got very good taste."
Let's hope this still happens someday. And soon.