Stan Lee lived up to his nickname. He was indeed "The Man". 'Nuff said.
Actually, scratch that last part. That isn't 'nuff. Not by a long shot.
Stan Lee was a true legend, co-creating many of the biggest Marvel characters of all time. He was respected throughout the entire comic book industry across the entire world, changing the way that comic book stories were told and bringing depth to characters like nobody had ever done before. His storytelling and his creations have entertained billions of comic book fans, moviegoers, TV viewers and more. He was a one-man PR juggernaut, a businessman, a philanthropist, a former member of the Signal Corps and later playwright with the US Army, a spokesperson, a movie, TV show and internet celebrity.
He was a husband, a father, and a friend to… well, seemingly to everyone.
The outpouring of condolences to his passing is already staggering. People from all walks of life have expressed the loss they're feeling, from A-list celebrities to ordinary everyday folks, because he really did mean that much to so many. In countless interviews and appearances, he had the natural charm, flair and mocking self-deprecation of a true storyteller – one who could win over audiences easily and turn fans into friends. For all his great storytelling, it was that ability to reach people on a personal level which helped him win over the readers of Marvel's superheroes.
He spoke to Marvel readers directly in his comics, with informal narration in the stories and playful one-on-one banter with fans in the letters pages. He spun out catchphrases that caught on quickly, even being paraphrased by world leaders years later. He gave nicknames to the writers and artists in the Marvel bullpen, introducing them to the world like they were celebrities and creating a personal bond. He led the Merry Marvel Marching Society in song, giving Marvel fans a sense of belonging at a time when reading comic books was still considered something embarrassing just for kids. He would inspire creators and readers alike, and changed the way that the world saw superheroes.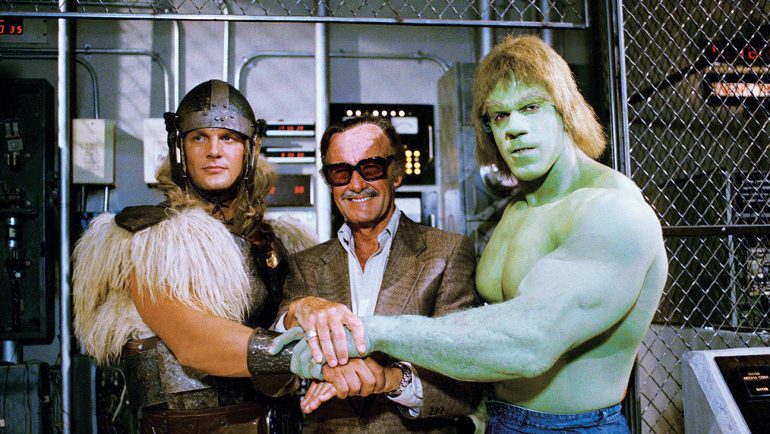 He had problems over the years, like anyone in life. Some problems were with other creators, other problems sadly became scandals and tabloid fodder. Yet through everything, he always showed his fans the same sense of respect and love that they showed him, and he always faced front in the same way he encouraged Marvel's many True Believers to. In animation, he narrated countless stories and battled alongside Spider-Man and, in movies, he was seemingly omnipresent and could appear as a DJ, a postman or an intergalactic barber. He could do it all.
He could even break the boundaries of the MCU and appear in the DC universe if he chose to. Why? Because he was Stan Lee, because he could, and because he knew that it would entertain people. Because that's what he did better than anybody.
He was Stan Lee, and he always will be "The Man" even now he's gone.
And that still isn't 'nuff said. Nothing said is enough to describe who he was or the impact he had on so many of us. Sorry, Stan. It just can't be done. But from all of us, thank you. We'll never forget you.
Excelsior!