Like most cinemagoers, Everything Everywhere All at Once was high on my to-watch list for 2022. That being said, the little snippets that I had watched in the trailers only alluded to the film's take on the multiverse theory, which was sufficient to have me hooked.
At the time, I had no idea that the next Marvel film, Doctor Strange in the Multiverse of Madness, would be covering its own take on the multiverse theory, having briefly touched upon it during the final Avengers films. Now, having watched two films about the multiverse in successive weeks, for me, personally, Everything Everywhere All at Once is leaps and bounds clear of the MCU's latest feature.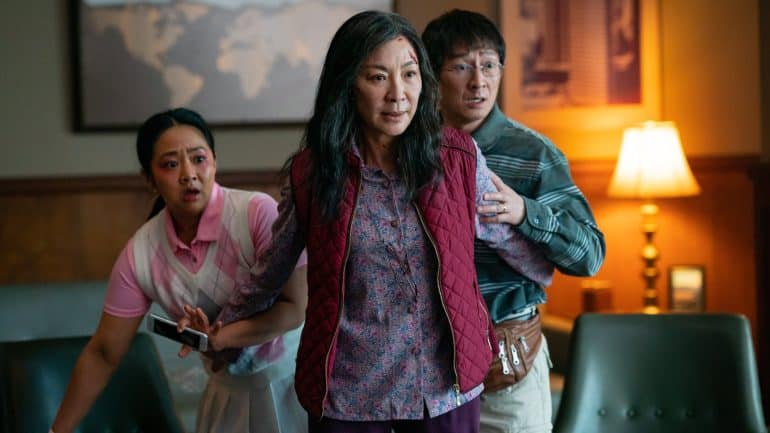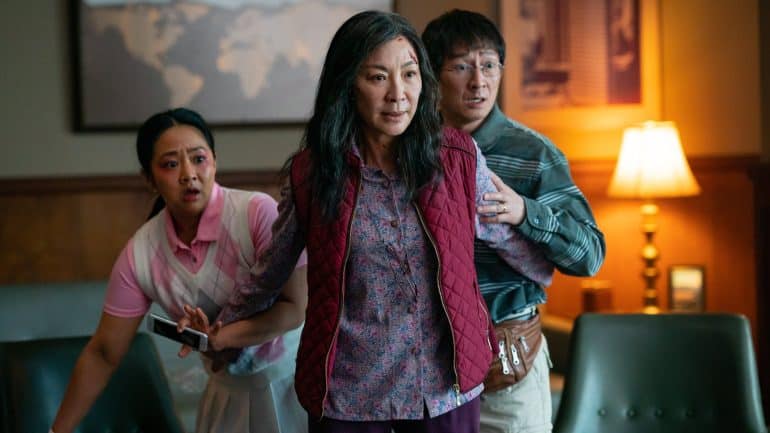 The film starts off fairly mundane. It purposefully sets the tone of a mediocre Chinese-immigrant family, scraping through life in a series of bad choices, living a life of monotony that wouldn't feel out of place for many. However, this goes from one end of the spectrum to completely the opposite when Evelyn (Michelle Yeoh) is introduced to her 'husband' Waymond (Ke Hu Quan) from an alternative universe. During their visit to the IRS auditor (Jamie Lee Curtis), she opens up the gateway between two universes by following a set of seemingly random instructions.
Evelyn learns of an interdimensional rupture that has gripped the inhabitants of Alpha Earth — where a group of Alphas attempt to save all existence. It is through this encounter that Evelyn learns of her newfound powers and attempts to fight off the evil of Jobu Tupaki (Stephanie).
From the above explanation, there's not a lot to go by other than your average multiverse film setup. However, Everything Everywhere All at Once is anything but. Think of any crazy idea off the top of your head – no, I mean really crazy – and choreograph that into a snippet within a movie. It's just that random. In fact, it is this randomness that allows the characters to hop through multiverses. The crazier the act, the further their consciousness can span, allowing them to draw on powers or capabilities from their alternative selves in alternate realities.
Everything Everywhere All at Once has strong performances from everyone involved. However, the standout for me was Jamie Lee Curtis, who, if you weren't paying close enough attention, may have even missed her in the film altogether. Her performance is just so incredibly zany that it's hard to imagine her in the role. That said, this movie is all about embracing that zany.
Its comedy isn't always straight-forward either. It mixes it up with running gags, modern commentary, a ton of movie references and just sheer over-the-top-ness. Writers, Dan Kwan and Daniel Scheinert, also direct Everything Everywhere All at Once, ensuring that their vision was embraced from start to finish throughout the project.
In addition to the crazy ride through alternate realities and insane visuals, there is a strong underlying message. We've all sat and wondered about a specific moment (or many) where we've hoped to have done things differently. The problem with this is that any change on that action on the day may have produced a better or worse variant of the future you know today. Everything Everywhere All at Once clearly points out that there may better versions of you of in all those other realities. But, is it still you on the other end? And is it really worth risking all the good parts of your existence you know today?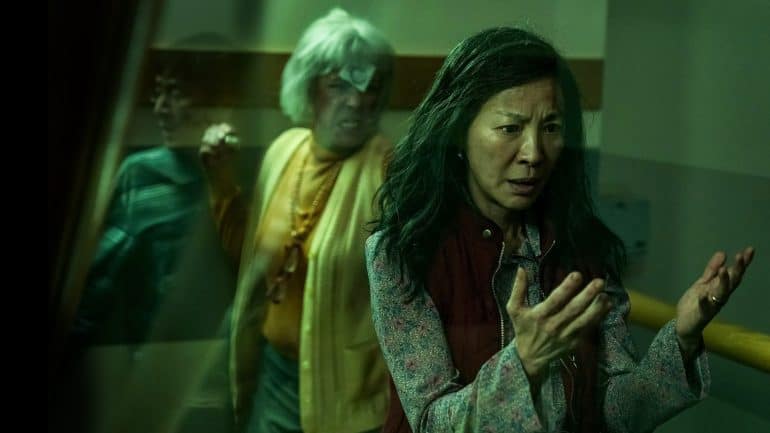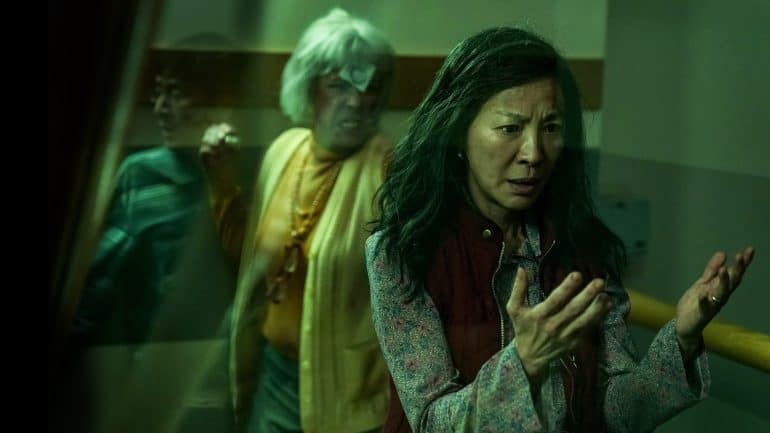 The film delivers a range of emotions for the viewer throughout its 2h19m runtime. From extreme exhilaration, to deep existential what-if feelings to perfect acceptance of what is. It's a visualisation of poetry of an oxymoron.
Needless to say, there's a lot happening in Everything Everywhere All at Once. Pretty much as the title suggests, all at once. And that may throw some viewers off, as the references, jokes and more come at you from all angles. If you're not paying attention, you may miss quite a chunk, and even if you are, you'll still need to go back and rewatch to fully realise the expanse of this film, somewhat of an expanding multiverse in practice.
In addition to being treated to a rollercoaster ride, indulging in what the film had to offer, I was also taken aback by the rest of the patrons within the movie theatre. I could feel them going through the same set of emotions as I did, from hysterical laughter, awe, shock, horror and everything in between. Even beyond this, I could feel the sense of overwhelming emotion, too. It was pulpable. At one point, I even witnessed two nearby viewers reaching for their bags to grab a tissue. Everything Everywhere All at Once stretches the imagination, the emotion and everything in between.
The Review
Everything Everywhere All at Once
It's hard to put into words the feelings and thoughts you have, either during the film and after it. I can't recall the last time a movie crossed almost all genres within the space of roughly two hours of intense, edge-of-your-seat theatre. While there are one or two elements that created a bit of a cross-wind on the landing, it was able to shake it off and land with great ease, strutting down the runway after delivering the best performance in cinema for 2022.