Who is this Leviathan? This is the question readers are still asking in Event Leviathan #4.
Aiming to control the world order, the 'Hydra' like Leviathan has toppled all major spy agencies, A.R.G.U.S, Spyral etc. To stop the mysterious and sinister organization, Batman recruits the world's greatest detectives, Green Arrow, Plastic Man, The Question and Lois Lane. With bread crumbs for clues and no idea who is pulling the strings, everyone becomes a suspect.
Paranoia and mistrust abounds in this sleuth filled caper. Unfortunately, too much dialogue and slow pace is found in abundance. The snail-paced unravelling of who and what Leviathan is makes for tedious reading at times.
Bendis likes to let characters reflect, he explores their emotional state well. The slow plot in Event Leviathan #4, however, robs these reflective moments of the emotional impact they could have had on the reader. As is the case with Superman after his encounter with Amanda Waller and Leviathan in Cuba. Similarly, with Manhunter and her encounter with the big 'L'. These personal passages would be better served if there were more kinetic moments of energy. Either via a faster plot, wittier banter between characters or cool battle scenes dispersed in between.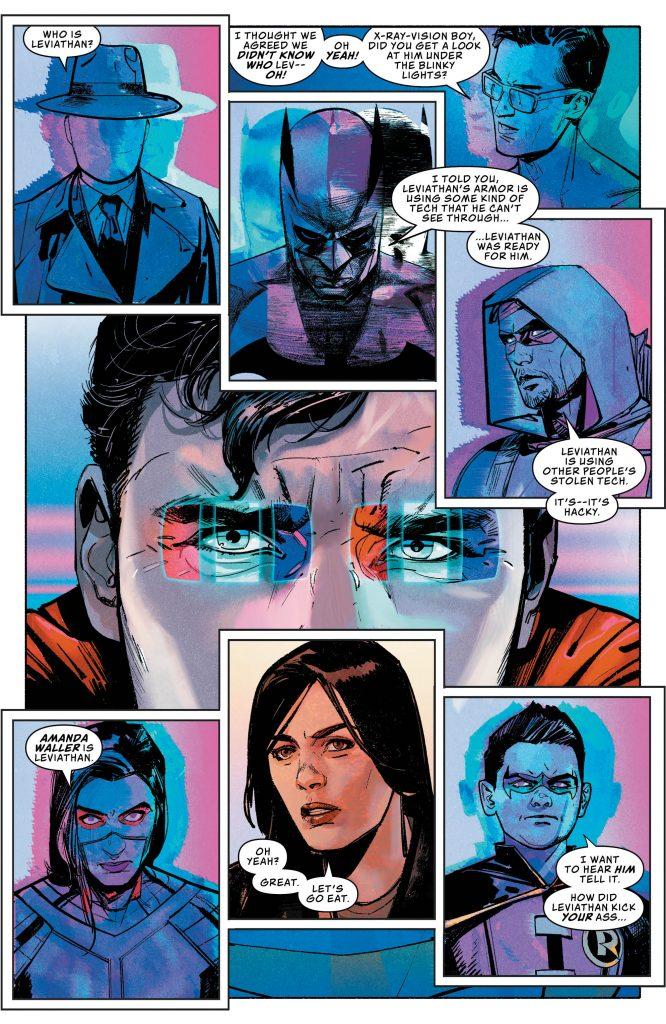 Don't be fooled though, the mystery surrounding Leviathan and the endgame makes it worth your while. Readers are left asking, who is in charge? What is Amanda Waller's connection? What is Batgirl's plan? These are questions that need answering. So it's not all bad.
Alex Maleev's art is excellent. Although he has to use lots of panels to accommodate the story, Maleev does so effectively, conveying characters' emotional responses and the intent of the writer with accurate facial expressions and body movements. His splash of Superman attempting to break free from an energy attack is especially good. Colours and hues are rich and vibrant, especially those featuring Superman's Cuban excursion.
Hopefully, the last two issues will reward the patience of readers and reveal more of the Leviathan mystery.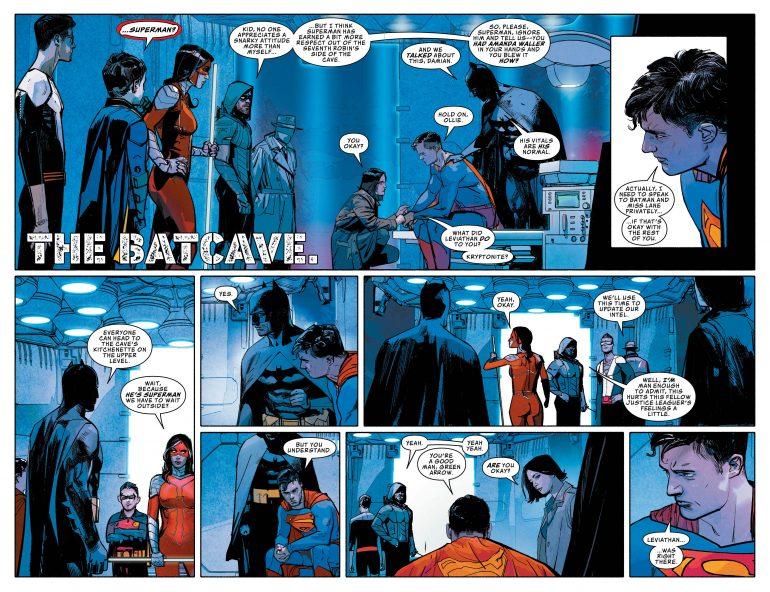 The Review
Event Leviathan #4
The story could just have been more successful if there was a faster pace.