Epson has one of the largest lineups of projectors across many leading brands. The name is synonymous with next-generation projectors. Whether you're looking for a home entertainment option, gaming unit or even something for the outdoors, there's something for everyone. In addition to these personalised projectors, the Epson also carries many professional units, including those for the classroom, office or even movie theatres. I spent a few weeks with the new Epson EH-LS500W projector to run through its capabilities.
Epson EH-LS500W Projector Build and Design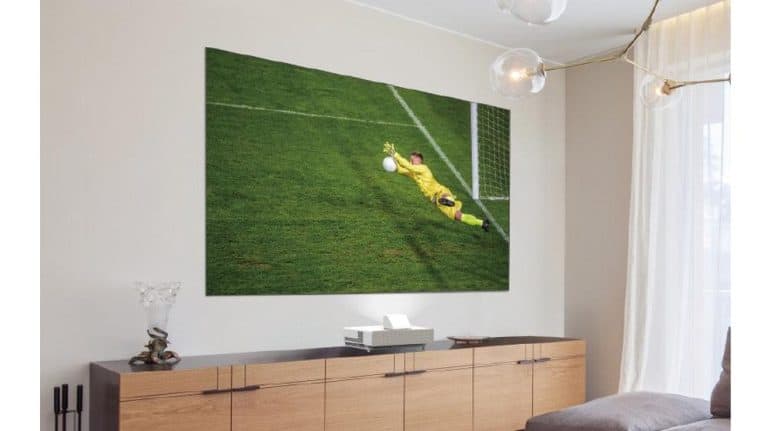 The Epson EH-LS500W is a short-throw projector. If you're not familiar with the terminology, it may then surprise you that the unit was designed to be positioned in the front of the living room, as with your TV, and not like many other conventional projectors, at the back of the room.
As a result of this, the unit has a peculiar design, in that the its head pops up at the top. This is to allow the lamp to face upward for best sizing at a shorter distance. It's also fairly bulky compared to previously reviewed projectors. Epson describes the unit as "discreet", but it is anything but.
The rear of the unit is actually the front, in that it faces the user. It has a felt covering, which hides some additional ports and the speakers, as well as a third HDMI port where you'll be able to connect the included WiFi module. This module is an Android stick, which also has a neat little carve-out for it to fit into as you close the cover.
The rear side has quite a few ports as well. This includes two HDMI ports, USB-A, LAN, 3.5mm auxiliary and RS-232C port. Hanging off the bottom edge you'll find the power input, which utilises a kettle plug.
The Epson EH-LS500W projector comes in two variants, a black model and a white model. I'd say the white looks more appealing on the whole, especially since it has a contrast aesthetic with a grey covering, as opposed to the all-black variant.
Setup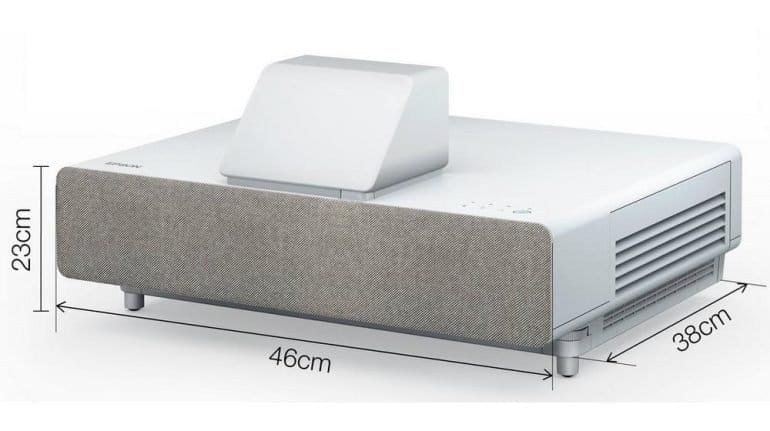 When it comes to setting up the Epson EH-LS500W projector, it isn't as straight-forward as some of the other projectors I've previously reviewed. For starters, being a short-throw unit means that it's placed up front on the TV stand and not on the rear.
To have an image size of about 100", you'll need roughly 60cm between the wall and the front of the unit. However, getting it to the sizes I'm used to on my personal projector, required a distance around 1.5m from the wall. This is a bit of an awkward distance for most homes. If I place it on the furthest edge of the TV stand, I was unable to get the maximum size I was looking for. When using the Epson EH-LS500W projector, I needed to place it on the coffee table, which was then pushed upright again the TV stand for the best sizing.
It's important to be sure then when purchasing this sure of the distancing and size you require, or whether you'll be opting to hang the unit from the roof. With its size and weight, you'll definitely need a bit of extra support to keep it in place.
Thereafter, you can move to setting up the keystone adjustments. Additionally, you'll be able to zoom in and also set the focus via a lever behind the cover. I found this part also a fair bit tricky. Being a short-throw unit, it means that the focus isn't as uniform across the entire screen, especially when you size the screen beyond the 120" mark. If you focus on the middle, you'll have a slight bit of blurring on the edges and vice versa. Opting for a balanced approach will yield the best overall results. However, this left me feeling a bit awkward from an OCD perspective, knowing that there is a crisper image when adjusting the focus, albeit at the cost of edge blur.
There are instructions included with the contents of the package on how to best go about setting up your unit, as well as a tutorial video via the official website that provides additional aid. It's important to take some time to go through this before starting your installation process. That being said, while it does optimise the visuals somewhat, it doesn't resolve all the points above.
The 'W' range for most Epson projectors means that you'll have the WiFi (or wireless) option as part of the unit. However, this isn't a native module but rather a standalone Android stick that is added. Most of the later Epson projectors have a housing for these types of sticks, which can connect to the internal HDMI port, along with USB power and then be stored away out of view. This is quite nice and easy to setup. Once it has connected, you can simply change the source to the correct HDMI port and follow the instructions to setup your Android TV experience.
Features
The first notable feature on this unit is its 4,000 Lumen brightness on the optical laser projection. Compared to the 3,000 Lumen projector I use as my daily driver, the image brightness is definitely notable. While it still isn't the best for bright daylight in your living room, it's not completely invisible as with many other units.
Next is the 4K image resolution. I hesitate to use the word "native" in this instance because it's not quite that. However, it's not upscaled 4K either as in many other instances. The Epson EH-LS500W projector uses pixel-shifting technology – in short, stitching four 1080p images together to get that 4K resolution.
Epson claims an estimated 2,500,000:1 contrast ratio for the projector. This is massive. The idea is that it would be able to match the darker blacks and brighter colours as with LED screens.
The unit also supports basic HDR10 lighting – although no Dolby Vision or HDR10+ support. There is a difference in the lighting and how the images are displayed when toggling this feature on and off.
Epson has included 3D technology to the projector feature list as well. Unfortunately, I was unable to test these capabilities, due to not having any 3D glass (not included in the contents) or 3D content to project.
Epson EH-LS500W Projector Display and Performance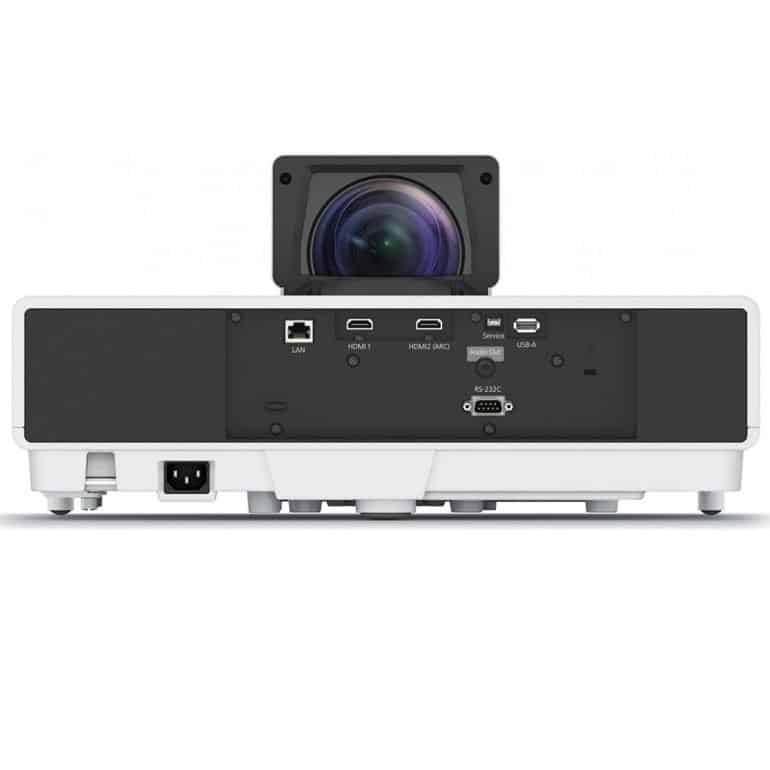 When compared to my 1080p projector, there's a marked improvement on visuals. Although it doesn't have the native 4K visuals, there overall clarity in the image quality is unmatched between the two. Additionally, those extra 1,000 Lumens do mean quite a lot. At around 33% increase in brightness, it delivers great results. The short-throw nature of the projector also means that the light isn't scattered prior to reaching the wall or screen across 5m compared to just 1m.
Colours a bright and quite appealing. However, there is a lack of deep blacks when it comes to the contrast that I was expecting from the 2,500,000:1 ratio. With some adjustments and a different screen, you may be able to increase the black levels but, on the whole, it wasn't something to write home about.
Given its pixel-shifting techniques to gain its 4K visuals, it doesn't suffer much when watching videos of moving objectives, like cars racing or football being kicked. It looked quite smooth overall, even with all the extra processing that's being done on the backend. There are additional settings to fine-tune your experience when watching sports, movies and the likes but it handles every video category using its default settings with relative ease.
As mentioned earlier, the Epson EH-LS500W projector suffers from a bit of edge blurring as a result of the focus area using the short-throw lamp. You can balance this out a little, but having optimised my viewing for best focus on the centre, the edges were a tad bit more out of focused that I'd like.
One thing that also caught my attention during the review was how much fuller the audio quality was than previous-generation projectors. Yes, it still doesn't have the deep bass you'll get from a surround sound system but gets the job done. It's actually comparable to TV audio, which was quite impressive to say the least. It sports a 10W stereo speaker system, which is more than sufficient for most users.
Conclusion
The Epson EH-LS500W projector is a very solid unit. Both literally and metaphorically. It has an odd design, which isn't aided in the least by its bulky build. However, it more than makes up for this with its 4K Pro UHD support for great visuals. Its build and short-throw capabilities, however, means that it's not the best-suited for all home layouts. Needing that additional space to get the image size you want means that it's better optimised for boardrooms at the office or lecture halls at varsity, as opposed to your living room. I wasn't able to have a permanent spot for it over the review period, which meant it would have to be setup every day when needing to be used – although I didn't mind this.
The Epson EH-LS500W projector carries a R39,999 recommended price. This is by no means inexpensive for most consumers. However, with 4K projector pricing having dropped significantly over the past three years since they were released in bulk to the public – even for Epson 4K projectors – it is one of the best-value options today.
The Review
Epson EH-LS500W 4K Projector
The Epson EH-LS500W 4K projector is a very good unit. Over previous-generation projectors, it offers enhanced brightness with 4,000 Lumens and great colour reproduction. It may only offer 4K resolution through its pixel-shifting technology, but still a lot clearer than native 1080p projection. If not for the slight lack of overall focus uniformity and not dark enough blacks, this would be a very good unit for any prospective buyer looking to upgrade their home entertainment.
PROS
4K projector
Short-throw laser
Significantly longer lamp lifespan
WiFi option (with Android WiFi stick)
CONS
Still relatively pricey
Awkward and chunky design
Note as silent as other Epson units
Review Breakdown
Ease of Learning

0%

Ease of Use

0%

Design

0%

Performance

0%

Enjoyment

0%

Value for Money

0%