As long as smartphones have been around, there has also been a side industry focusing on the ruggedised experience of those same devices. Early offerings were basically the leading smartphones from the likes of Samsung, Huawei and the likes with a harder casing over the top. These devices, however, didn't really meet the requirements for most outdoor enthusiasts that would make use of such a device and didn't add much value to those who just wanted a rugged smartphone over the standard. As a result of the lack of interest, the market opened to others with a more dedicated focus to design and manufacture rugged smartphones. The most notable of these I reviewed included the AGM and BlackView ranges, which are dedicated outdoor smartphones, many of which have additional features that are useful for specific scenarios.
A few months ago, a new brand of rugged smartphones were introduced into the South African market, the Energizer series. Many would associate the brand with batteries and other types of power accessories, but the company has a rich history of a wide range of products, with the rugged smartphone being just one of those launched locally. We recently received the Energizer HardCase H500S for review, a mid-range smartphone from a range of rugged devices. We take a closer look at what the brand has to offer, especially in comparison to some of the tried and tested in the industry.
Energizer HardCase H500S Build and Design
Unlike many other rugged smartphones, one of the first things you'll notice about the Energizer HardCase H500S is that it is fairly lightweight. At 142.5g, the device is lighter than the Samsung Galaxy and iPhone ranges, which is great. While it may not be the out and out best-ruggedised smartphone, it still has quite a lot to offer in that respect. It carries an IP68 rating, which means that the unit is dust and water-resistant, with up to 1.5m for 30 minutes submerged. In addition to this, the H500S is also shock resistant.
Its hardened case provides guaranteed protection from drops at 1m, while it is said to be able to withstand more than this. The unit is protected by a rubberised on the rear and across all the sides. The rubber also acts twofold in that it prevents it from easily slipping out of your hands when wet. The sides of the unit also protrude just a touch, which means that the glass is exposed to a direct hit when dropped on a flat surface. It may not sound like much, but it actually makes a huge difference overall to protect the screen from most types of drops.
There are numerous ports and buttons across the H500S, all of which are either protected by a rubber flap or built to isolate water and any other liquid from entering. That said, the SIM port is probably the most difficult I've tried to access, which required the use of a tweezer after numerous failed attempts trying to pull it out with my fingernails. It's a very solid build and design, which shouldn't easily give way as many other modern smartphones.
Energizer HardCase H500S Screen and Display
The Energizer HardCase H500S has a 5″ TFT capacitive touchscreen. It has a fairly large bezel for a modern device with a screen-to-body ratio at 63.2%. The display isn't much better with a 720x1280px resolution at 294ppi pixel density. There are some positives about the screen, being protected by Corning's Gorilla Glass 3 for one. In addition to the extra strength, it also prevents scratches from being easily picked up, especially when being outdoors quite often.
In terms of viewing, the screen is bright enough to be used in most conditions with sufficient detail to also look good enough when in use. On the odd occasion, there are times when you will notice some pixelation, but it's not all that significant to upset the overall experience.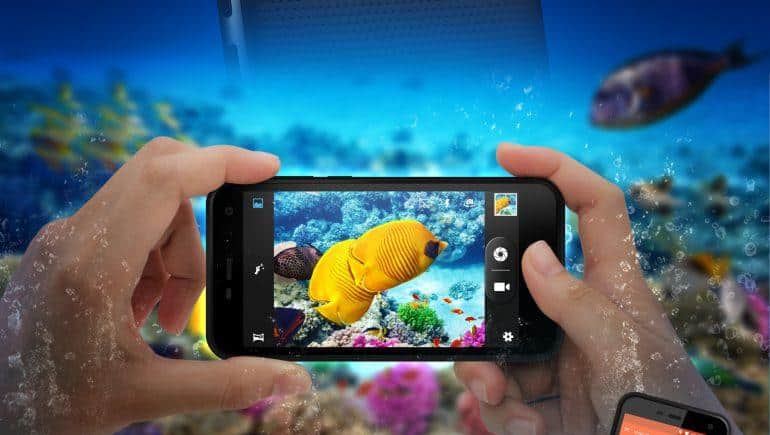 Performance and Battery Life
When it comes to the specifications of the H500S, there's a lot to be desired. The issue here is that the device was originally launched in other markets in February 2018, which means that it's over 18 months since being released. Given that the unit fits within the mid-range category, it's safe to say that most of the hardware included within the device fit the mid-range profile from 2017. In addition to this, the H500S is powered by Android 7.0 Nougat. As of July, this puts it three iterations behind, which isn't great for users concerned about security or running some of the latest features required for certain apps that may need updated firmware.
In terms of the hardware specifications, the H500S includes a Mediatek MT6737 chipset, which has a Quad-core 1.3GHz Cortex-A53 CPU with a Mali-T720 GPU. The specs are rounded off with 16GB of internal storage and 2GB RAM. While it may be a little dated, it's still fairly useful. The device is by no means slow, although it does suffer from the odd lag and delay every so often. Multitasking also holds up quite well for the most part, which means you can easily switch between the different apps without too much fuss.
The HardCase H500S sports a 13MP rear-facing camera with AF and a 5MP front-facing camera. These aren't the greatest specs for cameras, but it gets the job done. It does well in well-lit environments, but as expected, not the same under low-lit conditions. The images produced are usable for social media posts and the likes, but don't expect high-resolution images that can be blown up for A3 and larger prints.
The unit has a 3000mAh, which is very average for a mid-range unit. With a less than powerful CPU, it doesn't consume all that much battery throughout the day. This means that users will be able to keep going throughout an entire workday without worrying that it won't survive. Under heavier and consistent usage, such as playing games, watching movies over Wi-Fi, you can expect about 3-4 hours of continuous usage. Even then it's still fairly good.
Conclusion
At a retail price of R3,999, the HardCase H500S is very affordable as well. That being said, if you're looking for something a lot more rugged with a few more outdoor features for the more extreme enthusiasts, and if you have a few extra Rand at your disposal, there are quite a few better options on the market today, with better specs, software and the likes.
The Review
Energizer HardCase H500S
When it comes to a ruggedised smartphone, the Energizer HardCase H500S offers quite a lot for a mid-range unit. It's not going to blow the industry out of the water, but offers a solid alternative to the other devices floating around the market today.
PROS
Ruggedised rubber frame
IP68-rated (dust, water, shock proof)
Lightweight
CONS
Android 7 - 3 iterations behind
Slightly older specifications
Review Breakdown
Ease of Learning

0%

Ease of Use

0%

Enjoyment

0%

Design

0%

Performance

0%

Value for Money

0%