Academy Award winner Emma Stone (La La Land) fully embraces her darker side in Disney's first teaser trailer for its live-action feature film Cruella.
The upcoming film is the untold origin story of one of cinema's most notorious – and notoriously fashionable – villains, the legendary Cruella de Vil.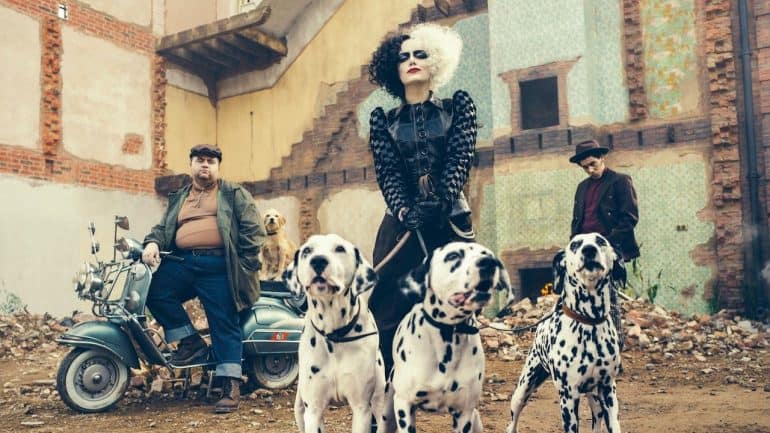 The story follows young grifter Estella as she tries to make a name for herself with her designs during a punk rock revolution in 1970's London.  After Estella's flair for fashion catches the eye of the devastatingly chic Baroness von Hellman, played by two-time Oscar winner Emma Thompson (Howards End, Sense & Sensibility), their relationship sets in motion a course of events and revelations that will cause Estella to transform into the puppy-killing, psychopathic and revenge-bent Cruella.
Disney's Cruella is directed by Craig Gillespie (I Tonya) from a screenplay by Dana Fox and Tony McNamara. The story was scripted by screenwriters Aline Brosh McKenna, Kelly Marcel & Steve Zissis. Andrew Gunn, Marc Platt and Kristin Burr produced the film with Emma Stone, Michelle Wright, Jared LeBoff and Glenn Close serving as executive producers. The films stunningly chic costumes were designed by award-winning costume designer, Jenny Beavan.
Based solely on the trailer, Cruella appears to be a lot more dark and eerie than the 1996 live-action remake starring Glenn Close in the villainous role. In fact, many viewers have been drawing comparisons to the 2019 Joker film as both stories reflect the sinister makings of a villain. This begs the question, is this film even aimed at younger audiences?
Given this is a Disney film, I am assuming that the trailer portrays a more eerie tone than the actual movie, however, parents of very young or sensitive kids may want to preview this one first.
The villainous tale is set for release in South African cinemas from May 28, 2021, and is sure to be "brilliant, bad, and a little bit mad" just like the iconic villain herself.
What are your thoughts on the trailer for the upcoming film Cruella starring Emma Stone? Do you see the similarities to the 2019 Joker film?