While fans are certainly loving HBO's House of the Dragon, and enjoying Milly Alcock's performance as Rhaenyra Targaryen, many still miss Emilia Clarke's Daenerys Targaryen. Well, Stryder HD might offer an interesting solution.
RELATED: Fans Want Mads Mikkelsen & Jamie Campbell Bower As Targaryens
Game of Thrones rose to popularity unimaginably fast and stayed there, despite fans' dissatisfaction with how the series ended. In June 2022, the fantasy epic was voted the fourth most popular TV show worldwide, and was reported to be 78 times more in demand than the average series.
Adapted from George R.R. Martin's A Song of Ice and Fire, when the series first started it already had 5 novels of source material to use, but the author reported that the series did not remain faithful to the book, especially in its final season.
RELATED: What House of the Dragon's Crabfeeder Looks Like Under the Mask
Gone Too Soon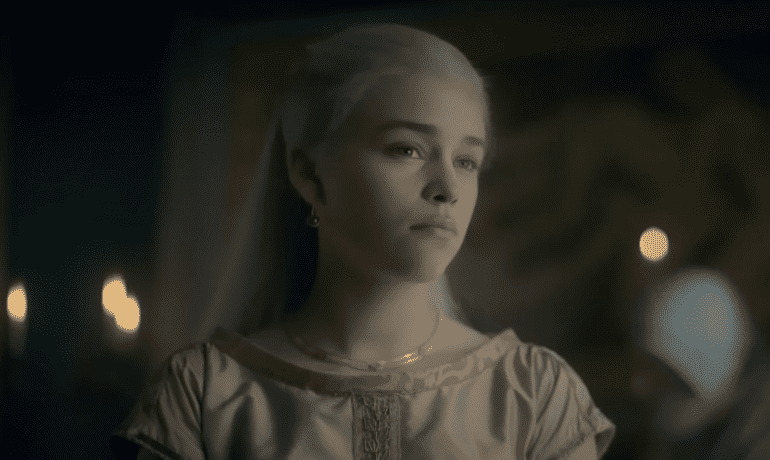 Many fans (ironically George R.R. Martin, writer of the book series included) felt that the 8-season run of Game of Thrones was too short and couldn't wait to see the story continued in some way, happy to accept the continuation via a prequel series. But as the events of House of the Dragon happen many generations before that of Game of Thrones, their beloved characters and actors could not feature in the prequel, despite how fitting they were for the role.
Emilia Clarke played her role as Daenerys Targaryen flawlessly and was truly the mother of dragons. Fans were sad to see her go when the series ended, and love to imagine her in her rightful place in the House of Targaryens.
That is exactly what this fan has done, using deep fake technology to turn Emilia Clarke into House of the Dragon's Rhaenyra Targaryen.
RELATED: How House of the Dragon's High Valyrian Language Was Created
Emilia Clarke as a Targaryen Again
YouTuber Stryder HD released a youtube video titled: Emilia Clarke Returns in House of the Dragon Episode 1 as Rhaenyra Targaryen, which superimposed Emilia Clarke's face over that of Milly Alcock who plays the young firstborn princess of King Viserys in the new Game of Thrones prequel series, House of the Dragon.
"In my Emilia Clarke Returns in House of the Dragon Episode 1 as Rhaenyra Targaryen, I show what it could look like if Emilia Clarke, who famously played the role of Daenerys Targaryen, played the part of her 6 generations off grandmother Rhaenyra Targaryen through "Deep Fake" technology, and it's also rumoured to happen."
The deep fake video has about 25,000 views, and viewers are loving seeing "what could have been".
RELATED: One Fan's Game Of Thrones Season 8 Rewrite Is Getting A Lot Of Love
A deep fake is a synthetic form of media in which a person in an existing image or video is replaced with someone else's likeness and has become increasingly difficult to tell apart from their originals. Deep fake technology doesn't have the best reputation due to the more unsavoury things it has been used for, but it's awesome to see it being used to show fans real images of their fan-castings that could almost be real and even move.
It's doubtful that Emilia Clarke would work with HBO on a Game of Thrones-related show again, especially after how vocal she was about the treatment and exploitation of women in the series. But she certainly played the role of one of the last Targaryen wonderfully.
What do you think of Emilia Clarke as House of the Dragon's Rhaenyra Targaryen?