Harry Potter actor Daniel Radcliffe and Lord of the Rings actor Elijah Wood are confused for each other by fans constantly, and the two agree that it would be a brilliant idea to co-star in a biopic where the two play each other. Radcliffe named Wood as the obvious choice of an actor that could play him if he were ever given a biopic because of how often they are mistakenly thought to be each other, and both agree that they should each "trade-off".
RELATED: 11 Actors Who Look Alike – Who is Who?
Swapping Roles For a Biopic
Daniel Radcliffe was the first to mention that he thought swapping roles with Elijah Wood for a biopic would be a fun idea, and both actors agreed that they would be on board with such an endeavour. When asked about Radcliffe's comments, Wood shared that he would also be happy to do a film like that. "Amazing. The old switcheroo? Sure. Daniel's the best." He said before sharing that he has been confused for Radcliffe "many, many times". "Sure! I would just love to work with him. He's just a lovely human being."
Daniel Radcliffe is starring in the role of "Weird Al" Yankovic in Roku movie's new WEIRD: The Al Yankovic Story, and his role in the bizarre biopic is what led to these questions about the similarities between Wood and Radcliffe and how the two are always mistaken for one another.
Daniel Radcliffe as Elijah Wood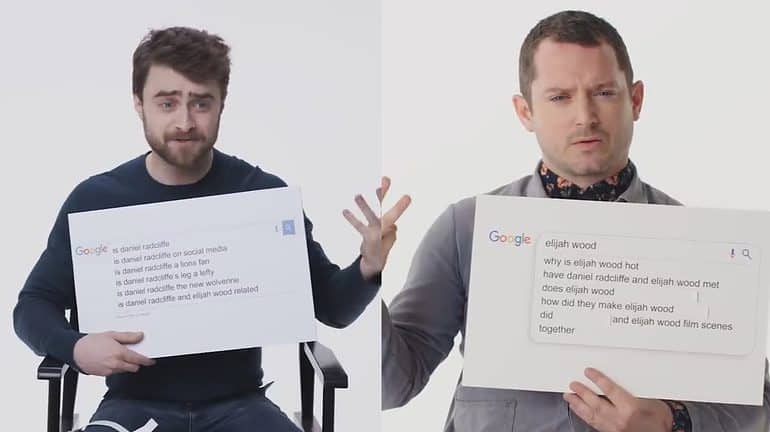 Radcliffe has described experiences where he is mistaken for Wood and tends to play along so that the experience for the fan isn't ruined. Radcliffe recalled an experience of doing press on a red carpet in Japan where a fan gave him a photo of Wood to be signed for an autograph. Instead of correcting him, he signed the photo anyway, with his signature. "The quickest way to deal with it was just to write, 'I am not Elijah Wood, [signed] Daniel Radcliffe,' and then hope somebody translated that for him later," he said.
Elijah Wood as Daniel Radcliffe
During a joint interview with Radcliffe on MuggleNet, Elijah confessed that "I have on multiple occasions been applauded for my bravery on stage in Equus," a West End and Broadway Production that helped Daniel Radcliffe rise to fame. Unlike how gently Radcliffe deals with the confused fans, Wood doesn't tend to play along in the same way and has never signed Radcliffe's name
"Once I was in an elevator in Vancouver and it was just me and this one other person, and I could feel them looking at me intently. Just before the doors opened into the lobby, he finally got up the courage, pointed at me and said, 'Harry Potter!' I said, 'No!' and I walked away."
RELATED: Celebrity Rivalries: 5 Actors Who Hate Each Other
So we have two willing actors for an exciting situation with a biopic switcheroo. We just need a company to monopolise this idea.
Would you want to see a biopic where the two actors switch roles?