When the original Elex was announced, gamers weren't quite sure what to make of the game's strange combination of futuristic technology and magic. It seemed like a strange confusing conglomeration of genres. But, for some reason, many found themselves gravitating towards the game, and soon realised the world of Magalan was an interesting and unique one, even if it was somewhat glitchy at times. Developer Piranha Bytes has released a follow up to the cult classic, but does Elex 2 have the same janky yet unique feel that made the original so special?
Become A Hero In Elex 2
Elex 2 takes place six years after the first game. Just enough time has passed for our protagonist, Jax, to go from hero to zero. For years Jax has warned the factions of Magalan of the impending invasion from beyond the stars but the factions have been so busy fighting amongst themselves that they ignored his warnings.

The game begins with the threat finally arriving on Magalan. Invaders called Skylanders start to drain the Elex, a much sought after magic material, from the planet. It's up to Jax, once again, to try and unite the splintered factions under one banner and save their world.

It's another stock standard tale of bringing together an unruly bunch of people to save the world. What makes Elex 2 such a unique game, however, is the way it combines futuristic technologies with old school magic. You'll see spiked club-wielding warriors going up against soldiers armed with laser rifles. You'll come face to face with mechs battling against spell wielding tree huggers. It's a strange combination but one that works and helps create a unique world not seen in video games very often.

Things have changed with many of the factions since we last visited the world. The powerful and technologically advanced Albs are not as antagonistic as they were in the first game and have learned how to embrace some of their emotions. The Clerics, on the other hand, are a shell of what they once were, and are struggling to build up their ranks in Elex 2. The magic-wielding Berserkers have terraformed the Outlaw lands. And the Outlaws have made a huge crater in their new home.
There is also a brand new faction, the Morkons, who are hidden away in a huge mountain. This faction worships the God of Destruction and follows a set of harsh rules and laws.

Part of what makes playing Elex 2 such a great experience is the unique post-apocalyptic environments you'll get to explore. There are lush forests, ruined cities and a few other surprises. It's a game that rewards exploration as each time I ventured off the beaten path I was found new weapons or armour to make beating up my enemies easier.
The jetpack from the first game is also back, although this time it's much more manageable and easy to use. It comes in quite handy when exploring. Players are also able to upgrade their jetpack allowing for a longer time in the air and even faster movement.
Laser Guns, Pointy Sticks & Levelling
Combat in the original Elex always felt a bit janky and consisted of dodging, light and heavy attacks. Sure, combat was surprisingly punishing but it could at times feel a little unfair.
Combat in Elex 2 is still more of the same, albeit this time a lot less janky but can be just as punishing on higher difficulties as you'll be dying a lot at first. There will be times when you'll be swinging your weapon wildly only to hit nothing but air. However, when compared to the previous game, combat feels a lot more responsive.
When in combat you not only have to be aware of your health bar but also your stamina bar as running out at the wrong time could mean a quick death. You'll not only have access to melee weapons but spells and ranged weapons as well. Combined with the jetpack, this does give players a few options in how they can approach combat. You can go in weapons swinging, or hang back and use your jetpack to gain the height advantage, killing your foes from a distance.

Levelling in Elex 2 is the stock standard RPG system we've seen before. As you play, Jax will acquire experience points that help him level up and let players increase his attributes. There is the usual suspects, Strength, Dexterity, Constitution, Cunning and Intelligence – each affecting how Jax plays.
In addition to attribute points, players also gain Learning points, these can be used to learn new skills from the various trainer across Magalan. This can be a bit of a pain as unlocking a specific skill means looking for someone that can teach it to you. This means running around speaking to every NPC until you find the one person that can teach you the one skill you need. This can be a bit frustrating and makes levelling feel like a chore.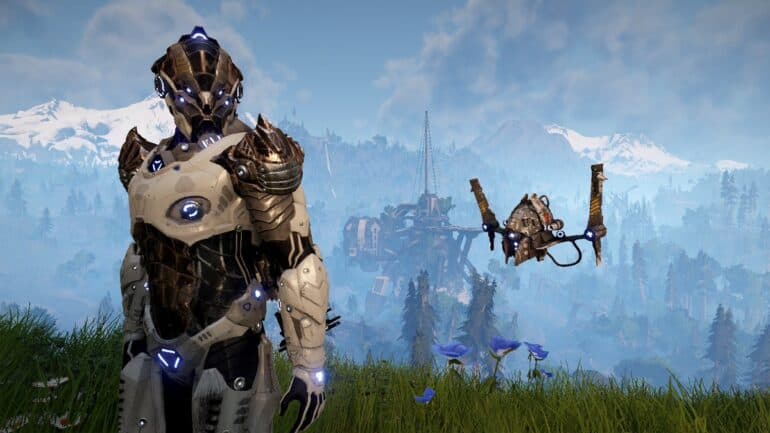 The Sights & Sounds of Magalan
Visually, Elex 2 looks a lot better than its predecessor. It won't win any graphic awards but it is a step up from the first one. The environments are diverse and interesting enough and beg exploration. There are times when the world can feel a bit empty, which does break the immersion a bit.
Jax is a stock standard protagonist but some of the NPC's players will meet are a lot more interesting, and I found myself focusing on side-quests more rather than following the main quest just because these seemed more interesting than the main narrative path.

One surprise was how well lip-syncing seems to have been implemented. The facial expressions of the characters can range from ok to hilarious at times but the lip-syncing is really well done. Voice acting, as with the previous game, can also be hit or miss. It's not awful all the time and there are quite a few times when it was actually bordering on being very good.
Elex2 is a game that, while lacking polish, does offer a very fun and unique experience. Developer Piranha Bytes had some high ambitions for the sequel and, while it doesn't quite reach those ambitions, it gets close in many respects. It's still a bit janky at times, as we've come to expect, but there is a lot of heart put into the world of Elex 2.
The Review
Elex II
If you love RPG's and want to explore a world filled with magic and technology, you might want to give Elex 2 a try -- even if it is only once it is on sale.
PROS
Interesting post-apocalyptic setting
Exploration is fun
CONS
Combat
There are quite a few visual glitches in the game
Review Breakdown
Gameplay

0%

Graphics

0%

Sound & Music

0%

Story

0%

Replay Value

0%