Ever since the release of Demon Souls, the term Souls-like (also known as Soulsborne) has become synonymous with games that are known for high levels of difficulty and have an emphasis on environmental storytelling. It's a genre that has its own hardcore fanbase who believe that there is nothing purer than the exhilaration one gets after finally beating a boss after your 100th death. FromSoftware's latest, Elden Ring, is such a title.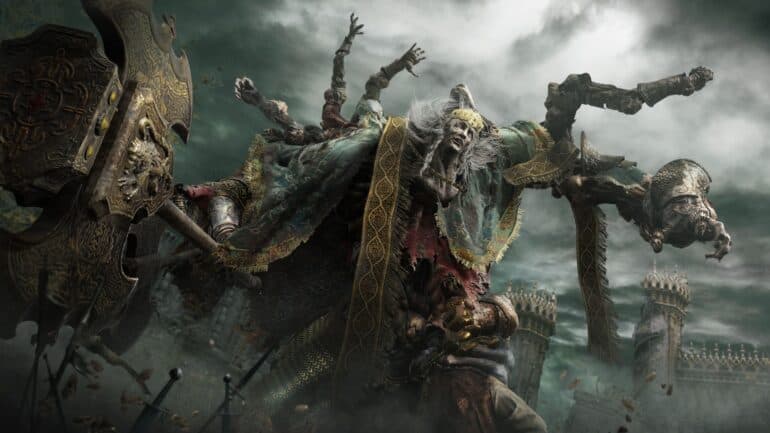 Go Where You Want To Go In Elden Ring
Elden Ring Trailer: Rise and Become TarnishedElden Ring takes place in a dark fantasy world where players take on the role of a Tarnished — individuals who have been banished from the Lands Between. However, following the shattering of the titular Elden Ring, players find themselves returning to the area with a mission to re-establish the Golden Order. This boils down to finding the demi-gods that roam the world, killing them, and collecting their great runes.

The story in Elden Ring is just as vague as one would expect from a FromSoftware game (Bloodborne, Sekiro: Shadows Die Twice, Dark Souls) and only really reveals itself to those who are willing to dig a bit deeper into the lore.

Unlike previous from the developer though, Elden Ring props you into a wild open world begging to be explored. There is little direction as to what to do when you are dropped into a strange world begging for you to explore it and discover its secrets. Whereas titles from this studio usually tend to be dark and atmospheric, Elden Ring offers a lot more colourful, albeit muted, environment. While it's still a game that oozes atmosphere, this time around golden rays and splashes of colour permeates the world. In fact, there is little doubt that The Lands Between is the main attraction of the game. It's a beautiful setting, filled with amazing creatures and vistas to see.

One element missing from so many open-world games is the feeling of discovery. Elden Ring uses the player's curiosity to drive exploration organically. See something interesting over the horizon? Then set off to explore it. The game rewards you for your daringness to traverse these strange lands. Whether it's a new weapon, armour or ingredient, Elden Ring knows just how to entice players into venturing off the beaten path.

On your journey, you will still come across old-school Dark Souls-styled dungeons filled with all kinds of dangers. Again, what makes Elden Ring so more accessible to newcomers is that you are free to first level up your character by exploring the world before tackling one of these difficult dungeons. Heck, some of them you can even skip completely.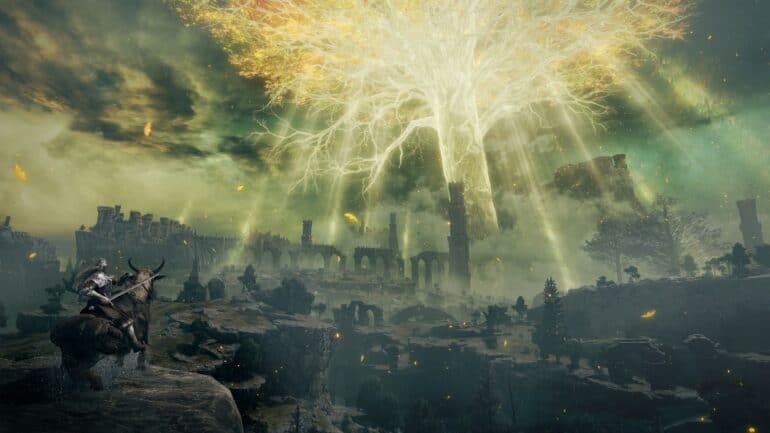 You Will Die A Lot In Elden Ring
Saying Elden Ring is more accessible, doesn't mean that the game is a walk in the park either. Some of the bosses you'll encounter are some of the most difficult to defeat in a FromSoftware game to date — and that is saying a lot.

There are quite a few factors that make combat something you have to practice. First off, there is a unique flow to how combat feels in Elden Ring. It is at times slow and methodical and less fast-paced than Bloodbourne. It takes time and patience to discover the nuances of the combat system, but, as many fans of the genre will tell you, once it clicks, it feels so satisfying.

In Elden Ring, players are free to go and fight and explore at their own leisure. There is no need to continuously fight a boss until you chuck your controller out of the window (although this might still happen). Instead, you can take a break, explore the world and level up a bit before returning stronger, faster and, hopefully, better. Levelling mostly works similar to the Souls games. Fallen enemies drop Runes, which you use to level up your skills. Die, and you lose the runes you are currently carrying.

One of the most welcome additions to combat is the game's Spirit Summons — ghostly warriors or creatures you can summon to aid you in battle. These can help a lot in combat to distract your enemies or even cause damage. Better yet, you can even upgrade their strengths if you so desire.

Combat now also takes place on horseback as players are gifted a magical steed, Torrent. Combat on horseback does take some getting used to but really helps mix up the formula, especially when it comes to fighting some of the bosses in the open world.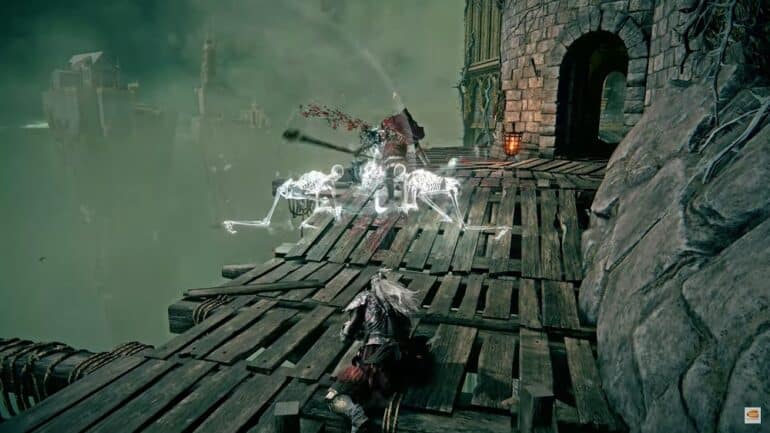 But What If I Never Liked Dark Souls?
Well, neither did I. I do not doubt that the Souls games are good, but I just never found myself engaged with the games in a way that made me want to return and play the same fights over and over and over. I get that you have to get good at the combat and I get that it might be because I suck at games. But I just never felt drawn into the Souls-like games.
That said, Elden Ring, on the other hand, clicked with me the moment I slew my first foe. This was not because I miraculously got better at playing Souls-like games but because it offered me different avenues and options once I started to hit a brick wall. There are just so many options open to players in how they approach the game's brutal combat.

Few games have kept me up at night, but Elden Ring really has. Even after dozens of hours playing, I still find myself thinking about the game and its world. I continually want to return and explore, fight and see how far I can get until facing off against the next big obstacle in my way.

Yes, Elden Ring is not for everyone. In fact, it still might not change your mind about Souls games. That said, it might be the most accessible FromSoftware title so far. Fans and critics have praised the game's world, mechanics and the way it invites newcomers into the genre. There's just something about how the action role-playing game respects the time of players and rewards them for returning to the world.
Advice For Newcomers
As mentioned, I am sort of a newcomer to the genre too. So I totally understand the reluctance to give it a try. With that in mind, I've put some tips together to make the first few steps in the Lands Between a tad easier.

Jump in the hole – It's easy to miss, but Elden Ring does have a tutorial. When you first load up the game, you'll find yourself in a room with a hole close by. Jumping down the hole will lead you through a tutorial covering many of the game's mechanics. It's a must. That said, due to its hidden nature, it is easy to miss.

You don't have to kill everything – Although the game guides players where to go next, my advice is to mostly ignore this. Why? Because fresh from the tutorial, the game will lead you straight to the huge blade of a Knight on horseback. You do not have to kill this guy. My advice is to level up a bit, explore and come back once you are stronger — otherwise he will smash you to pieces. Also, there is no shame in running away. There are many times when running past enemies will benefit you much more than dying.

Keep a journal and place markers – This may sound strange, but one thing I found lacking in Elden Ring is a journal that helps you remember who said what. Writing down what quests and information you receive will go a long way in streamlining your experience. Also, use the games markers to mark places you'd like to return to on the map.

Explore, explore, explore – You might be tempted to venture beyond the starting area of Limgrave, and you can, but it would be much more beneficial to thoroughly explore the area and level up your character before looking for greener pastures.

Get those summons – It might feel like a cop-out to use Spirit Summons, but the game makes these available to you for a reason. Having your ghostly companions distract an enemy while you pepper them with spells from afar is a great way to bring down an enemy quick.

Don't be afraid to experiment – Elden Ring gives players tons of options for how to approach combat. So, use them. If you are stuck at a boss mixing it up and using different weapons, spells could mean the difference between winning and losing.

Break the glowing skulls – You probably have seen that the Lands Between is littered with skulls that have glowing eyes just lying around. Well, break them. These will gift you with some runes.

Jump – Unlike other Souls games, Elden Ring has an attack button. Use it! Jump attacks cause a lot more damage than just plain old attacks and sometimes interrupts whatever your enemy was currently planning to do.


The Review
Elden Ring
If you ever wanted to try a Souls-like title, Elden Ring is your gateway to the genre. It's beautiful, fun and detailed.
PROS
A beautiful world to explore
Everything you do feels rewarding
Review Breakdown
Gameplay

0%

Graphics

0%

Sound & Music

0%

Story

0%

Replay Value

0%