A few years back, I reviewed the very impressive EKSA E900 Pro Gaming Headset. A unit from a brand that, at the time, I had not heard of previously, yet delivered some excellent virtual surround sound on a budget pair of headphones. This time around, I received the EKSA H1 Wireless Headset for review.
Unlike the E900, the H1 is a mono headset (one earpiece) that includes a boom microphone. The unit is branded as a "trucker headset", which makes sense, but limits the potential use-cases for the headset itself. Mono headsets are often found in call centres, local drive-throughs, on film sets and more. However, you can just as easily use these in the office environment, where you'll use them to listen to your calls while still paying attention to the environment around you. The unit is also classified as a budget headset, given its low price range, but how does it fair for day-to-day use?
EKSA H1 Wireless Headset Build and Design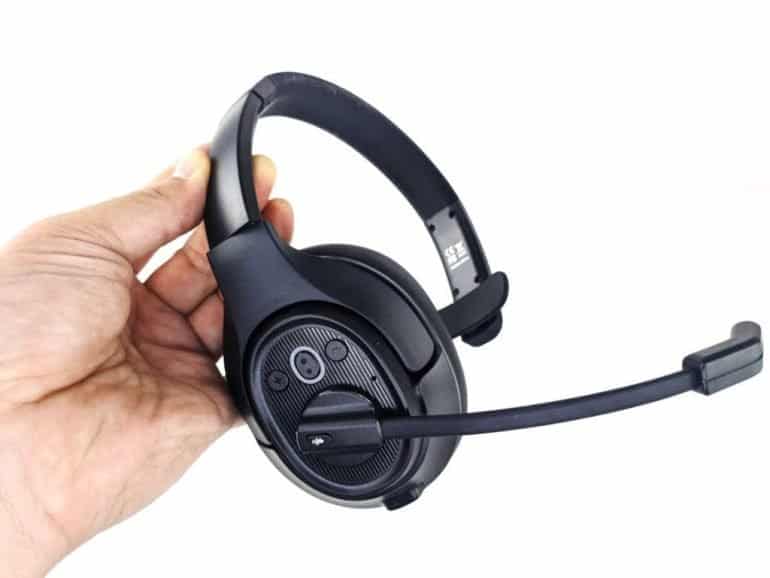 Out of the box, the EKSA H1 is fairly unassuming. With its single-earcup approach, it's definitely unusual as well.
For the most part, there is a fair amount of plastic on the build. However, where there is a requirement to be more robust, metal is used. This includes the headband internals and frame, which are then covered in a rubberised plastic.
The earcups are relatively comfortable with their faux-leather finish and cushioned cups. It fits over my ear quite nicely and seals it off too, even before using the ANC feature.
Both the left and right-hand sides have swivel points, which allows you to adjust to the shape of your head. It does, however, only have an adjustable band on the left-hand side where the earcup is. I found this rather strange, as you'd want to equal this out across your head so it doesn't sit awkwardly, as well as provide ample room for those with larger heads or more head to get around.
Overall, the matte black plastic finish looks decent. It doesn't stand out much in the way of its design but isn't flimsy. It is surprisingly robust as well, as it is both flexible and won't easily crack when dropped. I was also afraid at first of bending the boom mic arm, only to realise that it can bend in either direction and stay in place, too. Not bad at all.
Setup and Features
Being a Bluetooth headset, the expectation is that it should be simple enough to pair and use. However, there is an added bonus with the EKSA H1 that is quite useful but also creates a bit of a challenge at the same time.
Starting off powering on the H1, as with all other wireless devices, you press and hold the power button. Once it has powered on, you'll also notice that the LED flashes between blue and red. This means that it's now in pairing mode and you can connect your smartphone, laptop or another wireless-enabled device. It's fairly straightforward.
However, after you've turned off the headset and want to use it again later, it doesn't automatically connect to your smartphone again. Instead, it goes back into search mode and you can select it from your Bluetooth settings menu to connect. Since it has already been paired previously, it doesn't require any additional authentication.
There is a reason for this, however. The EKSA H1 offers dual-pairing. This means that it can connect to two devices at once. To connect to the first device, you'll follow the same steps above. Once paired and connected, you'll then turn off the Bluetooth on your first device. The H1 will enter pairing mode automatically, where you can now pair it to a second device using the same procedures. Once connected, you can then turn the Bluetooth back on and then that first device will reconnect. You're now connected to both devices simultaneously.
I chose to connect the unit to my smartphone and laptop and receive calls from both. It's a bit tricky to juggle at first but is very possible.
With only three buttons on the one earcup, there are a few scenarios in order to utilise the device to perform certain shortcuts. The most obvious for the power button is that it powers the device on and off. Long press when off to enter pairing mode. Then a single press when on to play/pause any music or videos.
When you receive a call as well, you can press the power button to pick up. When receiving a new call, you can use a single press to hang up the existing call and answer the new call, or double press to answer the new call while still on the line for the first. As stated previously, this is more than a trucker headset and will be very useful in a call centre environment with built-in features such as this.
The volume buttons are also dual-function. Single press either and you'll increase or decrease the volume. The double press will then allow you to skip to the next song or video, or go back to the previous.
Performance and Battery Life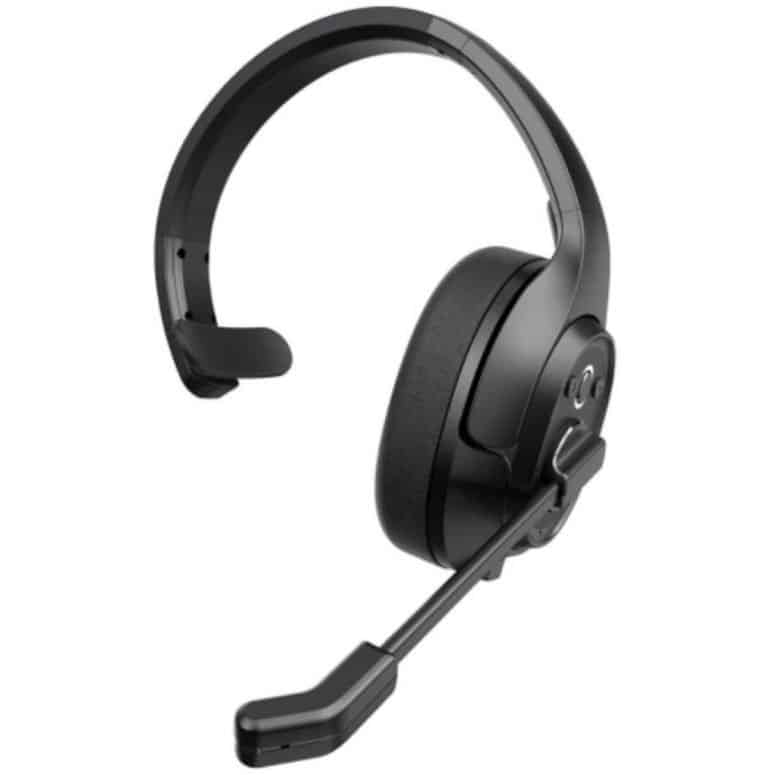 Upon first use of the EKSA H1 wireless headset, I was a bit underwhelmed by the audio quality. That being said, my first instinct was to play a few tracks. It wasn't the greatest. I then decided to watch a few videos where the dialogue was more emphasised and quickly realised I wrong I was on my first thoughts. The unit was definitely fine-tuned for voice priority over anything else.
After a few days of taking calls, listening in on meetings and the like, I found the H1 to be a very good unit for the setup. Even when recording my own voice on recording software, as well as listening back on some recorded meetings, the quality was very good as well. I also asked other participants on the call whether the clarity of my voice was any better when switching between sources and the H1 was definitely the better between the native mic and its boom mic.
The unit does also include noise cancellation features, which I found fairly useless. Given that one ear is exposed, I don't see the reason in included ANC on the other ear. That being said, it did do a reasonable job when assessing the performance of the noise cancellation, so it does work.
What I found quite useful, typically working with Teams for meetings, is that it also pairs well natively. Thanks to the built-in Windows 11 integration with Teams, any device that is in the call can perform functions. I could mute and unmute the microphone by pressing the power button, while also being able to increase and decrease the volume levels of the call. It worked quite nicely, to my surprise.
In terms of the battery life, EKSA claims that the H1 is capable of 30 hours of talk time. The unit sports a reasonable 500mAh built-in battery and has a 160+ hour standby time. Having charged the unit before starting the review, I've not yet been able to fully deplete the battery life. On average, I'm on calls for about three to four hours a day and the unit was used for the majority of these calls. I'd also listen to some music and videos in between to test the range. Having definitely passed the 30-hour mark, I can say that the claim is quite a bit underemphasised. Even a 60-hour claim would still be reasonable, which makes it very impressive on that front.
Charging the battery did take a bit of time, however, but that isn't a major concern. Having only charged it once, it lasted about an hour, although there was definitely still a charge out of the box. A quick search reveals that the average charge time is around the 90-minute mark. This is fairly lengthy but considering that you'll most like be using this headset for one or two weeks before the next recharge, it's not an issue at all.
Conclusion
At the end of the day, I found the EKSA H1 Wireless Headset quite useful. While my first impressions were pessimistic, after spending some time using the unit over a period of two weeks, it really grew on me. While the unit does make sense to be marketed as a "trucker headset" it's a lot more than that. It would prove really useful in any call centre, as it proved to be of great value for office use as well, especially given its voice clarity.
The EKSA H1 is priced at $89,99 and is available on Amazon.com. It's also available on the official EKSA website at $79,99. It's not the most cost-effective solution around but does a really solid job. With its list of features and Bluetooth connectivity, you can take the unit wherever you go for convenience and get the most out of it each time.
The Review
EKSA H1 Wireless Headset
The EKSA H1 Wireless Headset may be marketed as a "trucker headset" but it's much more than that. Users can get the most out of these headphones in the office, call centre, on the road and everywhere in between. They're a great productivity tool.
PROS
Very good voice clarity
Comfortable
Excellent battery life
Surprisingly robust
CONS
Not the furthest Bluetooth range
Can't adjust the headband on both sides
A bit too plasticky
Review Breakdown
Ease of Learning

0%

Ease of Use

0%

Design

0%

Performance

0%

Enjoyment

0%

Value for Money

0%