New year, new name. Rebranded as eFootball PES 2020, it's a brand-new era for FIFA's biggest competitor. Of course, it's all too easy to make this a mudslinging review about PES vs FIFA, but since the latter's release is still a few weeks away, let's rather focus on the title at hand.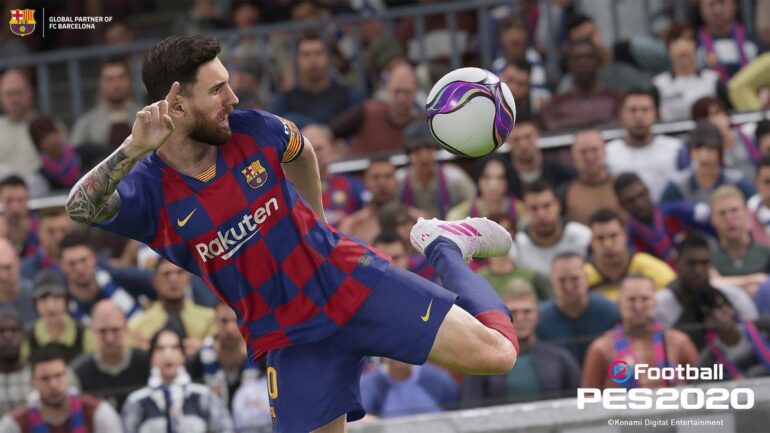 Understanding that official licenses remain its biggest hurdle, PES 2020 goes out of its way to show the partnerships it's secured. From Barcelona to Bayern Munich to Manchester United and Juventus—as well as numerous leagues and 50 international teams—there's no shortage of "official" star power here. In addition, PES 2020 will be the official game of Euro 2020, which will be released as a free DLC next year.
Speaking of what's on display, it's good to see that the menus received a refresher. While they still retain some of the key aesthetics of the past, this feels like some thought went into it. The use of icons on the main menu add a modernity to proceedings, looking fresher than Juventus' new home kit.
That said, no one is buying PES 2020 to stare at the menus all day; it's about the gameplay here. To say it's the most lifelike football simulator would be an injustice, because it's succeeded in pushing up a whole new level. In the past, PES's gameplay truly was a joy (more so than Arsenal fans watching Alexis Sanchez flop at Man United) and the most realistic around, but it's improved even more this year.
For one, the finesse dribbling (created with Andrés Iniesta) is out of this world. If you have a ball wizard like Neymar, Messi or Cristiano Ronaldo in your ranks, you'll see how their attributes assist them in turning and gliding past players with close control and pace. On the other hand, players with low ball control and dribbling attributes will lose the ball more easily. So, make sure that you understand the players on your team and their strengths and weaknesses.
Tied to this is the improved first touch technique. Much like above, the more skilful the player, the more likely you'll be able to pull off a sombrero flick while sending the defender off to the shop to buy hotdogs. At the same time, if you blast a pass at your teammate, basic physics will apply and an opposition defender might steal the ball off the rebound.
That's the thing about PES 2020's gameplay: realism. Scoring a goal isn't a right; it's a privilege. Whether it's a toe poke or 30-yard screamer, you'll feel rewarded when you get your goal, because the AI is scarily good. If your opposition is winning, scream in frustration as they pass the ball around and waste time, waiting to hit you on the counter as you press forward.
The sensational gameplay is complemented by the best graphics in a football game, period. Every official player model looks like its real-life counterpart and even moves like them. Turning to the field, the official stadiums are impressive to behold and every little detail adds to the atmosphere. You won't want to skip those cutscenes of your players in the tunnel and high-fiving each other at the end of 90 minutes, as you'll want to savour every moment before and after the game.
The commentary, though, isn't quite as remarkable as the aforementioned. While not as horrendous as some of the previous editions, commentators Peter Drury and Jim Beglin feel as if they're phoning it in and going through the motions. PES desperately needs an update in its commentary team, as their analysis borders on mundane and annoying more times than not.
Another negative is that there's no women's football in PES 2020. While FIFA does hold the gaming rights for most of the women's competitions, it's disappointing to see that there's not even an option to play with a few teams here. The rising popularity of women's football means that this isn't an area that PES can ignore any longer.
Moving on to the features, there's a new one called Matchday, which lets you choose your favourite team and links to its real-life schedules. It's pretty much just a way to make the game feel like it's matching what's happening on the real pitch. Plus, it makes for some online fun and community activity, as players compete to earn the honour to represent their clubs.
The ever-popular Master League receives a refresher for this year's edition. You'll be able to select managers from greats, such as Diego Maradona and Romario, while the behind-the-scenes interactivity takes a huge leap forward. In many ways, it's like a mash-up of the WWE SmackDown! vs. Raw titles and Football Manager where you spend some time speaking to the media and coaching staff, adding more dynamism to the "storyline" aspect. Also, it's a good idea to take your coaching staff's advice when they encourage you to put a player in the starting 11.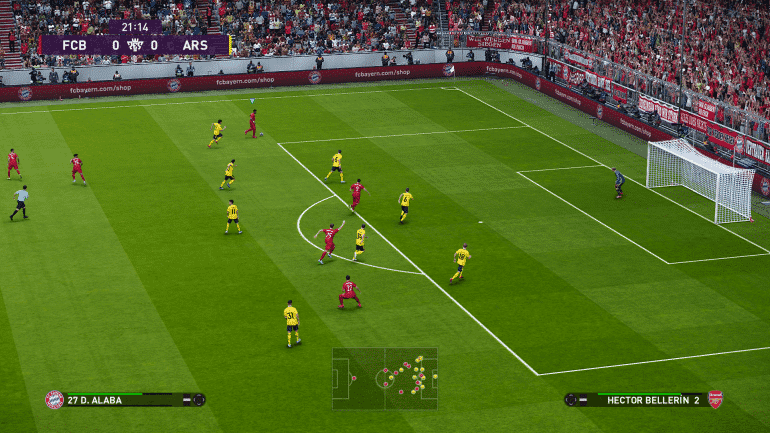 Become a Legend is also still around. There isn't much of a noticeable change here; however, it didn't require it either. It's about building up your created or selected player and playing matches to improve them and earn better contracts/transfers. No need for any, ahem, journeys.
Of course, one of the biggest draws of PES, especially for online players, is myClub. Rather than mess with a winning formula, there have been little tweaks, such as the player stats screens and National Team Featured Players. Still, the magic still lies in logging on and competing against your friends to earn the right to build your dream team. A lot of work has taken place to ensure this mode is given all the precision and attention and it shows in this year's version. Prepare to lose your social life for the next six months!
So, is eFootball PES 2020 all that and a chocolate cake? Abso-freaking-lutely!
The Review
eFootball PES 2020
Forget about the licenses and awful commentary, because eFootball PES 2020 crushes every other aspect, delivering a game-changing football simulator in the process.
PROS
Gameplay
Improved modes
Incredible graphics
CONS
Awful commentary
Lack of women's football
Review Breakdown
Gameplay

0%

Graphics

0%

Replay Value

0%

Sound & Music

0%