Godzilla vs Kong step aside. The teaser trailer for Ebola Rex Vs Murder Hornets has been released. As if an epic showdown between two of mockbusters most legendary monsters isn't enough, fans also get a zombie outbreak and flaming spiders thrown into one very low budget movie… and well, who can resist?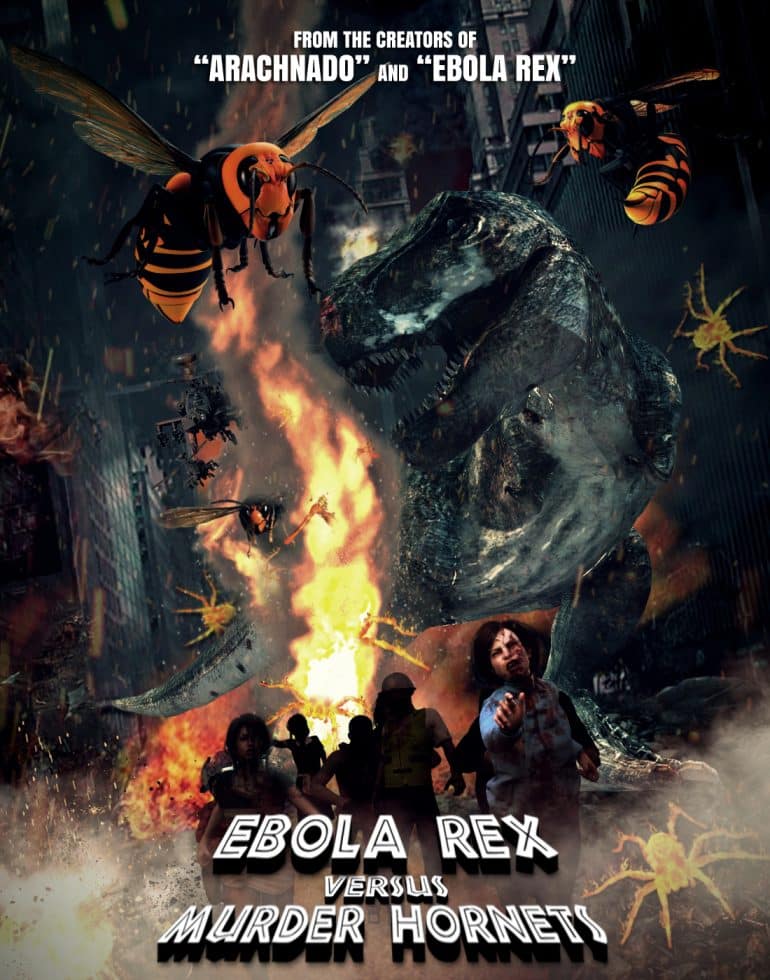 Director, Dustin Ferguson (Nemesis 5) has brought back two of 2020's most beloved mockbuster monsters and allowed us mere mortals the opportunity to see these two showdown in what sets itself up to be an action-packed film.
The official synopsis for the movie reads: "The diseased Dinosaur returns to battle to the death with the Murder Hornets during a zombie outbreak that is hit by several "firenados" containing flaming spiders.
Previously, Ferguson has received great acclaim for the masterpiece, Ebola Rex (which has secured a whopping 7.8 rating on IMDB – I kid you not), with one reviewer even praising the movie as "Jurassic Park done right".
As for Ebola Rex Vs Murder Hornets, one can only hope that it will achieve the same level of mastery as its predecessor.
This time around, Ferguson has teamed up with digital effects artist Mark Lunn to bring us this beautifully B-grade film.  The movie stars Mel Novak (Bruce Lee's Game of Death), Brinke Stevens (Slumber Party Massacre), and Jarad Allen (Angry Asian Murder Hornets).
Although the movie is beyond low budget, it is just the type of carefree, light-hearted fun we all need to help us forget the woes of 2021, even if it is only for an hour or so.
Ebola Rex Vs Murder Hornets is set for a free YouTube premiere on March 1st, 2021 at 7pm PST, and this sure looks like one not to be missed.
Will you be tuning in for the free YouTube premiere? Who will you be rooting for in this action-packed Ebola Rex Vs Murder Hornets battle?