When it comes to Dwayne "The Rock" Johnson, he's a man of many talents. He's been the People's Champion. The Scorpion King. The dude who wears muted colour shirts in jungle-themed films. And he's about to be Black Adam too. But you know what the Rock hasn't been just yet? A pet rock.
Dwayne Johnson's work in animation
Johnson might be recognised for his action roles on screen, but there's also a different side to him; one that shows off just how much charisma he oozes. Of course, the heading gave it away here: his work in animated productions. You only need to witness his performance as Maui in Moana to see that he gets this artform. (Plus, from what we've seen of him as Krypto in DC League of Super-Pets, it appears like we'll never be able to hear the Pup of Steel without thinking of Johnson's voice in the future.)
While Johnson is a bankable action star, he's equally talented as a voice actor. All those years of cutting promos on jabronis like "Stone Cold" Steve Austin and Triple H helped him shape an entertaining on-screen character with catchphrases galore, pitch-perfect delivery, and the ability to riff with others in a believable manner. It only makes sense that he takes all the wild and wonderful things he learnt in the WWE and applies them in his unstoppable reign as the king of Hollywood.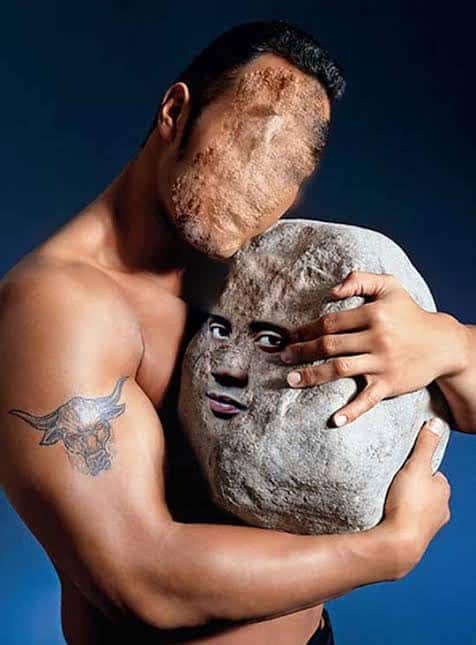 The Rock as a pet rock
Now, hear us out for a second. Johnson has shown that he's able to laugh at himself. He isn't a self-serious celebrity who gets high on the scent of his own farts. No, Johnson knows that life is too short to be a d-bag or holier-than-thou thespian. He gets that the business is about bringing happiness and joy to the audience, who crave escapism. And hey, in between his gains for Black Adam 2 or his next flex in an action blockbuster, he'll probably need something to unwind a little. Something for the family…
So, here's our pitch: An animated film about a magical pet rock that befriends a lonely child. When others discover this unique rock, they want to steal it away for their own purposes. But the child will fight back because this is more than a pet rock—it's a friend. If you need an elevator pitch, it'll be like E.T. but with a lovable pet rock! Just imagine the merchandising potential here.
Sound interesting?
Sure, Johnson might be busy with the DCEU and making video game adaptations, but everyone knows that this is the movie we want to see. It's beyond meta; it's a prophecy that needs to be fulfilled. And only one man can deliver an electrifying performance as a pet rock.
Tell us, would you like to see Dwayne "The Rock" Johnson as a pet rock? Let us know in the comments section.