With a resurgence in the popularity of tabletop RPGs, Wizards of the Coast has released a new Dungeons & Dragons Essentials Kit — which aims to make getting into the hobby a lot easier for new adventures.
Is this enough to draw in new players and does it really include everything you need to get started with your own campaign?
What's in the box?
As expected the box for the Dungeons & Dragons Essentials Kit comes packed with all the bits and bobs a new player will need to get their first adventure started.
There is the obligatory character sheets, a starter rulebook, a DM screen (that's Dungeon Master for you newbies), and all the dice you could need.
What I did appreciate is that there is also reference cards included with the box that gives players details on spells, items and people.
The box also includes an adventure titled Dragon of Icespire Peak.
For those would-be cartographers, there is also a map included of the Sword Coast.
The DM screen includes a quick reference guide on the back which puts most of the information a new Dungeon Master would need right at their fingertips. This comes in very handy and negates the need for the DM to fiddle around in the rule book for basic information.
Now, I have to mention that although everything in the box is made of the highest quality materials (considering this is a starter set), the perforated reference cards, which you have to tear apart yourself, is a bit on the thin side and, unfortunately, I did tear one or two of them by mistake.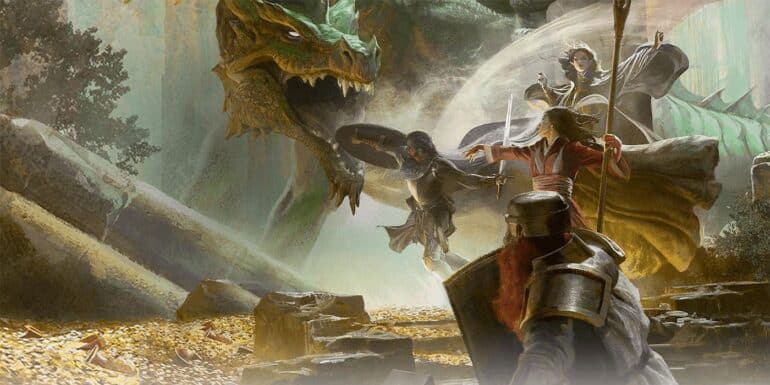 How do you play it?
In summary, Dungeons & Dragons is a tabletop role-playing game in which one person is the titular Dungeon Master who leads the other players on their adventure using the supplied adventure book or by creating their own adventure.
Players get to create their adventurer by choosing from various races and classes. Basically, building them to suit your playstyle and personality. From there you and your party will set off on an adventure filled with dice rolling, monster-slaying and all kinds of encounters.
It's the Dungeon Masters job to make sure that the players are kept engaged and immersed in their fantasy world. Luckily, the Dungeons & Dragons Essentials Kit has all the information a DM might need to make sure your first adventure runs as smoothly as possible.
What did we think of the Dungeons & Dragons Essential Kit?
As a way to get into the hobby, the Dungeons & Dragons Essentials Kit does a great job of slowly introducing players and Dungeon Masters to the world. Everything you need is packed into one self-contained adventure. If you and your friends have been wanting to get into Dungeons & Dragons, but just did not know where to start, this is the perfect kit for you.
Initially, we were concerned that it might be difficult to get started. Because, let's be honest, Dungeons & Dragons can seem a bit intimidating. But after some prep, we were on our first adventure and enjoyed every moment of it.
For more information on the Dungeons & Dragons Essentials Kit, visit solarpop.co.za.
The Review
Dungeons & Dragons Essentials Kit
The Dungeons & Dragons Essentials Kit gives a would-be adventurer and his rag-tag team of heroes everything they need to set off on their first tabletop adventure.
PROS
Everything you need in one box
Wonderful artwork
CONS
Some of the reference cards are very thin and can tear
Review Breakdown
Gameplay

0%

Components

0%

Complexity vs. Depth

0%

Theme

0%