2023 is going to be a good year for both Dungeons and Dragons players and movie fans as a new film, Dungeons & Dragons: Honor Among Thieves, is finally on the way. Here is your chance to win tickets to an early screening of the film.
RELATED: Geekware: Your One-Stop Shop For All Things Dungeons and Dragons (D&D)
Did you know that there is an entire trilogy of Dungeon and Dragons movies? Most people are familiar with the Dungeons & Dragons film (starring Jeremy Irons, Marlon Wayans, Justin Whalin, and Thora Birch) released in 2000 — even though it turned out to be a massive critical and commercial flop. Two more direct-to-video movies were produced throughout the 2000s, with the last one, Dungeons & Dragons 3: The Book of Vile Darkness, released in 2012.
For nearly a decade (which is a long time in Hollywood years), it seemed like a new Dungeons and Dragons movie would never come to be — that is until Paramount Pictures finally confirmed that a reboot is finally in the works and ready to be released next year. Fans of the legendary fantasy tabletop game are justifiably concerned about the franchise's future on the big screen.
Still, the good news is that there are some exciting reasons to be optimistic about this reboot. Here are a few things we want to see in Dungeons & Dragons: Honor Among Thieves:
RELATED: Dungeons & Dragons Essentials Kit Review – Get Started
1. A New Direction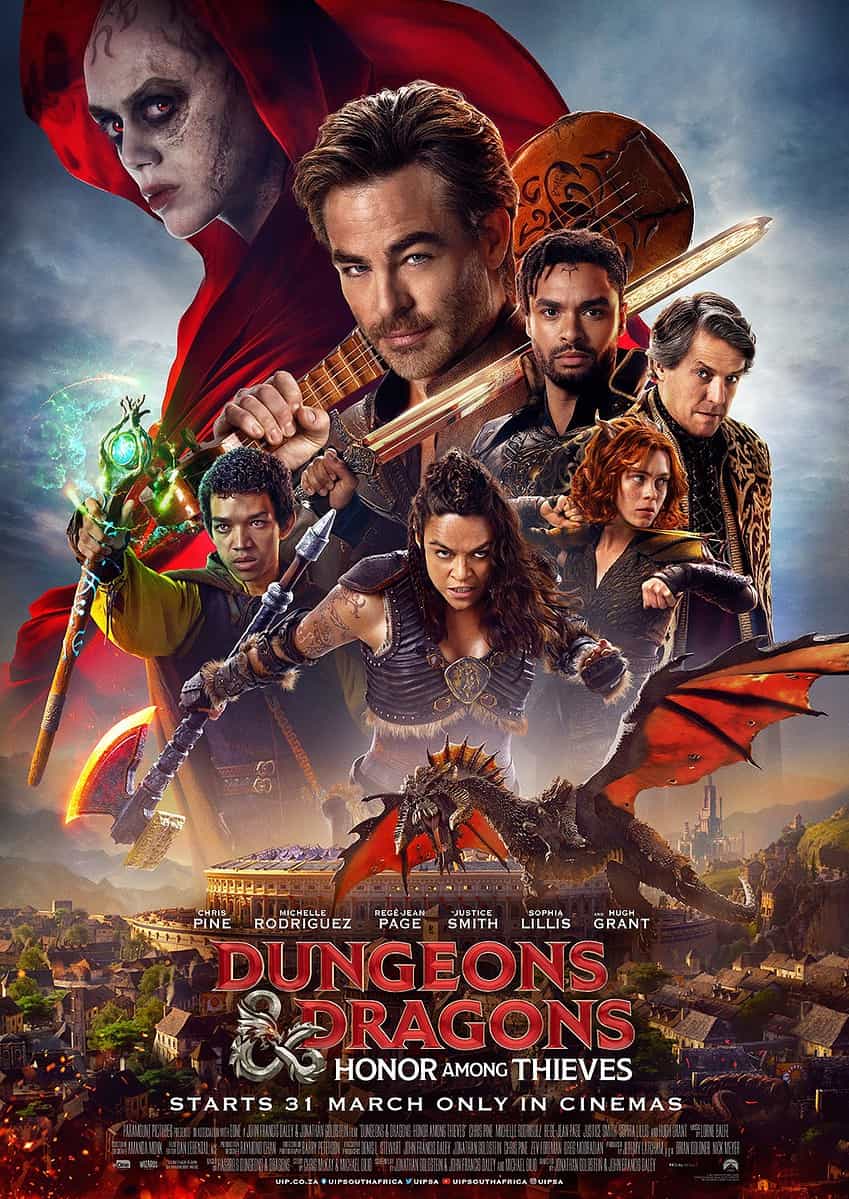 First things first, the choice of director(s) for Dungeons & Dragons: Honor Among Thieves is not exactly what most D&D fans would expect. In a perfect world, the director's chair would be occupied by someone with a long trajectory working with fantasy films — think of someone like Peter Jackson or even David Benioff and D.B. Weiss.
In a surprising twist, Jonathan Goldstein and John Francis Daley have been chosen as co-directors for the new Dungeons and Dragons (2023) reboot movie (which is being produced by Stephen Davis and Jeremy Latcham). The duo is better known for directing comedies, with their most notable successes being the two Horrible Bosses flicks and Game Night.
This would be particularly interesting for the future of the franchise in cinemas. Recently, actor Chris Pine revealed that the upcoming reboot (an action-fantasy movie) has a less serious tone than its predecessors. Add to that the fact that the film's directors are known for their comedies, and you'll get the idea of the new direction that the franchise seems to be pursuing.
Let's not forget that Goldstein and Daley worked together writing the script of Spider-Man: Homecoming. Perhaps what we'll see is a self-referential Dungeons and Dragons movie that pokes fun at some of the more outlandish aspects of the classic tabletop game.
Even though we know that this might sound more than a bit concerning for the most die-hard Dungeons & Dragons fans, this style of self-deprecating, borderline absurd humour has permeated most blockbuster films in an effort to emulate the success of the Marvel Cinematic Universe. What we're saying is that, despite the apparent shortcomings of this comedy style, Goldstein and Daley have proved themselves more than capable of handling a successful comedy film in the past.
Despite the duo's renown as screenwriters, they have nothing to do with the story of Dungeons & Dragons: Honor Among Thieves. That task will be handled by Chris McKay and Michael Gilio.
McKay has also worked on comedies in the past: his feature directorial debut was The Lego Batman Movie in 2017, and previous to that he worked in the shows Moral Orel and Robot Chicken. On the other hand, Gilio is still a fresh face in the entertainment business, with the new Dungeons and Dragons (2023) movie being his first gig since 2001.
So far, it seems like the reboot is aiming to provide a drastically different take on the D&D cinematic formula. It could be argued that the original trilogy took itself way too seriously, which proved detrimental to the overall originality of the franchise. In the end, the film trilogy lacked a personality of its own — a situation that could be rectified by the reboot's fresh new take on the franchise.
RELATED: 11 Celebrity Gamers: Henry Cavill, Robin Williams, Vin Diesel & More
2. Cast and Characters
In the leading role, we have Chris Pine; the actor is best remembered for his work in the latest Star Trek trilogy, where he played the role of Captain James T. Kirk. Most of the info we have about the reboot is thanks to Pine, who has revealed that the reboot is aiming to be a mix between "Game of Thrones and The Princess Bride, (with) just a smidge of Monty Python and the Holy Grail." The actor has also revealed that the movie felt like an eighties comedy to him, and described his characters as the "ultimate party planner."
Sophia Lillis, better known for the It series, will be joining Pine in the new Dungeons and Dragons movie. She'll be playing a character known as 'Doric.' Justice Smith, Michelle Rodriguez, Hugh Grant, and Jason Wong have all also been cast in the upcoming film.
Bridgeton star Regé-Jean Page has also revealed that he plays a Paladin in the film. "I've listened to a couple of Dungeons and Dragons podcasts in my time. I played a ton of JRPGs [Japanese role-playing games] and basically everything that's come out of it. I played a ton of Diablo as a teenager, so I'm used to the fact that I play a paladin – that's just what I do, and I know what that means, to a degree. I watched my friends play Baldur's Gate, so I'm like a second-generation Dungeons and Dragoner," the Wonder Woman star revealed in 2021.
It will be interesting to see such a young cast on the front stage of a fantasy comedy like this one. Pine, on the other hand, has proved himself quite capable as a comedic actor in movies like Horrible Bosses 2 and This Means War.
Pine was excited to share his thoughts about the upcoming movie. "Oh man. Well, what I will say is we had a hell of a fun time making it. There was a lot of laughs. The way that I've been describing it, it's like Game of Thrones mixed with a little Princess Bride, just a smidge of Holy Grail; it's somewhere in that ballpark. It's a lot of fun. It's got a lot of thrills. It's poppy, it's eighties heartfelt, there's a bit of Goonies in there. My character, he's the ultimate party planner. I think it's going to be really good. I mean, who fucking knows, but I think we got a good shot and John and John are killer guys. They know comedy and they know heart and we had a great cast and we had a good time making it. And that's all you can ask for."
While the characters in the new Dungeons and Dragons (2023) movie remain a mystery, we know for a fact that principal photography for the film was conducted in Northern Ireland and parts of Iceland. This would certainly give the reboot a certain "Game of Thrones" air, as Belfast was one of the show's preferred filming locations.
There are also rumours that the movie will be set in The Forgotten Realms (created in 1967 as a setting for short stories by Ed Greenwood) one of the most enduring campaign settings for D&D.
Considering the lighthearted tone that Goldstein and Daley are aiming for with this reboot (expect a lot of comedic elements), we'd say that the cast is going in the right direction for the new movie. Younger actors without a strict fantasy background will breathe new life into the D&D cinematic franchise — which is something the studio will need desperately, seeing as their goal is to establish a new multimedia franchise starting with this reboot.
3. A New World Of Dungeons & Dragons
Paramount has announced that the upcoming Dungeons & Dragons: Honor Among Thieves is just the tip of the iceberg when it comes to the future of the franchise. There are several plans to turn this new D&D franchise into a complex multimedia universe, including at least two spin-off shows based on the film adaptation.
The TV series will "complement" the new fantasy film, with yet another show produced for online streaming set to be released at a later date. This could be one of the more pivotal moments for the Dungeons & Dragons franchise, so it's safe to say that Paramount, Wizards of the Coast and Hasbro must have a lot of faith in the quality of the reboot if they're planning this far ahead.
It seems like the new Dungeons and Dragons movie could turn into this decade's new Game of Thrones, as long as they play their cards right, that is. We have to take into account the 2022 release of HBO's House of the Dragon, and how the show could very well influence the entire fantasy genre, just as Game of Thrones did.
RELATED: 10 Reasons Why 80s Cartoons Were The Best
Dungeons & Dragons: Honor Among Thieves has a Friday, 31 March 2023, theatrical release date.
First published in 1974 by Tactical Studies Rules, Dungeons and Dragons (which has been played by over 50 million people across the globe) is described as "a game all about telling stories, becoming a character, and having fun with your friends". Set in a fantasy world of swords and sorcery, the tabletop game has spanned fantasy adventure video games, memorabilia, books, comic books, and more.
Movie's Synopsis:
A charming thief and a band of unlikely adventurers undertake an epic heist to retrieve a lost relic, but things go dangerously awry when they run afoul of the wrong people. Dungeons & Dragons: Honor Among Thieves brings the rich world and playful spirit of the legendary roleplaying game to the big screen in a hilarious and action-packed adventure.
About the Early Screening
Venues: Durban (Suncoast) & Cape Town (Labia)
Date: Tuesday, 28 March
Time: 18:00
To stand a chance of winning double tickets to see Dungeons & Dragons: Honor Among Thieves:
Please complete the form below.
[rafflepress id="50″]
The competition closes on 27 March 2023. Winners will be contacted via email on this date. Please use a working email address.
The giveaway is restricted to readers who reside in South Africa only. Terms and conditions/Site disclaimer rules apply. One entry per person. The winners will be contacted via email. The prize excludes travel, is non-transferable and cannot be redeemed for cash.