Timothée Chalamet, Zendaya, Oscar Isaac, Jason Momoa, Stellan Skarsgård, Josh Brolin, Javier Bardem, Dave Bautista, David Dastmalchian and Rebecca Ferguson. These are just a few of the actors you can expect to see in Denis Villeneuve's Dune, an epic sci-fi film based on Frank Herbert's 1965 novel of the same name.
Billed as one of the most important films of the 2021, Dune is a must-see film. And what better way is there to experience it than in 3D at the IMAX?
Here's your chance to win tickets to a film that Empire magazine describes as "an absorbing, awe-inspiringly huge adaptation of Frank Herbert's novel that will wow existing acolytes, and get newcomers hooked on its Spice-fuelled visions."
Early reviews of Dune are very positive:
With 91% on Rotten Tomatoes, Dune has been praised for its scope and ambition:
"Dune feels like the start of a story that will soon become the stuff of sci-fi filmmaking legend." – Inverse
"A breathtaking film worthy of the visionary Herbert's rich, sophisticated source material." – Globe and Mail
"Director Denis Villeneuve accomplishes what David Lynch failed to do. He turns Frank Herbert's multilayered, 1965 sci-fi classic novel into an involving adventure." – Film-Forward.com
"Dune manufactures the magic of movies where the dreams can be as big as the screens that display them." – Slashfilm
"Dune is a transporting cinematic experience, and parts of it are downright awesome…" – CBR
What's the film about?
Paul Atreides, a brilliant and gifted young man born into a great destiny beyond his understanding, must travel to the most dangerous planet in the universe to ensure the future of his family and his people. As malevolent forces explode into conflict over the planet's exclusive supply of the most precious resource in existence, only those who can conquer their own fear will survive.
Watch the Dune movie trailer:
Need more convincing?
The epic score was created by Hans Zimmer. From the creative mind of Denis Villeneuve, director of Arrival and Blade Runner 2049.
When does it release?
Dune arrives in South African cinemas on October 22nd 2021.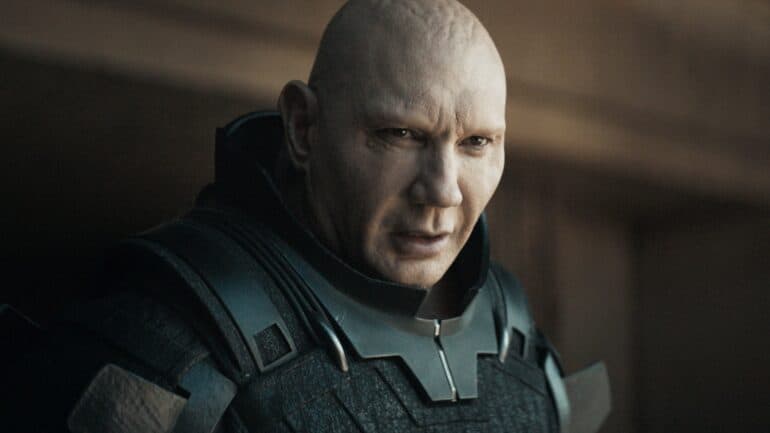 When is the screening?
Date: Thursday, 14 October
Time: 7.30pm
Venues: Cape Gate #2 (Cape Town) & Mall of Africa #7 (JHB)
What do I need to do to win tickets to the early screening of Dune?
#Dune #DuneMovie
Win double tickets (for you and your partner) to see the film in 3D on Thursday 14th October.
To stand a chance of winning, all you need to do is complete the following:
[rafflepress id="28″]
The competition closes on 12th October 2021. Winners will be contacted via email on this date. Please use a working email address.
The giveaway is restricted to readers who reside in South Africa only. Terms and conditions/Site disclaimer rules apply. One entry per person. The winners will be contacted via email. The prize excludes travel, is non-transferable and cannot be redeemed for cash.
©2021 Warner Bros. All Rights Reserved.