Way back in 1979, the first board game based on Frank Herbert's sci-fi novel, Dune, made its appearance. It was quite a large and involved board game for its time, requiring up to six players to play. Fast-forward to the present and just in time for the new film's release, another game based on the popular franchise is released. Dune: Imperium sets out to streamline a lot of what the original board game did, also making it a tad more accessible for those wanting to explore and conquer the spice covered planet of Arrakis.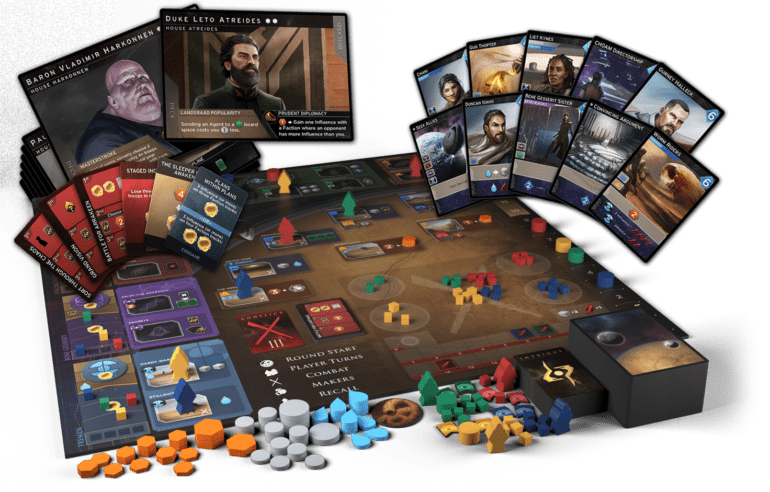 What's in the box?
Dune: Imperium is a very unassuming board game. There are quite a few components packed into the box. All the various markers and icons can be slightly confusing and even a bit intimidating at first. Most of these components are minimalistic, in other words, mostly wooden cubes.
Besides the wooden pieces and cardboard tokens, the game also comes with various cards. These are adorned with some beautiful art, which ties in perfectly with the visuals of the recently released film. The cards do have a glossy finish, which makes handling them much easier than if it was a linen finish.

Dune: Imperium's minimalistic approach is also followed when it comes to the actual player board. It can look dull when compared to many of the more modern board games out there.

Overall, most of the components follow a minimalistic yet functional design. This can be quite misleading once one starts to play the game.


How do you play Dune: Imperium?
In essence, Dune: Imperium takes some tried and tested gameplay mechanics and combines them in a fashion that works surprisingly well. The game merges deck building (ala Dominion) and worker placement (ala Stone Age) into one familiar yet unique package.

Each player will start the game with a small deck of cards. Initially, most players' decks will consist of the same type of cards. As the game progresses, they will be able to purchase new and unique cards.

A round begins with a new conflict card being revealed. On their turn, a player will then take an Agent or Reveal turn.

An Agent turn sees a player playing cards from their hand to place their agents (workers) on different spaces on the board. By placing agents on the board spaces players gain the effects from that space. Once they run out of agents, they will generally take a Reveal turn by playing a card and resolving the effect.

Then it's on to the combat phase. Combat is very abstract in Dune: Imperium. Players tally up the troops they have committed to combat during the previous phase, along with any special bonuses accrued and then divide the rewards accordingly.

After one player has reached 10 Victory points, the game ends and the person with the most Victory points is crowned 'He who controls the Spice'.
What did we think?
There is quite a bit more to Dune: Imperium and, just like the novel, the game focuses a lot more on intrigue and espionage than combat. What makes the game so enjoyable is the fact that there are just so many options open to a player. It can feel a bit overwhelming but, after a few playthroughs, you'll get to grips with the mechanics quite easily.

A lot of time is spent planning and deciding which spaces to block from other players, using your agents and figuring out what your opponent's next move will be. Also, you'll be constantly trying to do as much as you can with your two actions and use them as effectively as possible. Sure, the game lacks some of the tension one would find in similar games but Dune: Imperium tries to remedy this by introducing the conflict phase.

The board game felt at its best when played with four players, although the single and two-player games are very serviceable. There is also a companion app as well that helps streamline things.

Dune: Imperium combines different mechanics into one very enjoyable package. It might look a tad dull and boring when set up on the table but its lacklustre visual design hides a deceptively fun and engrossing board game.

For more information on this and many other board games, visit solarpop.co.za.
The Review
Dune: Imperium
A great tie-in to the movie, Dune: Imperium is a must-have for any Dune fan.
PROS
Very accessible - even if it looks a bit daunting at first
Appeals to a wide range of gaming tastes
CONS
Visually, the game can look very uninspiring
It can take a few plays to grasp the mechanics fully
Review Breakdown
Gameplay

0%

Components

0%

Complexity vs Depth

0%

Theme

0%