After the massive misfire of last season, even the biggest fans of Doctor Who may approach Spyfall, the first episode of season 12, with caution. However, it has to be said that this episode is an improvement from what's gone before. Unfortunately, that isn't saying much because it's still far from great.
Across the globe, spies from different countries are being targeted by extra-terrestrial enemies and having their DNA rewritten to be something less than human. In response, MI6 call in help from the Gallifreyan Time Lord known as the Doctor to help. While the Doctor is busy fixing her trusty TARDIS, her companions are catching up with the lives, friends and family they've left behind since beginning their recent travels through time and space.
Once gathered together, companions Ryan and Yaz are tasked with investigating techno-oligarch Daniel Barton – the common link between all the agents who were attacked. Meanwhile, the Doctor and her other companion Graham track down conspiracy theorist "O", who may have further information about the attacks and which alien force could be behind them. But can they unravel the layers of spycraft and determine the nature of their enemy before it's too late? And what old nemesis of the Doctor could be behind such a dastardly scheme?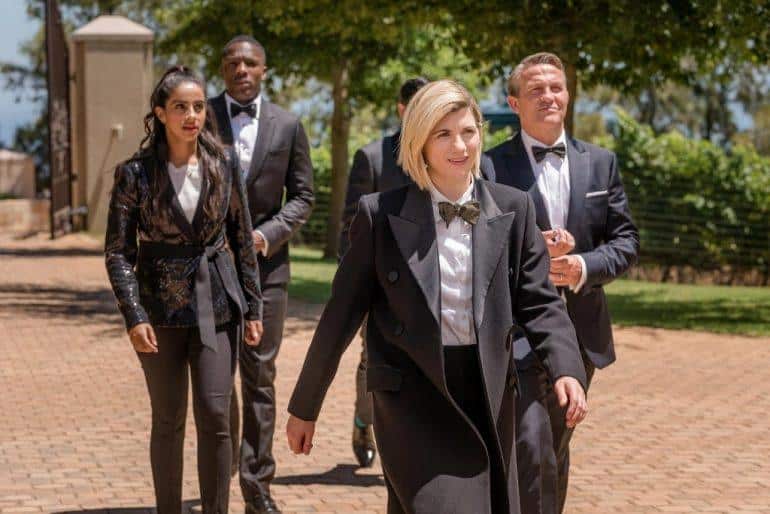 On paper, the concept for this story probably sounded perfect: it's a homage/satire of classic British spy thrillers with a couple of big name stars appearing, along with the Doctor's legendary sci-fi blend of wit, action and adventure; exotic locations, a car chase, a bit of hacking, a couple of slightly subversive political digs, and a megalomaniacal villain fans can hate… seriously, what could go wrong? Well, for starters, try the story itself.
While the pace of storytelling whizzes viewers through events at a decent clip, it seems like it's only a distraction tactic being used to stop the weaknesses of the plot from being exposed. Even for a sci-fi show which can solve any tech problem by reversing the polarity of the neutron flow, it's riddled with holes that contradict common sense… as well as the canon of the show itself. The plans of both heroes and villains are dumb, relying on luck and coincidence more than careful attention to detail.
A great example is the Doctor's confrontation with Barton, apparently the most powerful and important person on the planet, at the man's estate. The Doctor, not one for beating around the bush, bluntly asks him what his plan is and why he's only 93% human. He dismisses her as a crank, gets in his car and leaves. The Doctor and her companions jump on some bikes, triggering the obvious chase, but… why is he running anyway? It's his house. And what's their plan if they get him to stop? They have no authority over him, no weapons, and no way to make him confess to anything – and even if he did it, would mean nothing. On the flipside, he has security guards but he doesn't call them… or even the local authorities. Instead, he races off and boards a plane… why? To lure them in to a trap? Really? What if they'd failed to catch up with him, or hadn't chased him at all? What if the Doctor hadn't even confronted him?
There's always the chance that this kind of incredibly sloppy writing can be explained away, if the second part pulls a Last Christmas twist out of the bag. But as it stands? It's stupid storytelling that tries too hard to be clever. To make matters worse, the dialogue is often tedious and lacking any depth or charm, while the tone struggles to find the right balance between serious drama and comedy.
This episode could, as the title implies, have taken advantage of the premise and discussed the legacy of spy thrillers – from the suave style of Bond and The Avengers through to the slow-burn smartness of The Prisoner and Tinker, Tailor, Soldier, Spy. Alternatively, it could have gone the more tongue-in-cheek Austin Powers route. Sadly, it does neither and just tosses some predictable clichés on screen.
And now for the most shocking part: astonishingly, there are still positives to take away from this episode.
It actually looked pretty good, with some smooth directing and slick design work for the most part. Lenny Henry adds some genuine weight to the episode, thankfully counterbalancing Stephen Fry's dire performance in which he plays the head of MI6 like Harry Potter's Professor Trelawney. The Doctor's companions had some personal moments to shine, even if their chemistry and intelligence were dragged down by the weak script. And, arguably most importantly, Jodie Whittaker continues to make the role of the Doctor her own. Yes, her character still needs to be given more to do besides hitting a keyboard and exhibiting a handful of minor attention-grabbing quirks, but when she gets going she's fantastic.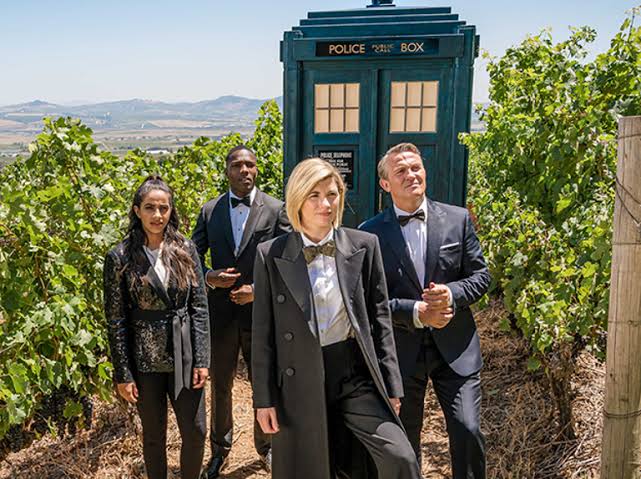 Plus, of course, there's that big reveal moment. It's impressive, although shouldn't be too shocking since it's telegraphed rather early on.
Spyfall (part 1) struggles to drag Doctor Who back up to the levels of its former greatness, but it's still an improvement. When it's done right, nobody does it better than the Doctor and hopefully this is a step in the right direction. But if you're looking for a classic, this is just another let-down in a recent series of disappointments.
The Review
Doctor Who Season 12 Episode 1
Disappointing. A great premise let down by weak writing.