There are times when you just don't want to play an over-complicated board game. Sometimes, grabbing a few colourful plastic aliens, putting them on a launching strip, and firing them into a real-life drone is all you need to have fun. This is Drone Home.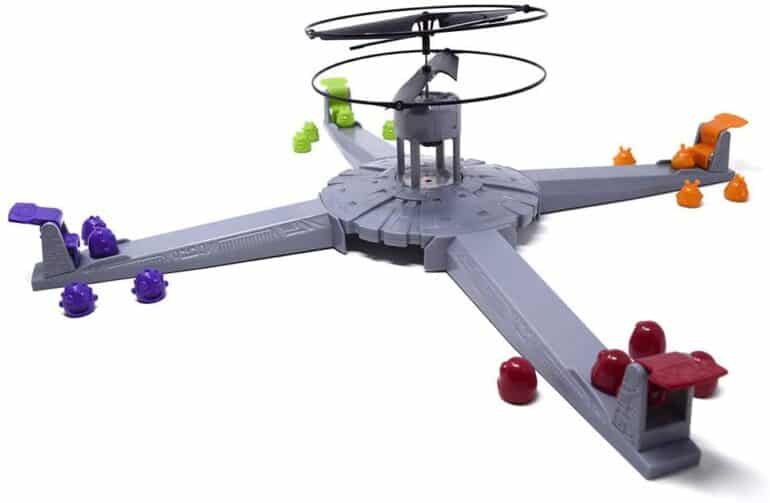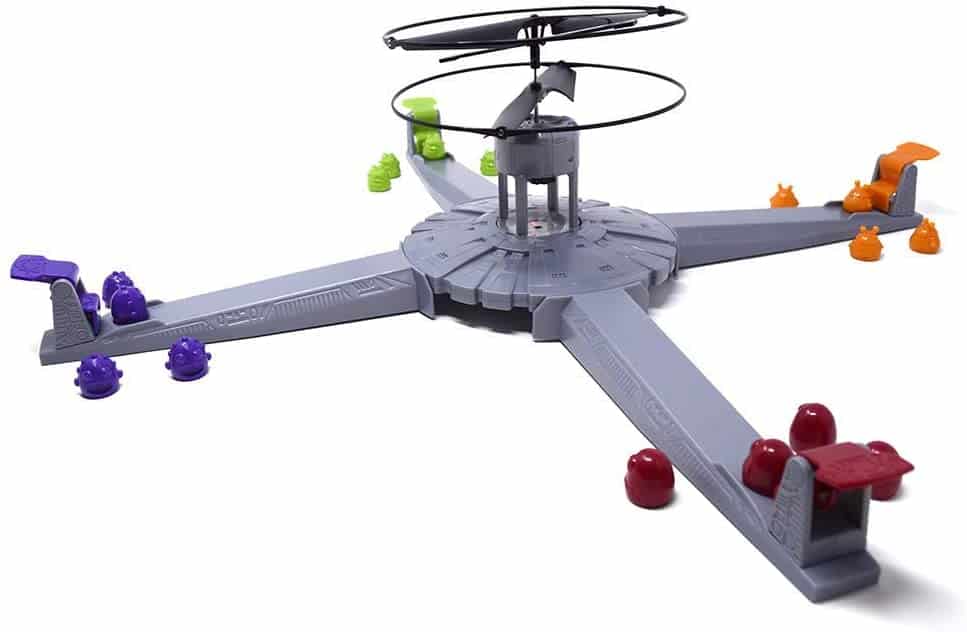 What's in the box?
Drone Home comes in a suitably colourful box featuring the aliens you'll be launching into space.
To be completely honest, even though the box explicitly says "a real flying drone" on the outside, I was still expecting it to be some sort of gimmick. However, Drone Home actually really contains a mini drone.
Of course, in order to achieve this, the game comes with plastic ramps that are joined in the centre where the titular drone is placed. Both the drone and the ramp is made of sturdy plastic and did take all the punishment we threw at it as we tried to launch our aliens into the stratosphere.
Lastly, there are the aliens, little plastic blobs, each with their own unique look and colour. This is a nice little detail as just having the same mould but in different colours would've sufficed. Having each alien look different is a welcome touch.
Overall all the components are solid, sturdy plastic and even the drone itself, which I was afraid would break after plummeting down to the ground, took quite a beating and just kept ongoing.
How do you play it?
Drone Home sees you, and up to three players, trying to fire your little alien into the drone capsule in the centre of the play area in order to launch them into space.
Sounds easy, doesn't it?
Well, the catch is that all four players launch their respective extraterrestrials at the same time. This does mean that things tend to devolve into enjoyable chaos as players try to launch their alien into the air but also have to time it so that another player doest bump their alien out of the drone capsule.
The vibrant colours of the aliens mean that we could clearly see whose aliens was were even when they were flying all over the place.
Once an alien reaches the drone capsule the magnet underneath the alien triggers the drone which launches into the air and slowly comes back down.
It's a nice little gimmick and one that never got old as the kids especially cheered each time the drone launched, irrespective of whether it was their alien that reached it first.
In Drone Home, the first one to successfully launch all their little extraterrestrials into space wins.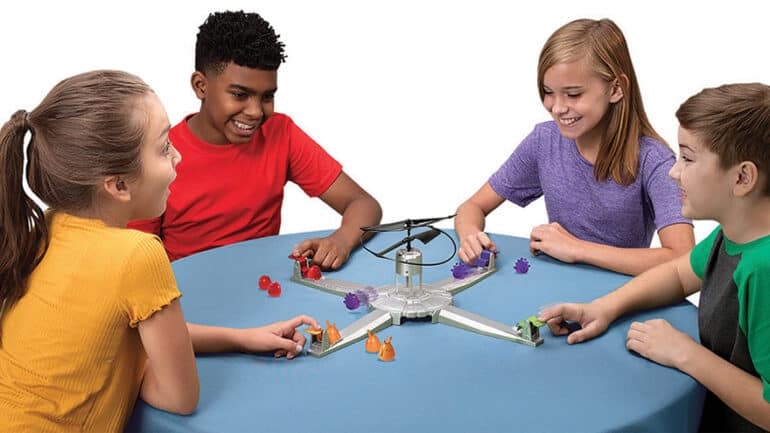 What did we think of Drone Home?
First off, Drone Home isn't supposed to be a complicated game. It's about just having some quick fun with the family. Sure it gets loud really quickly but that is part of the charm of the game.
This is without a doubt a family board game. Adults playing on their own won't find much enjoyment with it, but as a family, we kept coming back to it.
Not only is seeing your alien launch into the air a really awesome little mechanic but realising that just as in life things don't always go your way (especially if a fellow player slams your alien out of the way), is an important life lesson our kids learned during play.
Drone Home uses a simple idea and creates a lot of fun.
For more information on Drone Home, visit solarpop.co.za.
The Review
Drone Home
Drone Home's biggest draw is the little drone that launches your alien into the air. It's a gimmick that helps make Drone Home a whole lot of fun to play.
PROS
Seeing the mini Drone launch into the air
Pure, simple, fun
CONS
Can get a bit chaotic at times
Review Breakdown
Gameplay

0%

Components

0%

Complexity vs. Depth

0%

Theme

0%