The term "definitive edition" is thrown around a lot these days, and very rarely does the game earn that description. However, in the case of Dragon Quest XI S, this Switch port proves itself to be the best possible version of this mammoth JRPG experience.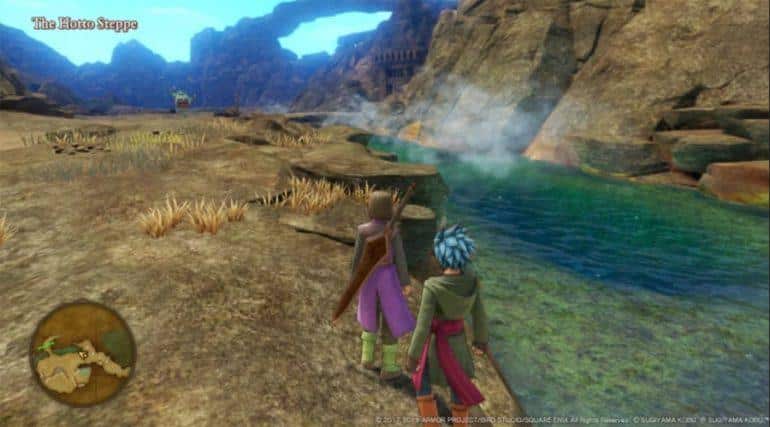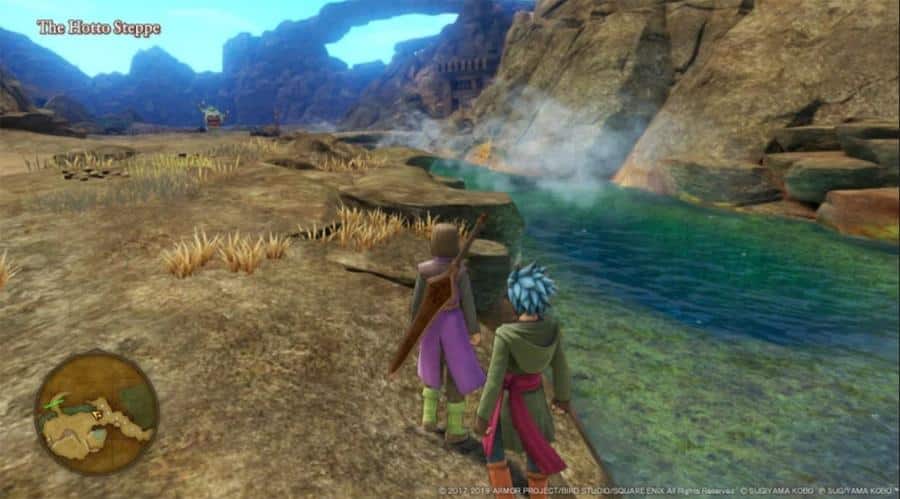 Dragon Quest XI S is essentially the same title that was released on PS4 and PC last year but with a fair few new gameplay elements included, and a myriad of quality of life improvements. If you want to check out the core details of this game, you should go ahead and look at our original coverage. This review will mostly focus on what's different or changed.
First off, the game is portable now, as it is played on the Switch. Playing Dragon Quest in a portable format is almost a trademark of the series at this stage, and it does make for a very pleasant experience with this title, which is well suited to brief session playing. This does come at a cost, and probably the only negative element of this review: the resolution and texture quality is a bit lower than it is on PS4, and somewhat even lower than it can run on PC, where 4k textures and 60fps are more standard features. You won't notice it in portable mode, but on a TV, and if compared side by side, you will see a slight decrease, as well as one or two instances of frame rate drops in crowded cities.
With that aside, the rest of the changes are rather positive. First up, the sound and music. It is now possible to play the entire game with Japanese voice acting if such is your fancy, but what is far more important is that the soundtrack is now fully orchestrated, rather than synthesized. You can switch back to the original synth soundtrack, but why would you? It feels like the new version is the "real" soundtrack, as it should have been.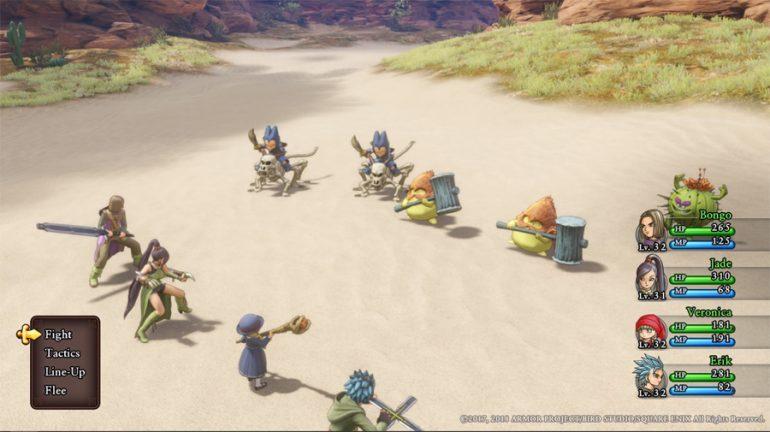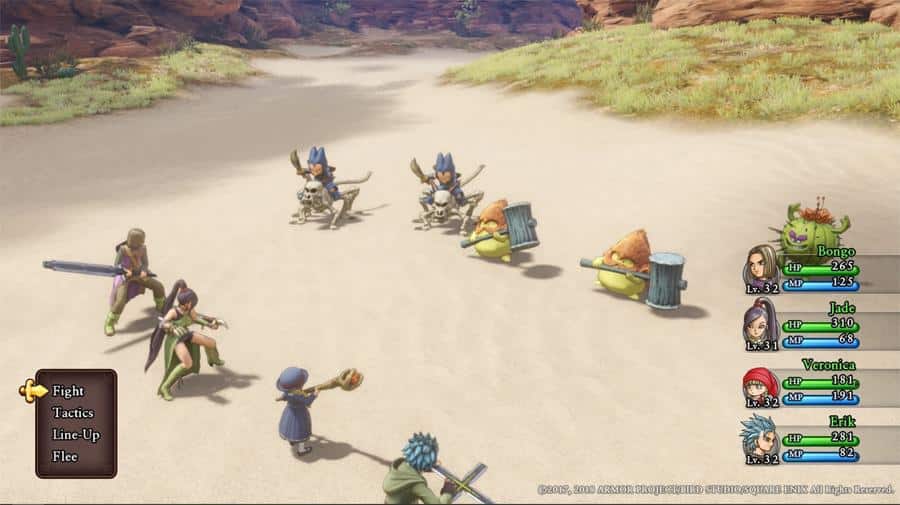 Significant additions to gameplay include a new playable character and additional scenes with each of your party members at key stages of the game. There is also a much-hyped mode where you can set the entire game to play in old-fashioned style sprite animation, almost like a SNES game, where everything from battles to cut scenes is played in the retro format. It's charming and delightful, creating an almost completely different experience for two playthroughs. Switching between the two modes is slightly awkward, as you can only do so at the start of certain checkpoints in the story, and the game doesn't make it entirely clear where and when those checkpoints occur. Its better in my mind to play through the story one mode at a time, starting with 3D and moving onto 2D afterwards if you feel interested.
The ordinary story mode, even in 3D, has some side quests added where you can go and explore worlds from previous Dragon Quest games, also in the 2D style. These are fun little distractions from your main adventure, providing something for long term fans, but not being essential if you choose to skip them.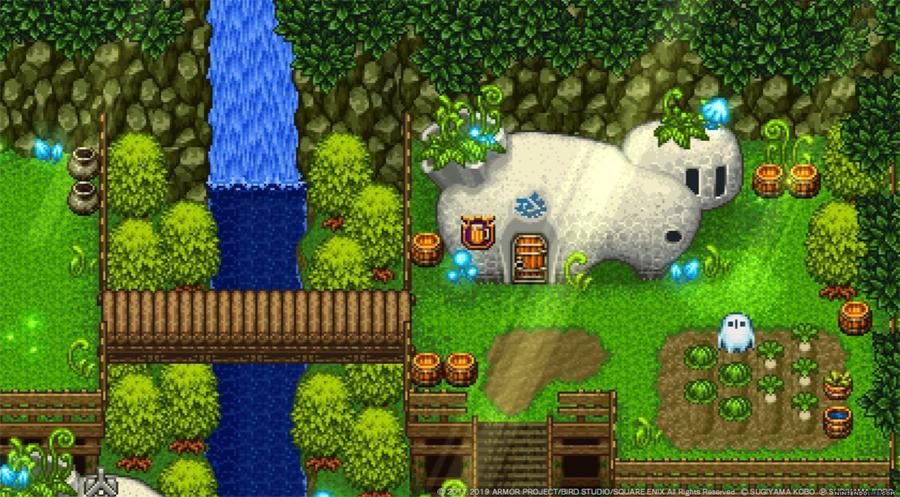 Most of the rest of the additions are quality of life changes, which on their own are not really significant, but all added together make the whole experience a lot better. Battle speeds can now be changed to an Ultra-Fast mode, for those grinding sessions. Mounts can be called at any time in the field, and a new mount, a giant tiger creature who is amazing, is one of them. The Forge tool can be used anywhere now, rather than just camps, and you can purchase materials for it directly from the same menu. There is a photo mode where you can pose your party members to indicate shenanigans they are engaging in. Your party members now follow you around on the field behind you. A new outfit mode allows you to dress your character up without having to worry about sub-optimal stats. You can skip cinematics if this is your millionth time playing through a particular section.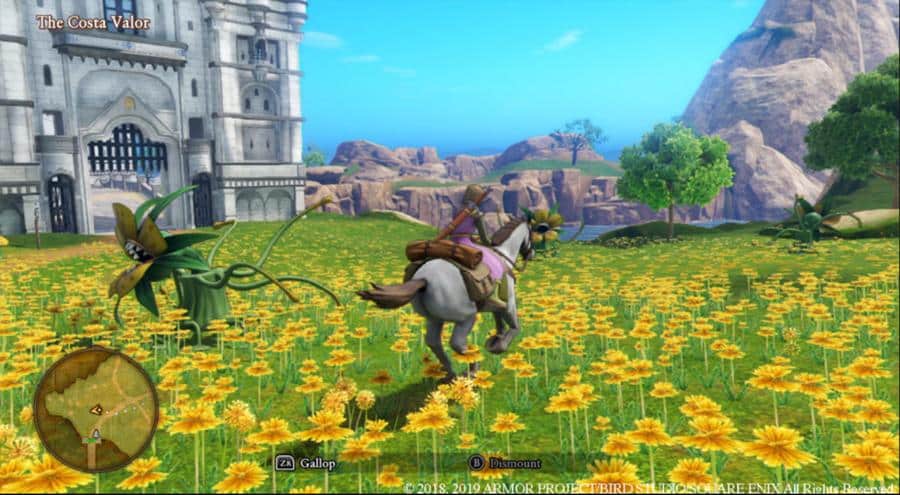 I suppose the question is, if you have already played the original release, should you buy this version again? I'm going with no, especially if you have already devoted 100+ hours into it. Unless you really love the sound of the 2D mode, it may not be worth a full-price purchase again. However, if you have not played it before, and you own a Switch, it is almost a must-buy title.
Dragon Quest XI S is an amazing JRPG, packed with content, that found even more meaningful things to include than the original release. Unless you want the 4K-60 fps experience on PC, and can run that, there's really no reason to get any other version of this title. You should definitely remember that its an old-school JRPG, and unashamedly so, but if you're interested in the genre, this is as good as it gets.
The Review
Dragon Quest XI
Dragon Quest XI S on the Switch is a must buy if you don't already own the game and you are a fan of JRPGs.
PROS
Much better soundtrack
2D Mode
Quality of life improvements
CONS
Slightly lower resolution
Occasional frame drops
Review Breakdown
Storyline

0%

Gameplay

0%

Graphics

0%

Replay Value

0%

Sound and Music

0%