Ask just about every kid around the world and they'll be able to tell you who Dr Seuss is. His works, including The Cat in the Hat, Green Eggs and Ham, Horton Hears a Who!, and The Lorax, have captured the hearts of children around the world and have even been made into successful animated films. Baring all that in mind, it's surprising to learn that six books written by Dr Seuss — which have been translated into dozens of languages as well as in braille and are sold in more than 100 countries — will no longer be published because they contain racist and insensitive imagery.
The company that preserves the author's legacy has submitted a statement revealing its decision to pull six of his works originally published between 1937 and 1976, including If I Ran the Zoo, Scrambled Eggs Super, McElligot's Pool and On Beyond Zebra!.
"These books portray people in ways that are hurtful and wrong," Dr Seuss Enterprises admitted.
The decision was made after the company consulted with experts, academics, specialists and educators, and believed that it was a positive first step in its efforts to promote inclusion for all children.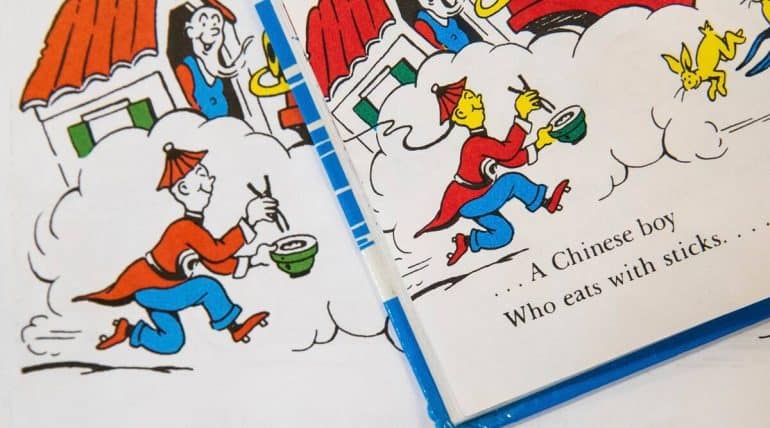 Are the Dr Seuss books racist?
Well…
In recent years, multiple Dr Seuss works have been criticised on social media for their depictions of minorities. Despite the books' popularity, there have been some rather questionable depictions of non-white characters.
And To Think That I Saw It On Mulberry Street, for example, depicts a yellow Chinese character with two lines for eyes. The illustration also shows the character carrying a bowl of rice and chopsticks wearing a conical hat.
In If I Ran the Zoo, Dr Seuss illustrates two black men from Africa as shoeless, shirtless and wearing grass skirts.
But this isn't really anything new.
In 2018, a Dr Seuss museum (in the author's hometown of Springfield) removed a mural that included an Asian stereotype.
And, in 1929, he drew a four-panel cartoon for the satirical weekly Judge that included a blatantly racist image, complete with the N-word.
In fact, many of his older works depicted black people with monkey-like features.
Is this cancel culture again?
As would be expected, the decision to cease publication has received a huge reaction on social media, with many fans calling it another example of cancel culture.
AINSLEY EARHARDT: There's this cancel culture trying to cancel Dr. Seuss now. How far are they going to take this?

DON JR: This week alone, they canceled Mr. Potato Head. This week alone, they canceled the Muppets … you have Oreo cookie chiming in on trans rights pic.twitter.com/4fqUaBUmik

— Aaron Rupar (@atrupar) March 2, 2021
But is it?
The world is changing. Maybe it's time we recognise racist imagery in children's books as a problem.
Are we being too sensitive or not being sensitive enough?
No, Dr Seuss isn't cancelled. Not yet.
The Cat in the Hat, easily Dr Seuss' most popular book, has also come under attack. But according to Dr Seuss Enterprises, the book will remain in circulation — for now.
What are your thoughts?
Below are a few of the illustrations that got six Dr Seuss books cancelled.