Recently I've found myself being intrigued by the world of F1 racing. This is in part due to all the controversy surrounding it, but also because of how popular it has become over the past few years. For a sport that is so popular, it is strange that there aren't as many board games based on it as one would expect. Having said this, Downforce is one of these games and sees players betting on which F1 car will win the race.
In theory, it sounds simple, but there is a lot more depth here than I could've imagined.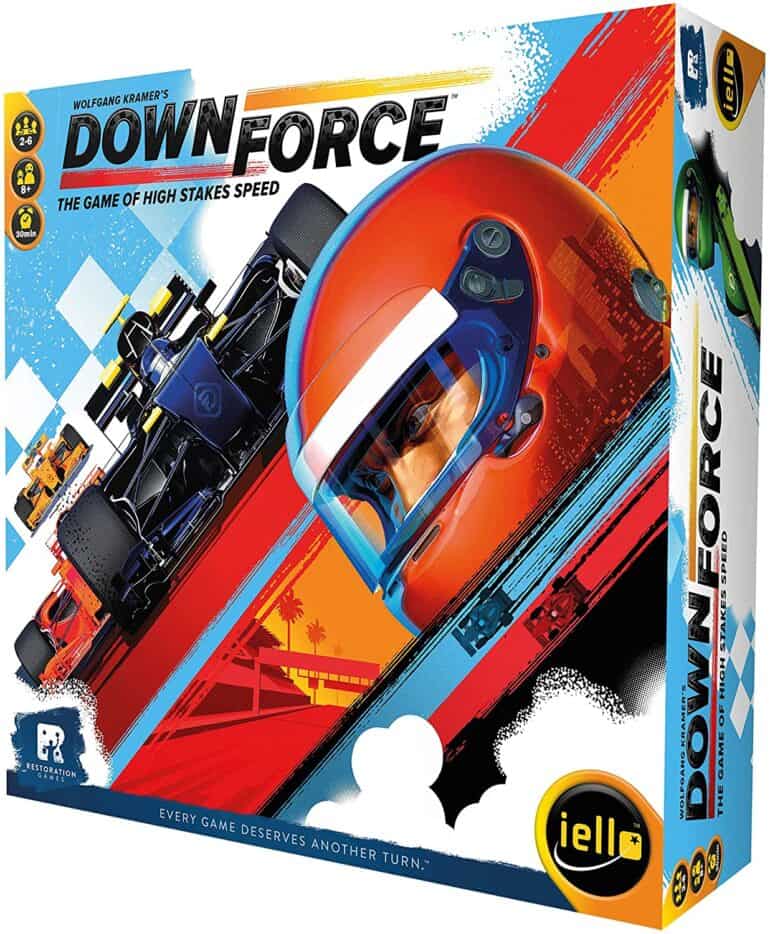 What's in the box?
Tiny plastic F1 cars. Need I say more? These are probably the crown jewels of the game's components. They look great, they feel solid, and they are very colourful.
Along with the plastic cars, Downforce includes a board with a unique racing track on each side. This is a great addition and allows you to mix things up when you get bored with one track. The art on the boards is colourful and functional yet subdued. It fits right in with the aesthetic of the game.
Then there are the various player cards. Again, the cards are colourful yet minimalistic. They are made of durable card stock and are easy to read and understand.
My one complaint is the scoring sheets. These are made of printed paper sheets. This means that you'll eventually run out of them and would need to get your hands on more. This is not a deal-breaker, but it would've been nice if there was some way to reuse them.
How do you play it?
Downforce is played over two parts; the auction and the actual race.
The game starts with players bidding to buy one (or more) of the game's six F1 cars. Each car being auctioned also has a random player power attached to it. So, not only are you bidding for the car but the power as well.
These powers allow players to break the game rules in various ways, such as moving an extra space. Players are then dealt their cards and one scoring sheet.
The cards are used to bid, while the scoring sheet is used to record the price each player paid for their respective cars. It's quite a simple process that goes surprisingly fast.
After each player owns at least one car, the auction is over and players then decide which one of their purchased player powers they want to keep. Then it's off to the races and the real fun in Downforce begins.
Before the auction, the cars are placed randomly at the starting line. During their turn, each player will play a card from their hand. Each car is then moved forward a number of spaces, as indicated on the card.
During the race, the cars will cross three yellow lines on the track. When the first car crosses one of these lines players bid on which car they think might win the race. Players then fill in their choice on their scoring sheet. They are free to choose their car or an opponent, whichever car they think stands the best chance to win.
When all the cars have crossed the finish line, players will then tally up their scores. The scores are calculated based on where the cars you indicated would win placed, as well as your as the cars you own. You then subtract what you paid for your car (cars) during the auction and the player with the highest score wins.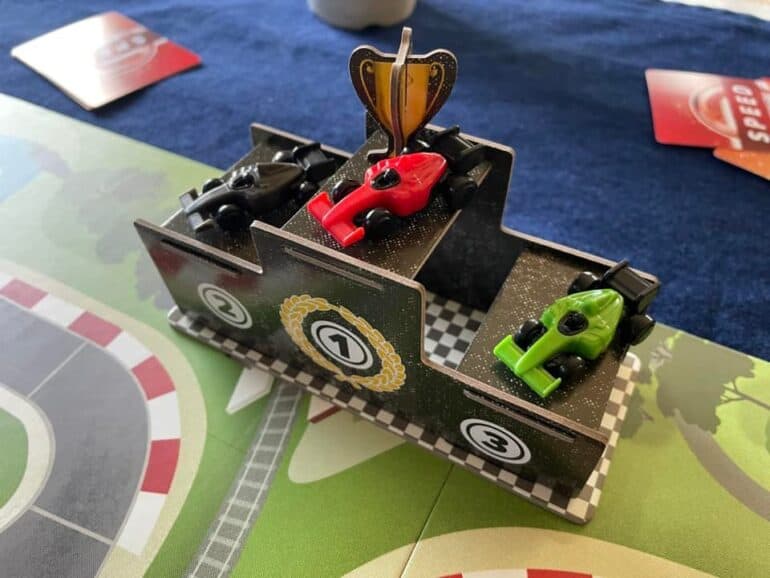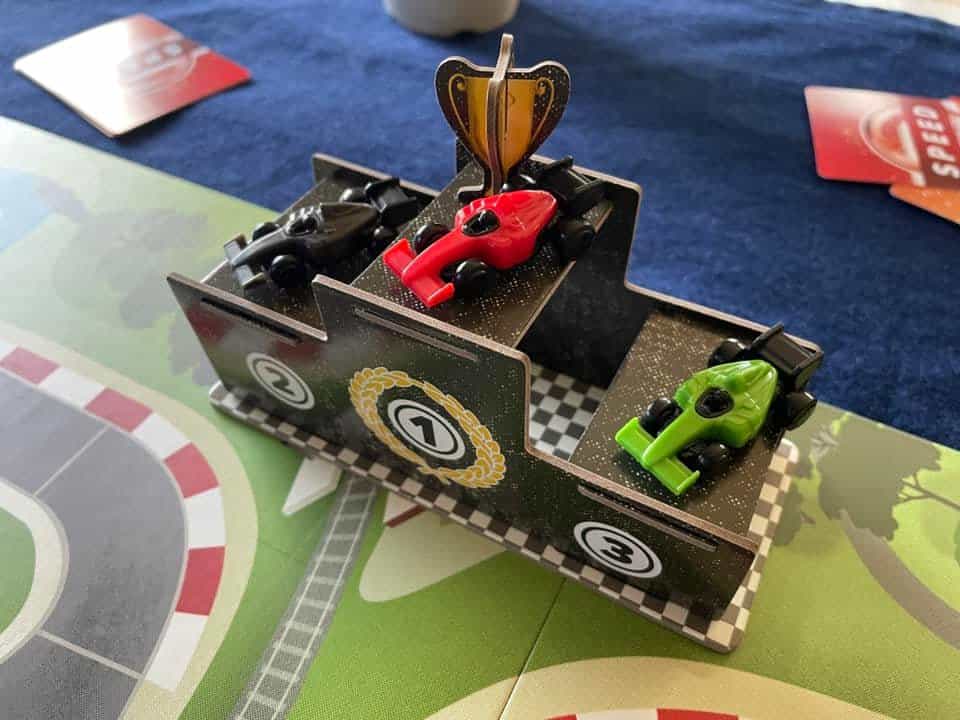 What did we think of Downforce?
I'm going, to be honest here, I never really thought I'd like Downforce. As someone who only has a passing interest in F1 racing, I wholly expected to not have a fun time playing the game. Yet, by some miracle, Downforce has become one of the most played and requested games during our board gaming evenings.
This is in part, due to the fact that it's just such an easy game to understand and play. It's a game we played with kids and adults, and everyone had an enjoyable time playing.
The old adage "easy to grasp hard to master" does apply to Downforce though, as we quickly discovered the nuances of the game. For instance, cars can be blocked — which means that they cant move further until the car in front of them moves. This adds a layer of strategy that players only see once they've played the game a few times.
There are times where there might be one player with a huge lead, but even then we had fun trying to catch up to them.
Downforce is not a perfect game, but not only is it one of the only racing board games I've come across but also one of the best.
For more information on the Downforce, visit solarpop.co.za.
The Review
Downforce
Downforce isn't just about crossing the finish line first. There is actually quite a bit of strategy involved in this fun F1 racer board game.
PROS
High quality components
Easy to grasp mechanics
Double-sided board
CONS
Scoring sheets are made of paper
Review Breakdown
Gameplay

0%

Components

0%

Complexity vs. Depth

0%

Theme

0%