It's time for the Doom Patrol to undergo some therapy… or at least talk things out. After all, each of them has been having even more personal problems than normal, since Mr Nobody came into their lives. As each member of the team's history is explored, the events of the morning are catalogued showing how the day led to an impromptu therapy session in the first place. For Rita, her struggle to maintain her human form resulted in her spending the morning trapped in a furnace pipe; Crazy Jane's multiple personalities became increasingly conflicted about The Chief; Larry attempted to communicate with the Negative Spirit living inside him; and Cyborg learned that looking after himself may not be as easy as he first assumed.
And then there's Cliff. After discovering more about his daughter's life, he first appears to shut down mentally, before suddenly suffering a psychotic break with reality. Increasingly manic in his behaviour, Cliff's attempt to cling on to reality and the resulting therapy session spiral out of control. But could there be even more behind the events of the day than they first realized? Could their actions be caused by the rise of a new all-powerful foe? Or are they simply more screwed-up than they ever imagined?
So far, the best Doom Patrol episodes have been the smaller and more personal ones.
This show has proven that, unlike other superhero outings, it doesn't take a world-conquering menace, flashy special effects sequences and a thousand explosions to tell an enjoyable story; it just takes good writing and good performances to make the most out of very little. With that in mind, this episode succeeds despite the considerably small scale of it.
Granted, the format of it is one of the biggest clichés for any short anthology-style episode: fringe events overlap, perceived by each team member, before giving their personal story a few minutes of screen time. It's been used often, and that familiarity is the episode's biggest flaw. It all feels far too normal.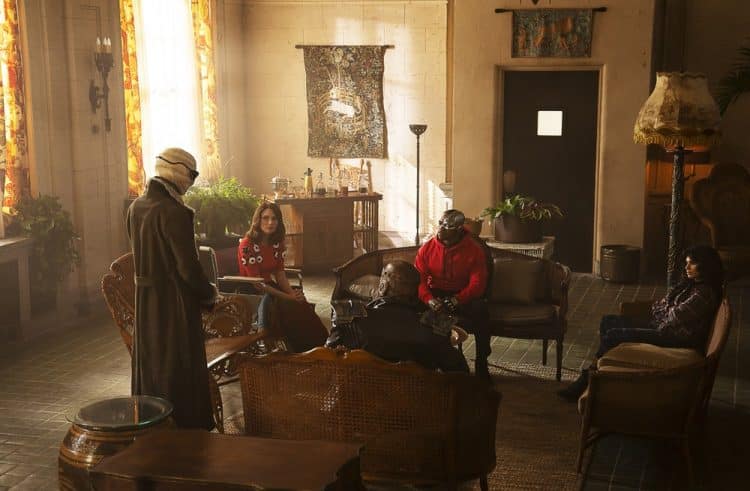 Of course, with the main premise being that the team only sits down to talk about things out for an hour, you'd be forgiven for thinking it'll be dull. In fact, despite the brief glimpses into the team's past, at first, there are times when the story seems to be treading water. Most of the revelations aren't too surprising to anybody, although it's good that the characters gain a better understanding of each other. It's exposition, but it needed to be done and it's handled in such a way that it's never boring… even if it moves slowly.
Where the episode scores are the flashbacks ranging from amusing to tragic, each one engaging the viewer in different emotional ways as we continue to learn about them. Once the stage is set for the actual therapy session, things hit a higher gear before the formula returns with a new – and hilariously Doom Patrol-style – gonzo twist. Once the pay-off is in place, the entire episode takes on a whole new dimension and has to be re-evaluated from the beginning. It's a crazy way to watch a crazy show, but here it works.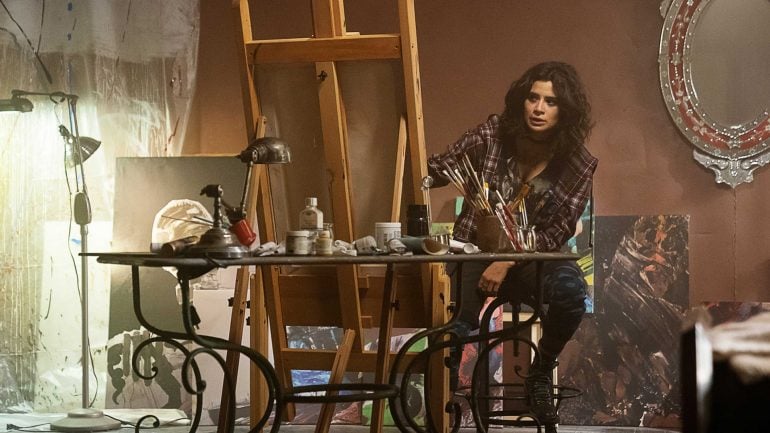 It all makes for a fantastic little (mostly) self-contained episode that highlights each character and allows the actors a chance to show what they're capable of. There isn't a bad performance in the bunch, and once again proves that with the right material the show can achieve in ways others can't or don't. It also delivers just enough absurdity to keep the fans happy, and offers up just enough dark humour at the right times to help the show avoid falling into a state of melancholy.
This may not be the best that Doom Patrol has to offer, and the storytelling format of the episode may be less than inspired. However, on the whole, there's a lot to be gained from it – even if some of that is simply to reinforce how this show, the team and the ideas presented are different from others at the end of the day. The Doom Patrol never marches to the normal beat, and thankfully this episode does enough to keep it fresh and out of time.
The Review
Doom Patrol - Therapy Patrol
A fun twist on a tired formula.