Dammit, this could have been so good. In comics, the Cult of the Unwritten Book storyline remains one of the highlights of the Grant Morrison/Richard Case Doom Patrol era. Creative, intelligent, terrifying, crazy and funny all at once, it was one of the defining stories of the entire run. And while it's understandable that the TV show would have to make some slight alterations to it, it still contains so many elements of the source material that it should work. The problem is, it doesn't… and the primary problem has nothing to do with it being an unfaithful adaptation in any way.
The fault stems from one of the same problems as Titans: it tries too hard to be "mature" or "edgy" that it loses its identity.
An 18th birthday should be a time of celebration, but for Elliot Patterson it isn't all he'd hoped for. His mom slaughters his dad before the birthday cake is cut, which is bad enough, and then he learns that the cult they belong to are counting on him to destroy the world. However, Willoughby Kipling – occult investigator in the realms of international strangeness – is on the case. Kipling's visit to see The Chief goes badly though and, instead of recruiting his old friend to prevent the apocalypse, he's forced to work with the Doom Patrol. Or rather, they're forced to work with him.
While Cliff and Crazy Jane are dispatched on a quest to sew up the gateway between reality and Nurnheim, Kipling and Cyborg debate their faith in magic and science. Meanwhile, as Larry continues to try and understand the Negative Spirit existing inside him, it's up to Rita to convince Elliot that the team can save his life… and that it's a life worth saving. But can the Doom Patrol fight what they don't even understand?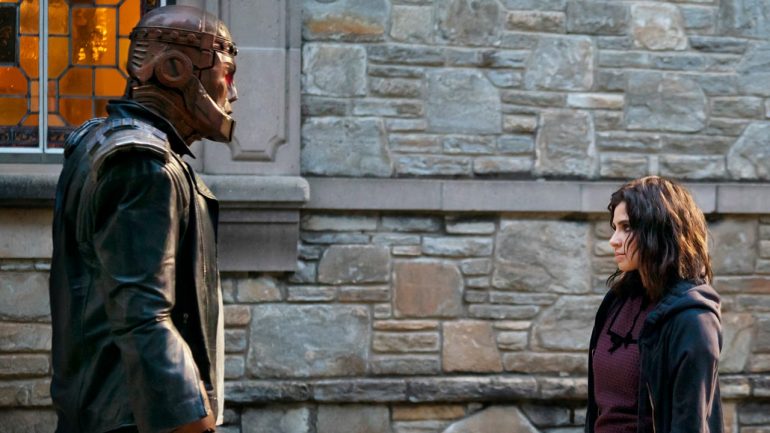 Right off, it's fine that there's swearing in Doom Patrol; After all, this isn't your typical DC show, and they certainly aren't your typical DC heroes. However, when every line of dialogue seems to be peppered with profanity just for the sake of wanting it to be taken seriously, it's missing the point. Far from being subtle and acting naturally, which the series has mostly done up to this point (and to great effect), this episode drops forced verbal bombs like a disruptive kid on a school playground. It's pretending to be mature and hardcore, but the end result is exactly the opposite.
In a similar way, there's Willoughby Kipling. He may be a stand-in for John Constantine, and Mark Sheppard is a great actor, but the way the character is written to get attention robs him of the snarky, cowardly charm he's supposed to possess. It doesn't help that there's so much focus on him at a time when the audience should be getting more familiar with the main characters. While Jane, Cliff, Larry and Rita all get some moments, they're almost brushed aside to make way for a guest character who works better in small doses.
There are strange pacing issues with this episode too, and whether elements had to be cut for time or not it still feels awkward and disjointed. For every moment that's right – Baphomet appearing as Falada, the Dry Bachelors, the Archons of Nurnheim – there's one that feels wrong or rushed. It's as if the creative team took the source material from something that should have been handled as an arthouse production and tried to force it in to being an episode of The Flash. The story, the names and the visuals are all right, but they're handled in a bland and uninspired fashion.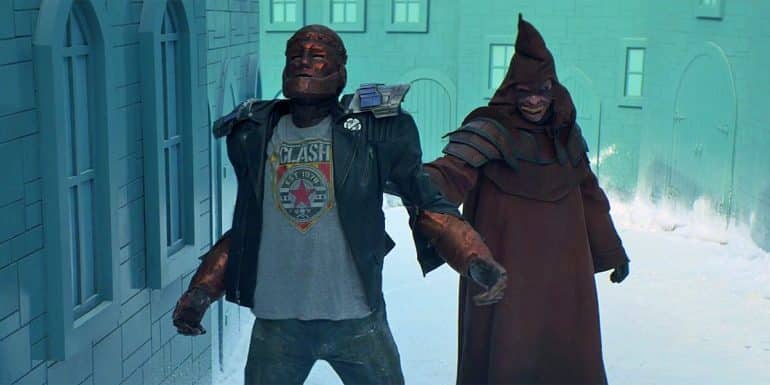 This episode could have been so good. It could have been great, in fact. But it isn't, and barely ranks as average. As its own product, it feels like a cheap half-assed production that really isn't all that fun or exciting to watch. As an adaptation, it's passable in that it's close to the comics, but still so far off the mark of what it should be that it's almost an insult to them. There are some decent moments, but this is far from the best that the Doom Patrol has to offer.
The Review
Cult Patrol
A disappointing adaptation of a classic story.