If the first episode of Doom Patrol was meant to ease viewers in to accepting this show, the second is asking for a leap of faith as it jumps off the deep end. And the reward? Totally worth it!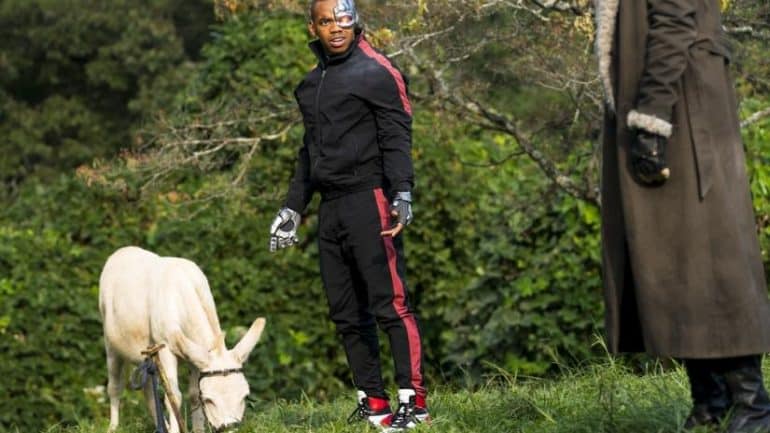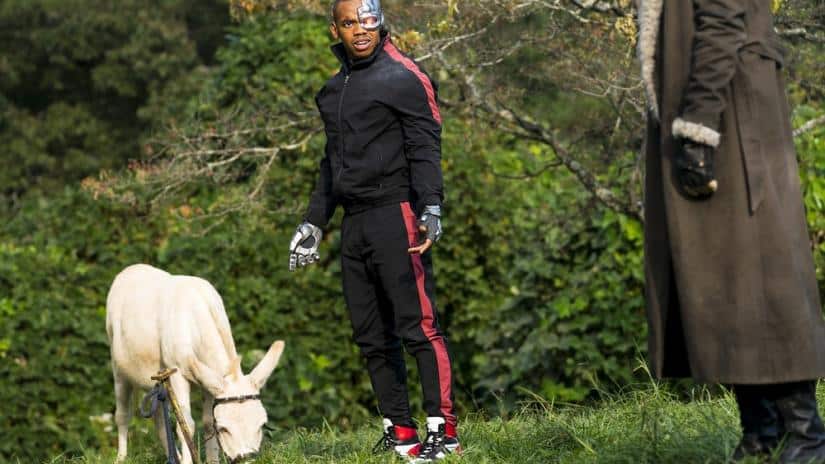 When we last left the Doom Patrol, they were facing the end of the word – or at least the end of Cloverton, Ohio – because a donkey had farted out a dimensional vortex. Of course, that's insane and could never happen… which is exactly why it did. Now, with team leader The Chief and the unpredictable Crazy Jane being sucked into the portal it's time for the rest of the team to kick into action.
Or not.
While Cliff Steele – Robotman – attempts to capture the runaway donkey and piece together some understanding of Crazy Jane, Larry chooses to run as far away from the problem as far as possible. Meanwhile, Rita goes into denial and continues doing her daily chores as if it were just a normal day. But when wannabe Justice Leaguer Cyborg shows up to help them, his traditional concepts of being a superhero are put to the test as they face an enemy beyond any of their imaginations.
Instantly smashing the fourth wall within the first few moments with its meta-commentary, it pulls apart any pretentiousness with savage ferocity and exposes the team for who and what they are. The Doom Patrol simply aren't superheroes in any traditional sense, and viewers shouldn't expect them to be. Much of the episode is given to exploring their flaws and fight-or-flight responses, and yes there's a "villain" to fight against (and to some extent they do) but this isn't about that. It's all the better for it too and doesn't feel any need to throw in pointless melodrama like other shows because this all feels oddly natural.
The big addition to this episode is Cyborg, a hero who's been bounced around the DCU quite a bit lately. While his arrival does initially seem unnecessary given Cliff's presence, it's so incredibly well handled that it presents the audience with the best live action version of him yet. His origin story here inverts the expectations of even of his most hardcore fans, and on-screen he's a wonderful contrast with the Doom Patrol and smartly relates that the rules of logic and science have no place here.
This is still an ensemble show though, and all of the characters get their moments to shine in unexpected ways. Cliff's desperate struggle to make a sandwich is tragic, while Rita's fragile emotional state masked with arrogance and denial adds more layers to her character. Meanwhile, the final moments of the episode are heartbreaking as Larry confronts his negative existence with the most fitting song choice imaginable. While there's plenty of humour throughout the episode, making this a fun show, it's equally tragic and the two elements are perfectly balanced. We're encouraged to laugh at the freaks, but we have to respect them too.
At its core, this episode should appeal to long-time Doom Patrol fans, other comic book fans and viewers in general. While not being a direct adaptation of the comics, this episode succeeds where many other DC shows have failed in getting the fundamentals right. That makes everything else it builds on massively enjoyable and highly entertaining. It's hard to nit-pick the tiny flaws because it just works. That's impressive, given the high standards set by the fandom. Even the writing is smart and savvy, like with Mr Nobody's description of it being a "sh*t show" – a term working on multiple levels…
But on the most fundamental one, it isn't and he's wrong. It's a great episode of a great show, and hopefully the series will continue to achieve the lofty standards it's already setting for itself.
The Review
Doom Patrol Ep. 2 – Donkey Patrol
An impressive episode that works on every level.