When it comes to backdoor pilots for shows, Doom Patrol had a pretty damn good one in Titans.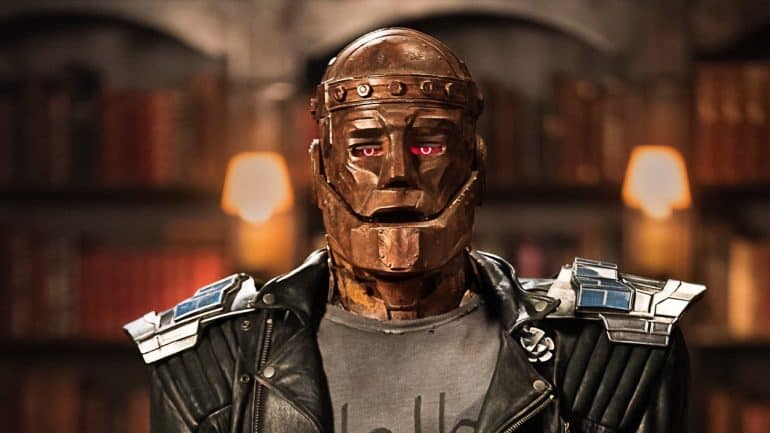 The mood was atmospheric, in general, the team was accurate to their comic book counterparts, the impression of them basically being a group of freaks felt right, and April Bowlby was dynamite as Rita Farr. But there were some problems with that Titans episode too, with a dull story that was all flash and no substance alongside Bruno Bichir's unconvincing portrayal as The Chief.
If you saw that episode, forget it; this show went back to the drawing board. Smartly, they kept everything that worked and massively improved on the things that didn't. Plus, Timothy Dalton stepping into the role of Caulder is an absolute blessing and he nails The Chief's odd balance of being cruel-yet-caring perfectly.
They're the greatest superhero team that you've probably never heard of. Wait, no, they're not superheroes. They're losers, freaks, monsters and failures. Oh, and actually you may have heard of them before.
Didn't you ever wonder what happened to famous actress Rita Farr, one of Hollywood's brightest shining stars? She became a blob, literally – a mountain of oozing flesh. Or how about the famous test pilot Larry Trainor? Poor Larry crashed and burned while his body became a host for a negative energy being. As for champion race car driver Cliff Steele, his traumatized brain got transplanted into a robotic body when he died. Now, led by wheelchair-bound fringe scientist Niles "The Chief" Caulder, they're ready to save the world… or not. First, they have to gather the courage just to leave the house.
Yes, predictably this is an origin story for the team, covering primarily Cliff Steele – Robotman – to a large degree. It still gives enough insight in to the rest of his teammates to make them fascinating though, and teases the audience's curiosity. It even takes the time to give a small amount of backstory to the untraditional "villain" of the piece, Mr. Nobody, played with insane glee by Alan Tudyk. Thankfully, he's matched by everyone and it's a good-looking episode with impressive performances all around and a great soundtrack to boot. However, unlike other superhero show and movie origins, this one is far from traditional.
While it simultaneously knocks down the standard fare while building itself up in a way similar to Deadpool, here that's used for more than just cheap laughs or the cliché of deconstructing the superhero mythos. The sly storytelling twists are funny, tragic, shocking and smart, playing along with viewers in a very different way. It subverts expectations by showing the so-called-heroes at their worst, knocking them down and kicking them repeatedly before allowing them a chance to get up, dust themselves down and gain sympathy from the audience.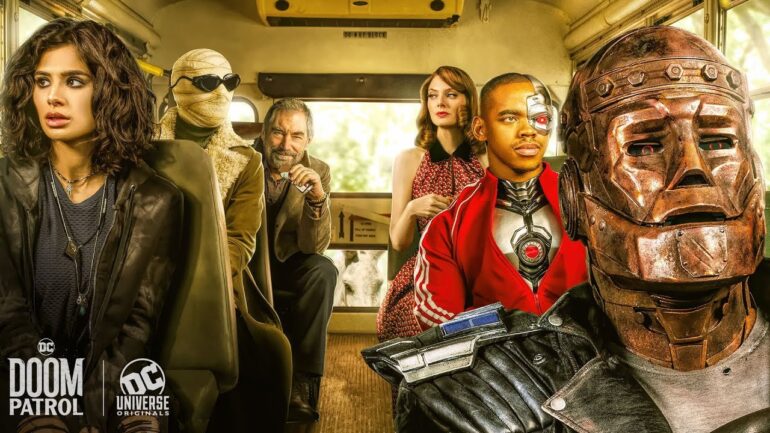 Amazingly, Doom Patrol even manages to capture the vibe of the comic books – no mean feat, given the source material has been pretty varied over the years in terms of tone and quality, let alone format. Cherry-picking the best elements from different eras, this mingles the classic line up of characters with more modern ones, teases The Chief's love of chocolate, adapts iconic moments from the comics, and more. It isn't perfect by any means; Larry appears more like his Rebis persona, there's a curious decision to show Crazy Jane in aggressive Hammerhead mode before shifting to her more sympathetic default status – making her less appealing than by doing it the other way around – and the show keeps one foot too firmly grounded in superhero stereotypes rather than going full gonzo like the show Legion.
Like Titans, Doom Patrol tries to walk the line between old-school superhero storytelling and being a "mature" drama. Yet it succeeds far better and with far less effort, never feeling like it's forced. It's solid, quirky viewing and has plenty that should appeal to the team's fans.
If this is an indication of what to expect from future episodes of Doom Patrol, it should be a treat to watch.
Now, let's just hope that Mr. Nobody has a hard-boiled egg and he knows how to use it…
The Review
Doom Patrol Pilot Episode
DC's resident team of "freaks" is looking impressive already.