When fans heard that the latest entry in the franchise, Doom Eternal, would be heading to the Nintendo Switch, many were sceptic on whether a game, which is known for not only being resource intensive but also needs to run smoothly to play, would ever be good.
Well, I am not sure what unholy magics developer Panic Button used but, against all odds, Doom Eternal on the Switch is surprisingly good.
For those not familiar with the sequel, Doom Eternal sees the blood-soaked protagonist, the Doom Slayer, once again making a return as Earth has been overrun by the demon hordes and it's up to him to save the day once again.
There is a surprisingly deep narrative here filled with all kinds of lore. It is great to see the franchise building upon the story of the Doom universe, but, let's be honest, it's all just window dressing for killing everything that moves.
Doom Eternal, as with its predecessor, is all about constantly moving and attacking.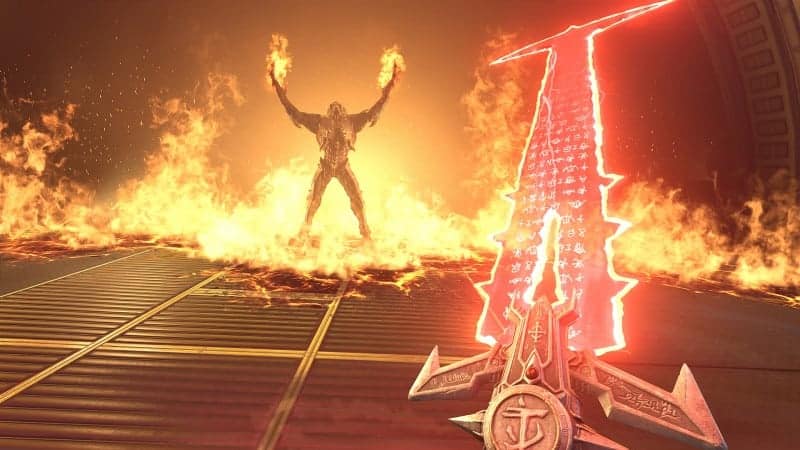 Unlike many other FPS games that sees players hiding behind cover firing off a few shots and moving to the next piece of cover, this is a game that forces players to keep moving at all times. Stand still and you die.
Edging players onto the offensive is the game's health mechanic. Health in Doom Eternal does not regenerate. Instead, if you find yourself low on health, you need to attack an enemy until they are on the verge of death and then activate a brutal finisher which sees them dropping health. This forces players to continually be on the offensive.
For a franchise that started with a protagonist who could only move from side to side and was unable to look up in the first game, Doom Eternal actually has a lot of platforming. This means that constantly moving to evade enemies includes moving vertically and horizontally. This makes for more creative level designs.
Speaking of creative levels, what are great levels if they aren't filled with gruesome enemies? Doom Eternal sees many of the classic baddies making a return but also throws in some new and more challenging enemies.
Dealing with these enemies, specifically, some of the bigger ones, require figuring out their weak spots and learning their patterns. This makes for a game that does not just focus on going in and blindly firing at everything. Planning plays a surprisingly big role in defeating some of the later bosses and monsters.
Of course, beating up demons require all manner of weapons and the Doom Slayer is able to upgrade his arsenal to help him deal with the various foes he finds himself facing off.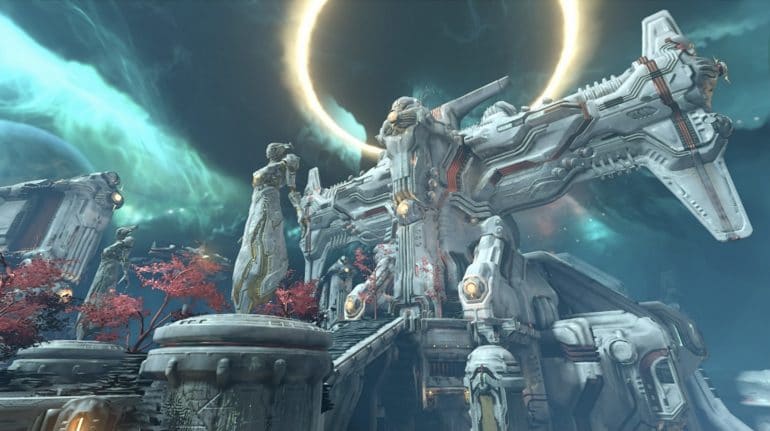 As for the visuals, it is obvious that developer Panic Button had to make some concessions when it came to porting Doom Eternal to the Switch. This means that visually the game has been downgraded considerably when compared to its PC, PS4 and Xbox One counterparts.
The game doesn't look bad by any stretch, but it is noticeably less pretty. It uses dynamic resolution scaling – which boils down to the game reducing the visual quality of the game when necessary in order to keep the game running at a solid 30fps.
Now, 30fps might be a bit jarring to those who are used to 60fps on other platforms, but I never really felt too disadvantaged due to the lower frame rate. Again, it's important to remember that this is a game that should theoretically not even run on the Switch never mind at a mostly solid 30fps.
Doom Eternal on the Switch is, as expected, a lot more stable in TV than in handheld mode, which is understandable.
As for controlling the Doom Slayer, it is more difficult strafing your way through hordes of demons using the Joycons. It's not impossible, just less ideal than using a pro controller.
Despite the visual sacrifices, Doom Eternal on the Switch is surprisingly good. Developer Panic Button is to be commended for doing what is essentially impossible.
Sure, the game still looks better and runs smoother on other platforms, but it doesn't mean that it is any less fun on the lower-powered Switch.
If you missed Doom Eternal the first time around, or are looking to slay demons on the go, then you might want to take a look at the Switch version.
Gamefinity provided a review code to Fortress of Solitude for the purpose of this review.
The Review
Doom Eternal
Doom Eternal on the Switch is something of a miracle. It doesn't look as pretty as other versions on more powerful machines but it does an admiral job of bringing the experience to Switch players.
PROS
It's Doom Eternal on-the-go
Great soundtrack
Fast-paced and satisfying gory combat
CONS
Missions can get repetitive
Game looks noticeably less pretty on the Switch
Joycons aren't ideal for controlling the Doom Slayer
Review Breakdown
Gameplay

0%

Graphics

0%

Replay Value

0%

Sound and Music

0%

Story

0%