To say I was obsessed with 2016's Doom would be the understatement of the century, so naturally, I fragged all my colleagues to make sure I got dibs on Doom Eternal. While it was initially meant to arrive in November 2019, id Software needed a little more time with the first-person shooter and pushed the release date to March. Mind you, with the world in the state it's currently in, at least the Doom Slayer is here to keep us company and distract us.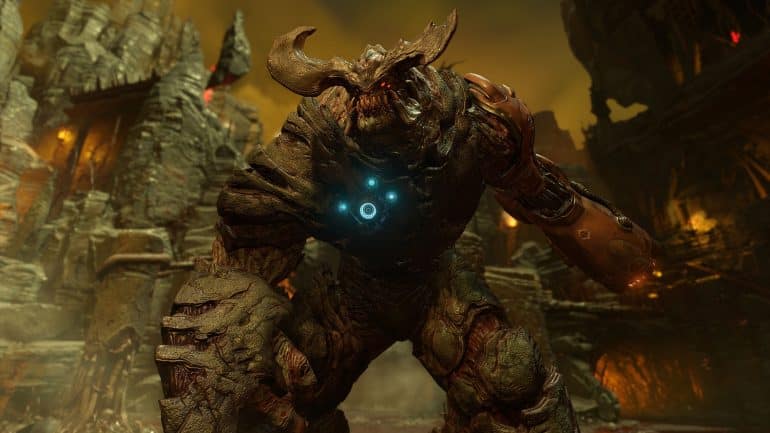 Jumping right into the game, Mick Gordon's djent-ilicious score welcomes you with its jagged riffs and headbanging groove. Thankfully, he didn't deviate too far from the previous game's score and it's more of part two than a completely new direction.
Another noticeable element is, the game looks slightly different than its predecessor. While different doesn't necessarily mean bad, it appears as if Doom Eternal is a modernised version of the earlier titles with upgraded enemy designs. Look, it's a nice throwback to the past and nostalgic to the nth degree, but I do miss the designs from 2016's Doom here.
Speaking of enemies, who injected steroids into these demons? Because holy hell, the campaign mode is a bruiser of note. While you're allowed to switch between difficulties, my stubbornness prevents me from doing so and I pay the price every single time. Bullets are in short demand, demons are aplenty, and there are some mega-tough ones that require serious trigger fingers to slay.
And that's the thing. If you switch from Call of Duty: Modern Warfare to this, you'll have your butt handed to you in no time. Doom Eternal is a camper's worst nightmare. There's no place to run or hide as you need to be constantly on the move to survive. It's frantic, keeping you on your toes throughout and affording you no time before the next wave of demon attacks. Checkpoints are gold here, but the green 1-ups throughout the game are diamonds as they let you respawn where you died rather than go back to the earlier checkpoint.
Of course, the nicer your upgrades and weapons are, the more chance you have of surviving the Armageddon. That being said, those opening stages can be frustrating as you struggle with a chainsaw in a gunfight and wish glory kills would be far easier to execute on the weaker enemies. Alternatively, I'm just really rubbish at the game and should've used my weapons more efficiently.
Doom Eternal wouldn't be Doom if there weren't multiplayer options. If you're tired of Doom Slayer hunting demons and want to experience life on the other side, Battlemode is the drawcard here. Selecting from five playable demons (there will be more to choose from after release), you play in two-versus-one matches where two player-controlled butt-ugly demons take on the Slayer. Each of the demons also possesses its own set of abilities that make for a mighty fun time.
To be frank, I find myself gravitating towards the campaign more than the multiplayer options; it's more of a personal choice than a reflection of the modes. Considering how much Doom Eternal tried to capture the same gameplay magic of the past, it's reasonable to expect the campaign mode is the strongest of the lot.
As difficult as Doom Eternal is, it's totally absorbing and unmissable. For the older crowd, you'll be reminded of the times when you hung out at your friend's house on a Friday afternoon, ate hotdogs, and tried to finish Doom while arguing if it was better than Wolfenstein. This social distancing thing might not be so bad since it'll give you a lot more time to put some holes in those dirty demons!
The Review
Doom Eternal
Doom Eternal is a totally absorbing experience. It's the Doom franchise at its best, but boy is it as tough as nails.
PROS
Double the enemies
The score
Campaign mode
Review Breakdown
Storyline

0%

Gameplay

0%

Graphics

0%

Replay Value

0%