The acclaimed action-horror shooter is back — although this time in an immersive virtual reality experience. Here's your chance to win a code for DOOM 3: VR Edition.
What is it about?
DOOM 3: VR arrives for PlayStation 4 on March 29. The great news is that the game is backwards compatible on PlayStation 5.
Now you can completely immerse yourself into the world of DOOM. Put on your PSVR headset, grab a controller and step into those famous armoured boots.
If the regular version of DOOM 3 was scary and difficult, just imagine how tough and intense this version might be.
The story (over 15 hours of gameplay) follows Earth's battle to fight off Hell's demons on Mars. It's up to you to battle the invaders, fighting through the claustrophobic corridors of an abandoned research facility right down into the depths of hell.
Uncover the secrets of the UAC's unholy experiments, encounter uncanny monstrosities in claustrophobic environments, and wield an arsenal of iconic (and even otherworldly) weaponry with new textures, shaders and sound effects as you survive against the forces of Hell across over 15 hours of heart-stopping action.
The VR Edition includes The Lost Mission and Resurrection of Evil expansions.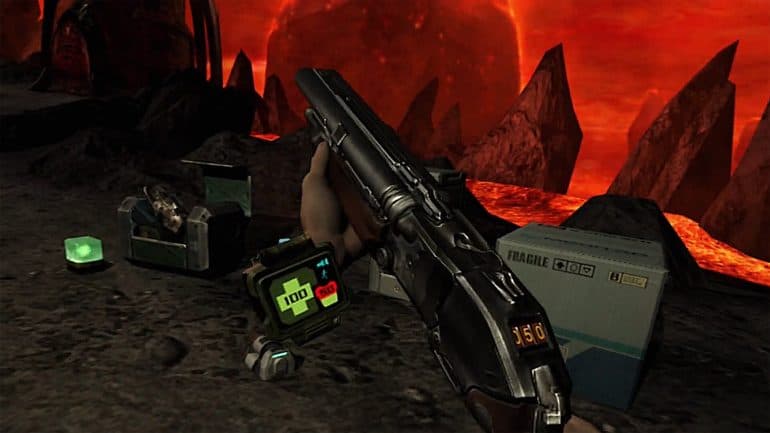 What critics are saying about DOOM 3 VR.
DOOM 3 is the ideal choice for virtual reality and its environments have never felt so vivid. – The Games Machine
Doom 3 is still a great horror experience, and the new HUD and controls are perfect for VR. – Hobby Consolas
Doom 3 VR makes a good party game with splatter and jump scare galore… – GAMES.CH
DOOM 3 VR retails for R249 on Koodoo.
To stand a chance of winning a code for the game (courtesy of Gamefinity), all you need to do is complete the following:
[rafflepress id="9″]
The competition closes on Friday, 9th April 2021.
The Giveaway is restricted to readers who reside in South Africa only and cannot be exchanged for cash. Terms and conditions/Site Disclaimer rules apply. Winners will be contacted via email. Judges decisions are final.