In 2021, Stephen Lang returns as the ferocious and monstrous blind Norman Nordstrom in Rodo Sayagues' Don't Breathe 2, the sequel to the 2016 taut claustrophobic chiller hit about a group of home invaders who underestimate their target.
However, based on the trailers released, it seems that the character is no longer the villain of the story, or is he?
Watch the trailer for Don't Breathe 2 below.
From the Don't Breathe 2 trailer, we see that the film dives in 8 years after the events of Don't Breathe, moving the story forward by focusing on Norman Nordstrom's new life in a new town. He is off the grid and spends his days in solitude away from society with his young daughter, Phoenix (Madelyn Grace). At just 11-years-old, the young girl is trained to defend herself from the threat of a possible attack from outsiders.
Of course, that threat becomes a reality when a group of bad guys break into their home. This time, however, there seems to be more at stake than just money. This might just be personal.
Still, there are a bunch of unanswered questions here. When did Norman get another daughter? Who are they hiding from? And, of course, there's the question about whether or not Norman has actually transitioned into being a good guy in Don't Breathe 2.
Don't get me wrong, Norman Nordstrom is still as creepy as he has ever been. But perhaps, just perhaps, there's a twinkle of redemption in his eyes. That said, as we've learnt from the past film, things aren't always as they seem.
"If you learn anything from the first movie, you should learn not to think based on some set up what's really going on… it's not until really the end that you really put it together," the writers revealed at a recent event.
Yet again, these home invaders have no idea who they've messed with. The Blind Man goes full Rambo on the unsuspecting criminals. As you can see in the trailer above, his unique skill set allows the filmmakers the opportunity to blend great action pieces with deeply disturbing horror moments too.
Can director Fede Alvarez (of 2013's Evil Dead) work his magic a second time and deliver yet another groundbreaking thriller? Maybe. What made the first film work so well was the filmmakers took their time to develop the characters before attempting jump scares. That way you feel truly invested in the well-being of everyone on screen.
Don't Breathe set up the stage and delivered a rollercoaster of shockers. Don't Breathe 2 promises more of the same. Except, maybe the stakes seem higher here. The Blind Man is no longer confined to his home and the threat has moved beyond his familiar terrority.
The real star of the franchise has always been Stephen Lang, of course. And here he remains incredibly terrifying and intense. As his head tilts to listen and his nose lifts to smell, you can't help but quiver. Like a monster, he storms up and down the corridors hunting as his victims find refuge in dark corners.
The hunters become the hunted. The good guys become the bad guys. The heroes become villains. Who do you root for? Who deserves to be punished? It's an interesting dynamic and premise – flipping and then reflipping the the viewpoint. And it's definitely an idea that will probably be deeply explored in Don't Breathe 2.
Expect horror. Expect jump scares. Expect action. Expect conflicting emotions. Expect a rollercoaster ride.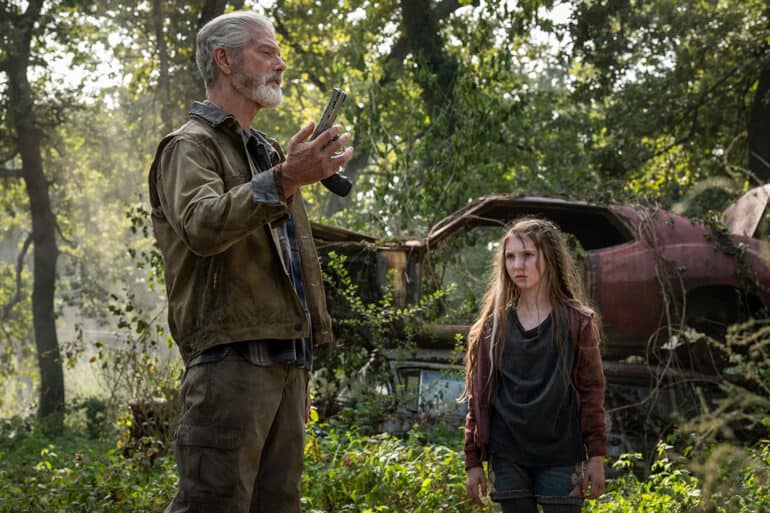 How Don't Breathe 2 Pays Tribute to the Samurai
The sequel to the tense home invasion thriller Don't Breathe is here – and with it comes one of the most surprising one-eighties we've ever seen in a movie character. From a monster to a bona fide Rambo, in Don't Breathe 2 Norman Nordstrom has joined the pantheon of Hollywood butt-kickers in a spectacular fashion.
That said, the concept of a blind warrior relying on his senses to fight against his attackers is not something new to fiction. In fact, Nordstrom's combat prowess and seemingly unparalleled skills could be linked to a legendary clan of warriors: the mighty samurai.
Bushido: A Way of Life
Nordstrom's transformation between Don't Breathe 2 and its prequel is a sight to behold. In the first film, the blind man used to be the villain. While it could be argued that he was protecting his home from a group of thieves, that doesn't mean that his kidnapping and forcefully inseminating women is justified in any way, shape, or form.
Surprisingly, Don't Breathe 2 stands as its own thing. The events of the previous film are hardly mentioned at all, and it seems like Nordstrom has become a better man now that he has an adopted daughter.
All this ex-Navy SEAL wants is a quiet life, and that's the ultimate goal of the samurai way of life: bushido. Fierce on the battlefield, yet calm in daily life, samurai warriors strived for peace and order in their societies. They knew that the way to achieve this was through the use of their swords, but they were unsheathed only as a last resort.
While not extremely similar, the character of Norman Nordstrom reminds us of Zatoichi, the blind samurai. Extremely popular in Japan, the legends of the blind swordsman have inspired a great number of films, including classics like The Tale of Zatoichi and Zatoichi the Fugitive.
The fact that Nordstrom finds redemption through love is also a common trope in samurai tales. Noble yet fierce people, the samurai believed that love could bloom, even on the battlefield.
Don't Think, Feel
The fact that Nordstrom is a blind man has no negative effects on his combat prowess. Throughout the film, Nordstrom tries to fight his opponents fair and square, dragging them to his world of shadows.
Being blind only means that Nordstrom has to rely on his other senses, a fact that some popular martial artists have mentioned throughout the years, One extremely popular quote on the subject comes from Bruce Lee. Lee's iconic phrase "Don't think, feel!" embodies the philosophy behind Don't Breathe 2 fighting scenes.
As he's unable to see his opponents, Nordstrom has to listen closely to their footsteps. If that fails, the blind man could always feel the flow of combat to get an idea of where their foes are located at all times. Every fight scene in this movie feels like it belongs in a classic kung fu film, complete with the unnerving moments of tension before the punches begin.
Don't Breathe 2 feels like a movie that time forgot. This is a movie that acts more like a classic 80s flick than most actual 80s movies – complete with a montage of the main character suiting up and getting ready to go on a killing spree.
It's pure, undiluted fun from start to finish, even if it can get particularly dark during certain scenes. Fans of the first movie might be shocked by Norman's change of character, but martial arts films lovers and those who enjoy the classic tale of crestfallen samurai might find a hidden gem in Don't Breathe 2.
Don't Breathe 2 arrives in South African cinemas on October 1st 2021.