Stephen Lang is back as the ferocious and monstrous blind Norman Nordstrom in the trailer for Don't Breathe 2, the sequel to the 2016 horror-thriller hit (which made an impressive $157.8 million worldwide) about a group of home invaders who underestimate their target.
The trailer for Don't Breathe 2 shows us a different side to the dark character as he becomes a mentor and protector to an 11-year-old, Phoenix (Madelyn Grace), eight years after the events of the first film. He seems happy and content with the daughter he's always wanted by his side. But, of course, things go terribly wrong. Intruders are after Phoenix and it's up to Norman to save her from the menacing characters.
Has our villain become a hero? Maybe. And maybe not.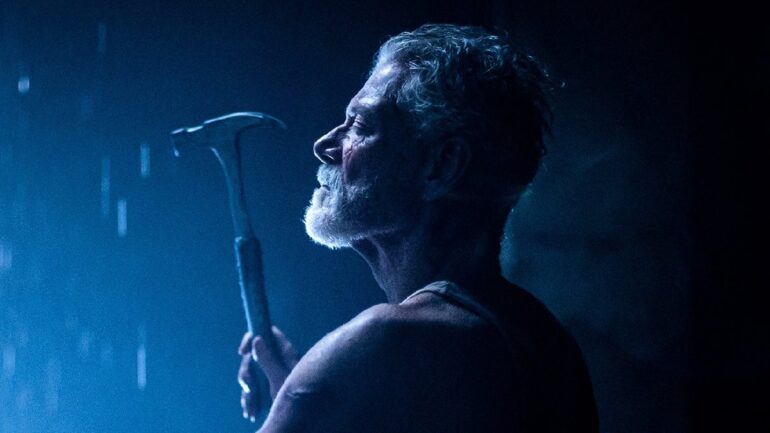 Like in the first film, these home invaders have no idea who they've messed with. The Blind Man goes full Rambo on the unsuspecting criminals. But this time he isn't dealing with three small-time teenage thieves. The baddies here are dangerous thugs. Even worse, The Blind Man doesn't have the home advantage either. Instead, he must venture out into the streets to bring his enemies to justice.
But as we've learnt from the first film, things aren't always as they seem.
Co-written by Fede Alvarez and Rodo Sayagues, the creators of the first film, the Don't Breathe 2 trailer promises more action, thrills and twists.
"If you learn anything from the first movie, you should learn not to think based on some set up what's really going on… it's not until really the end that you really put it together," they explained at a recent trailer preview event.
Also, like the first film, the Don't Breathe sequel doesn't feature any A-list actors. Aside from Lang, the cast also includes Brendan Sexton III, Adam Young, and Rocci Williams.
Don't Breathe 2 is heading to theatres on August 27.