In 2021, Stephen Lang returns as the ferocious and monstrous blind Norman Nordstrom in Rodo Sayagues' Don't Breathe 2, the sequel to the 2016 taut claustrophobic chiller hit about a group of home invaders who underestimate their target.
However, based on the trailers released, it seems that the character is no longer the villain of the story, or is he?
Watch the trailer for Don't Breathe 2 below.
From the Don't Breathe 2 trailer, we see that the film dives in 8 years after the events of Don't Breathe, moving the story forward by focusing on Norman Nordstrom's new life in a new town. He is off the grid and spends his days in solitude away from society with his young daughter, Phoenix (Madelyn Grace). At just 11-years-old, the young girl is trained to defend herself from the threat of a possible attack from outsiders.
Of course, that threat becomes a reality when a group of bad guys break into their home. This time, however, there seems to be more at stake than just money. This might just be personal.
Still, there are a bunch of unanswered questions here. When did Norman get another daughter? Who are they hiding from? And, of course, there's the question about whether or not Norman has actually transitioned into being a good guy in Don't Breathe 2.
Don't get me wrong, Norman Nordstrom is still as creepy as he has ever been. But perhaps, just perhaps, there's a twinkle of redemption in his eyes. That said, as we've learnt from the past film, things aren't always as they seem.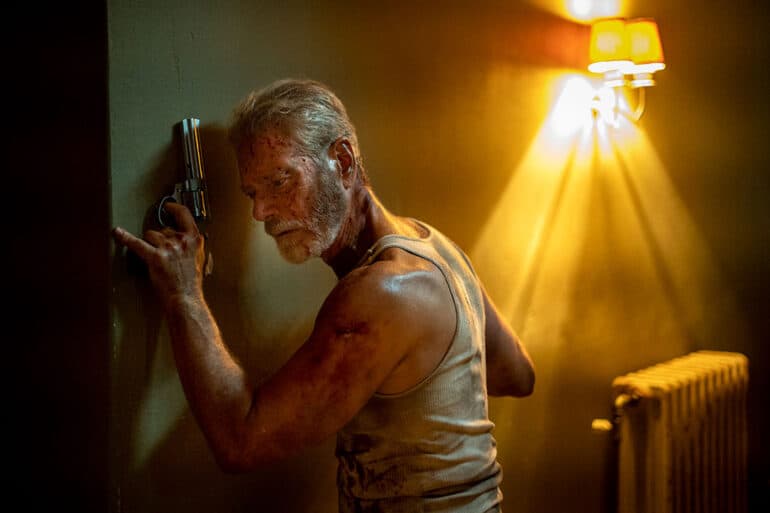 "If you learn anything from the first movie, you should learn not to think based on some set up what's really going on… it's not until really the end that you really put it together," the writers revealed at a recent event.
Yet again, these home invaders have no idea who they've messed with. The Blind Man goes full Rambo on the unsuspecting criminals. As you can see in the trailer above, his unique skill set allows the filmmakers the opportunity to blend great action pieces with deeply disturbing horror moments too.
Can director Fede Alvarez (of 2013's Evil Dead) work his magic a second time and deliver yet another groundbreaking thriller? Maybe. What made the first film work so well was the filmmakers took their time to develop the characters before attempting jump scares. That way you feel truly invested in the well-being of everyone on screen.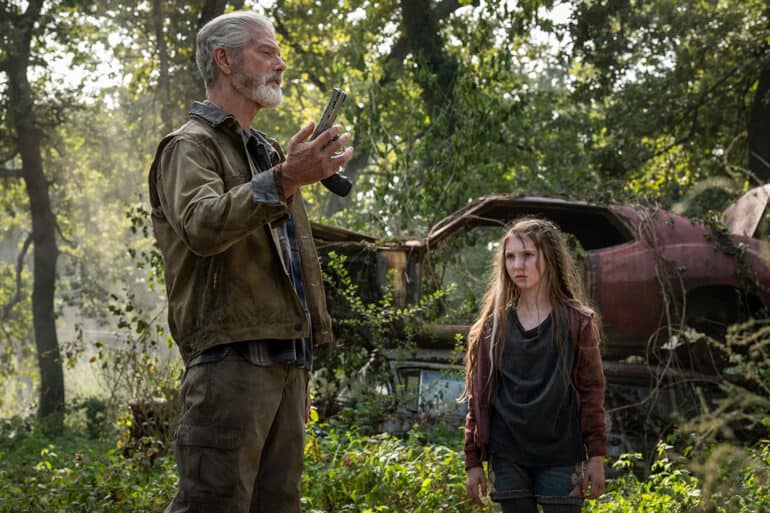 Don't Breathe set up the stage and delivered a rollercoaster of shockers. Don't Breathe 2 promises more of the same. Except, maybe the stakes seem higher here. The Blind Man is no longer confined to his home and the threat has moved beyond his familiar terrority.
The real star of the franchise has always been Stephen Lang, of course. And here he remains incredibly terrifying and intense. As his head tilts to listen and his nose lifts to smell, you can't help but quiver. Like a monster, he storms up and down the corridors hunting as his victims find refuge in dark corners.
The hunters become the hunted. The good guys become the bad guys. The heroes become villains. Who do you root for? Who deserves to be punished? It's an interesting dynamic and premise – flipping and then reflipping the the viewpoint. And it's definitely an idea that will probably be deeply explored in Don't Breathe 2.
Expect horror. Expect jump scares. Expect action. Expect conflicting emotions. Expect a rollercoaster ride.

Don't Breathe 2 arrives in South African cinemas on October 1st 2021.