It's not really hard to figure out what type of game Dolmen is. From the onset, you sort of know what to expect. The only real question is, "Will it deliver?"
Dolmen is a space sci-fi/horror story told in third person RPG format. Massive Work Studio, established in 2016, seems to have drawn inspiration from Dark Souls in creating this space odyssey. And considering that the studio is a relatively new and inexperienced developer with limited resources, you have to applaud the effort.
The Plot in Dolmen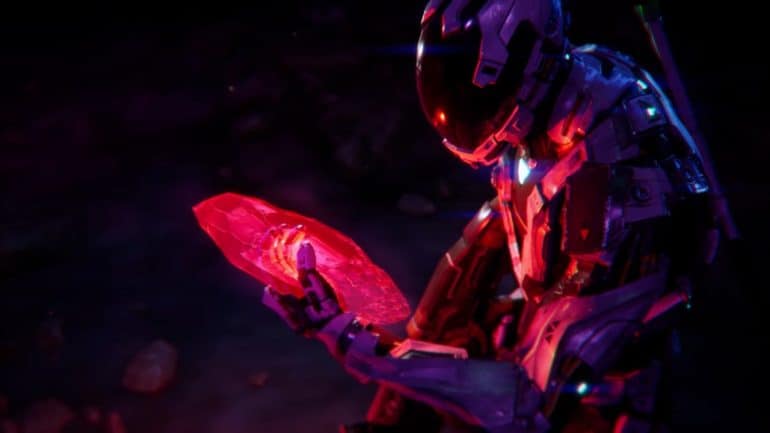 When it comes to the plot, Dolmen offers familiarity and not too much newness or originality. The story starts with a mining colony on Revion Prime, who come across a potentially powerful substance. And as is usual with this type of story, things don't go quite as planned.
As a player, you then have to go down there to explore, fight your way through some space bugs, dogs and pyro aliens and bring back samples of a crystal with particularly unique properties called Dolmen. All the good stuff, right?
This, however, is where the game started to lose me. The story is told in a very bland and unappealing manner, mostly through text and explanation screens (also text) and feels a bit lazy in execution. This is probably a harsh opinion but one I stand by nonetheless. Dolmen feels fine without really ever reaching the potential peak in the story one would like it to hit.
Gameplay in Dolmen
Dolmen seems and feels very one dimensional. The in-game mechanics feel very linear and, though, thankfully not robotic, they do still feel rather clunky and repetitive.
And there's that word: repetitive. None of us like it and yet we come across it so often, especially when it comes to combat mechanics. The combat loop is very frustrating as it feels like just about all enemy types can be downed from a distance — and moving to the side should dodge any projectiles they throw your way. Very simple, painfully so even.
On the first playthrough, the game feels very difficult and the enemies can very quickly mob and overpower you if you try to hack and slash from close up. I cannot and will not, out of embarrassment, tell you how long I was stuck on the first level of this game. I felt like ripping my hair out of my already receding hairline.
On the opposite end of that spectrum, once you learn to keep your distance and mostly engage from distance, the fights In Dolmen become super easy — to the point of boredom at times.
Exploration can also be an issue in Dolmen. At times I found myself going through a huge chunk of story, going around and exploring different paths in front of me and inexplicably landing up in an area I had already been, with the same enemies I killed having respawned to engage in more of the same combat. While this is great for farming crafting materials, it does nothing for story progression and adds to the general feeling of frustration.
On the topic of crafting, it's very easy to craft new gear in Dolmen. However, it is not all that simple to figure out how to equip your newly crafted weapons. More frustration.
Before moving on to the next section, I wanted to briefly touch on enemy design and mechanics. The bugs you initially encounter are fairly generic and I don't have much of a gripe with them. It's when you get to the fire shooting humanoid enemies that you start to notice some weirdness in Dolmen. It's not very rare to catch these guys moonwalk shuffling to wherever they need to be on their patrol path — hilarious but not in itself a terrible thing.
Visuals
Your character, close up, looks fantastic with some great detail to his design. That's where the good things end in this section, unfortunately.
The environment in Dolmen is very bland for the most part and everything tends to blend into each other. This makes it easy to lose your way and miss paths that lead to the next part of your progression through the story.
There's really not much else to say here and I'll swiftly move on.
Final Thoughts
If I'm being honest, Dolmen is not the first game I would pull off the shelf. It's not the second or even the third. That being said, I do feel it has a place to fill in my gaming rotation. The best way to describe it is to think of some mindless action movie where you don't have to pay much attention to the details but just sit back and enjoy the action. When you don't feel like going into a super intense, story laden game, just pick up Dolmen and shoot some enemies from a distance.
This might not be the best review and rating for Dolmen, but, based on this game, I'm actually quite excited to see how Massive Work Studio grows going forward and will definitely be keeping an eye out for any future work they put out.
The Review
Dolmen
I think there is massive potential here, and Dolmen, with all its issues and shortcomings, is pretty good for what it is.
Review Breakdown
Graphics

0%

Gameplay

0%

Storyline

0%

Replay Value

0%