*WARNING: MAY CONTAIN SPOILERS*
Returning to 2018, the Doctor and her companions discover a seemingly abandoned, heavily barricaded cabin in the woods in Norway and investigate. Inside, they meet Hanne – a young blind girl whose father has disappeared. Hanne warns them all of a mysterious creature in the surrounding forest that appears at night, while Graham and Ryan notice a mirror in the cabin that doesn't show their reflections.
The Doctor is uncertain if the monster and the mirror – which acts as a portal to another plane of existence – are connected. Leaving Ryan to protect Hanne, the Doctor begins a quest with Graham and Yaz to learn where the portal leads. Encountering an unscrupulous creature called Ribbons of the Seven Stomachs and attacked by flesh-eating giant moths, they escape to the portal's true destination: a world that is seemingly a mirror of our own, but where Hanne's mother and Graham's wife are both alive. But how can this world exist, and can the Doctor and her companions ever leave it?
The most wonderful thing about science fiction is that it can be full of big, brilliant and new ideas. While sometimes it uses futuristic (or alternative) settings and concepts as allegories that relate to the past or present, it can also be a genre of pure creativity. Over the years, Doctor Who has used that creative freedom and delivered some fascinating ideas.
While this season generally hasn't delivered much in that department, this episode does – in the form of the Solitract, a sentient being that is its own universe. It may not be an entirely original concept and it's not that different from Mogo the Living Planet at times. Yet it's a big idea that's definitely worthy of a whole lot of screen time in a Doctor Who story. It's just the sort of thing that the Doctor (and the audience) would get a kick out of learning more about.
Except the concept doesn't get that screen time, and the Doctor and the audience are denied the opportunity to learn anything at all. Even though it delivers a fascinating idea in the last few minutes, the rest of this episode is pointless filler which tries to be Evil Dead, Shyamalan's The Village, Stephen King's IT, and a watered-down Neil Gaiman story all in one. Even when the potential reward to viewers for enduring this concoction is revealed, it's squandered by presenting this sentient universe in the form of… a talking frog on a chair. Because… just because.
Really.
Still, the idea itself is a good one even if the Doctor once again deduces the truth through guesswork and luck instead of intelligence. The resolution to the story is certainly far better than the first forty minutes of the episode, which features some of the laziest writing seen in the series so far.
The audience is asked to accept the improbable scenario of a father selfishly travelling to an alternate universe he just happened to stumble upon, purposefully traumatising his blind daughter by trapping her in an isolated cabin where she hides in a cupboard, living in fear of a monster that doesn't exist and that he built up in her mind. That's psychological torture, so why should we sympathise with this horrible man? Yes, it may be the stuff of fairytales but even by those standards it simply doesn't make sense.
Later, Hanne threatens to call the police on Ryan, but why didn't she phone them to report her missing father or the monster that's terrorizing her? Then there's the anti-zone portion of the episode, which was nothing more than padding in a further attempt to turn the episode into some kind of dark fairytale. It fails and instead comes across exactly like what it is: a cartoonish villain with a deliberately silly name holding a red balloon trying to waste everyone's time.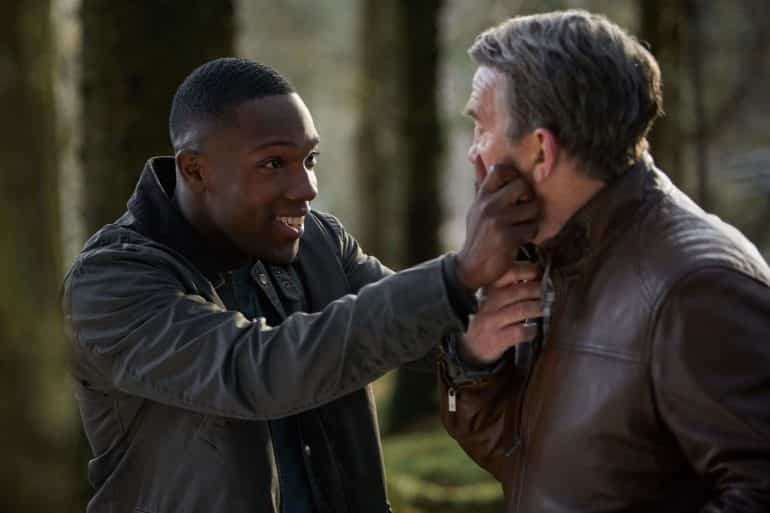 There's some light at the end of the tunnel when Graham reunites with a representation of his deceased wife but, for all the good intentions (and performances) of the scene, viewers will know it's all hokum. The only person dumb enough to buy into any of it would be Hanne's psychopathic father… who is happily reunited with his daughter, instead of being chastised and locked away. Then again, the Doctor gave a free pass to the Kerblam! system a few episodes ago too, even though it killed an innocent employee just to make a point.
Ultimately, that leaves us with the frog on the chair who's a sentient universe and just wants someone to play with. And regardless of the drudging, aimless adventure that led to that point, it's still a cool idea. It's a shame the episode didn't start off with it and build from there, because it could have been great. Instead, it's another disappointing Doctor Who episode that raises too many questions and offers no answers and little entertainment. It doesn't take you away, but it would have been nice if it did.
The Review
Doctor Who: It Takes You Away
A great ending let down by… well, everything else.