Designer collaborations keep pushing boundaries. This trend of seemingly random brands coming together is one that has become mainstream due to the power of social media and meme potential. The Gucci Xbox is a collab we never expected, but, to be honest, most of us are welcoming it with open arms.
Why? Because it's actually cool.
A $10,000 price tag might not be the most consumer-friendly, but this take on the new Xbox is one reserved for an exclusive club of gamers.
The Gucci Xbox will be given a limited release, so it might be difficult to snag one if you don't go for the initial drop. I think its appeal is subjective. To a certain section of the gaming audience, the Gucci Xbox looks bad. The Gucci logo plastered in a pattern makes it look somewhat tacky. However, there's also an argument for the Gucci Xbox to at least be a unique take on the traditional and plain Xbox Series X design.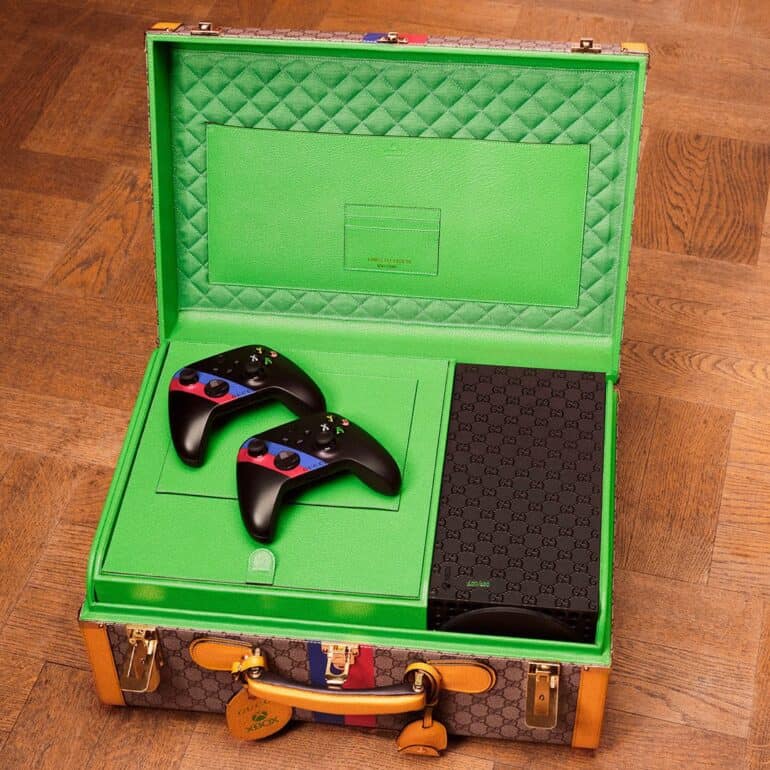 Dropping five figures for a new Xbox is something you should expect in a country experiencing some intense inflation. Five figures in dollars is a different story altogether. There are a few arguments to be made for a $10,000 Xbox. For example, it does come with a large Gucci and Xbox-themed luggage.
This box is sure to be in the bulk of expenses for the Gucci collaboration. It follows the conventional Gucci design look, but there's a giant Xbox print on the side. The way it contrasts with the red and blue highlights may not be the prettiest, but beauty is subjective.
The Xbox branded suitcase is good enough for carrying your console and controllers. Besides, you'll have one of the 100 limited edition versions of the console.
If you badly want it, the Gucci Xbox will be available from November 17th in select Gucci stores and the Gucci website.
The Gucci Xbox seems to be the start of a new age in collaboration. With the rise of Zuckerberg's metaverse, we might be seeing more unconventional collabs within the mainstream media. In Fortnite, we recently got a Balenciaga collab where a pug was sporting a Balenciaga x Fortnite hoodie. The hoodie was also sold in retail stores in the real world.
Additionally, the fancy collaboration trend has also been spotted in other titles like the Louis Vuitton skins that were added to League of Legends.
The Gucci Xbox comes bundled with access to Xbox Game Pass. It isn't necessarily specified for any length of time. However, there is a chance it shouldn't be anything less than 3 months considering the regular occurrence of discounts to Xbox's Game Pass system.
Gucci's high fashion branding is something that has endured for years to come. The brand is not dying anytime soon. However, there's a lot of money to be made with tech companies, especially now that video games are trying to be life Sims in addition to regular gaming experiences.
Tell us, what do you think of the Gucci Xbox Series X?