No gaming rig is complete without a good keyboard. It's an essential part of any setup and if you're serious about competitive gaming, investing in a decent gaming keyboard could provide you with that extra edge online.
When it comes to competitive online gaming, mechanical keyboards are often recommended over any other kind. One of the biggest differences between a gaming keyboard and a regular one is that most gaming keyboards come with an extra set of keys, usually above the F Keys. The benefit of this is that it allows players to assign additional hotkeys. Mechanical keyboards also have a significantly longer lifespan than membrane or rubber dome keyboards. They're more durable and don't wear out as fast as a regular keyboard. Mechanical switches on these keyboards are tested to withstand over 30 million key presses, whereas a common membrane keyboard would only have a lifespan of 5 million key presses.
The rise of eSports
Before eSports burst out into the mainstream in recent years, mechanical keyboards were not regarded as anything more than a niche accessory, used primarily for typing before membrane keyboards were a thing. Fast forward to 2010, where games like DotA and League of Legends exploded into popularity, and gamers around the world could stream live events on sites like Twitch. It wasn't long until big names started to sponsor events and develop their own high-end mechanical keyboards specifically for professional gaming.
There are a number of reasons why professional gamers favour mech keyboards over their non-mech counterparts. One of the main reasons is that they offer superior speed and accuracy. On a mechanical keyboard, the keys are controlled by a mechanism instead of the membrane or plastic dot you would find in other keyboards. It takes less time for the keys on a mechanical keyboard to register that they have been pressed than it would on a non-mechanical keyboard. This is often referred to as the actuation point.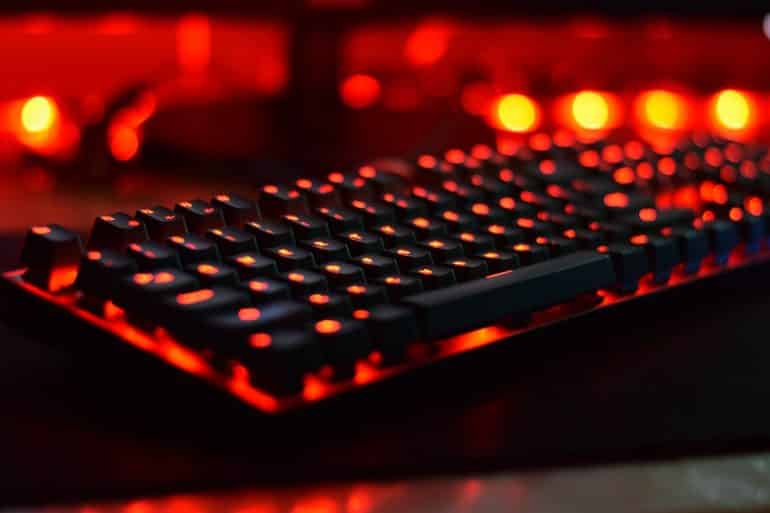 Mechanical switches
There are hundreds of types of switches, but most mechanical keyboards use switches made by a company called Cherry MX. Switch types often use different colours to indicate certain characteristics. One of the most popular switch types amongst gamers are the Cherry MX Blues, which offer a medium level actuation as well as an obvious touch feedback when the keys are pressed, which helps to prevent any accidental clicks.
Companies, like Logitech and Razer, have started making their own switches designed specifically to meet the demands of high-intensity gaming. A lot of professional gamers will swear by a mechanical keyboard because they truly feel that it does improve their performance. The Razer BlackWidow Ultimate is a keyboard that is used by many Professional League of Legends players, such as Wang-ho "Peanut" Yoon, who has been using it since his days playing for the SK Telecom T1 gaming team, before signing to Gen G last year. Week 4 of LCK will see Gen G v SK Telecom T1, which will be Peanut's first match against former teammate, Faker.
Conclusion
Specialised hardware will improve your gaming prowess, but remember that buying the most expensive gear is not going to make you a better gamer. The extra speed and precision provided by a high-end mechanical keyboard might just be what you need if you're wanting to hold your own against the best online. These days though, you can find many budget-friendly gaming keyboards that offer the same benefits, so you can still compete online without breaking the bank. Of course, your best bet in finding out if gaming keyboards really do improve your performance is to try them out for yourself!
As always, be sure to check out Fortress of Solitude for the latest exclusive news, reviews and updates on all things gaming.