The original short story, The Legend of Sleepy Hollow, is a classic American gothic tale. However, like most classics it's also one that few people these days have actually read. Instead, the most commonly-known versions of the story in recent years are the Sleepy Hollow time travel sleuthing TV show… and the Tim Burton film of the same name, starring Johnny Depp as Ichabod Crane.
The last version in particular, naturally, is the one that's most memorable, and has all the gothic quirkiness you'd expect from any Burton film.
But if it's accuracy you want, as far as adaptations go, Disney's short 1949 film is a whole lot closer in many ways, even more of a classic and just as memorable.
It's 1790, and Ichabod Crane becomes school headmaster in the small rural village of Sleepy Hollow in New York. Crane, a gangly but likeable man of science, wins over the locals and courts Katrina van Tassel, daughter of the richest man in town. Crane's plan to win both Katrina's heart and her father's wealth brings him into conflict with the tough, no-nonsense local hero Brom Bones – but Ichabod outshines him constantly.
However, Brom learns of Ichabod's superstitious beliefs and tells him the tale of the Headless Horseman, a ghostly figure who decapitates his victims. Is it just a story? For Ichabod Crane, his adventure in Sleepy Hollow is just beginning. Or is it his end?
Meanwhile, in another cautionary tale, Mr. Toad of Toad Hall has succumbed to his latest mania: racing. His passion for horse-drawn carriages has shifted to a love of newfangled motor cars, and he'll stop at nothing to get one and race one… despite being nearly bankrupt. Can his friends, Ratty, Moley and MacBadger keep him from ruining his life chasing every latest fad, or will Mr. Toad's wild ride be his last?
https://www.youtube.com/watch?v=w0320rCzp8s
Yes, the tone is considerably lighter, with legendary White Christmas crooner Bing Crosby buh-buh-buh-booing his way through the narration; the golden age Disney animation has the Gaston-prototype Brom pratfalling around, and the surprisingly weaselly Ichabod dallies about in a fashion almost as gorgeous as the Seven Dwarfs, while the tone is kept considerably light and breezy throughout.
Until, of course, the Horseman arrives.
Flaming pumpkin in one hand and a sword in the other, riding a demonic horse as a hellish night sky erupts around him as the music swells, the Horseman may not be Disney's most frightening imagery but it's easily one of the most memorable. It's an especially jarring sight given all the fun and games up to then, but then that's also what makes it so right.
Those who only know Burton's version may be confused by the changes (or, technically, corrections) and the mystifying ending which hints at the solution to this mystery, but there are still many shared moments – especially the encounter on the bridge. While it tells a very similar story it's in a completely different way, which will make it fresh for many. Some may prefer it and some may not, but it's an overlooked classic from the Disney vaults that's well worth investigating.
Feature-wise, the Sleepy Hollow story is preceded by the adaptation of a Wind in the Willows story, and like Ichabod's it's also been mostly forgotten or ignored of late. For any fans, this is a must-see tale which visually resembles Pinocchio but is far more entertaining – while the moral lessons behind it are obvious but thankfully less heavy-handed.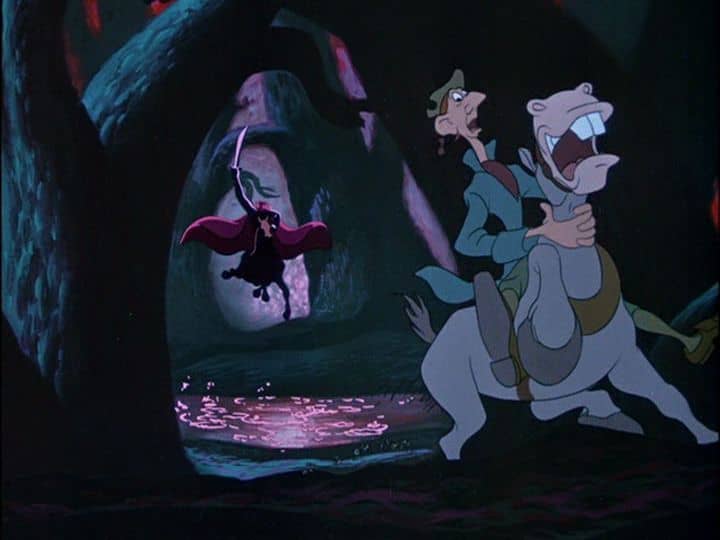 For this half of the double-feature, it's another classic star who provided the narration: Basil Rathbone. Still perhaps the most iconic of all Sherlock Holmes actors, the man's voice smoothly weaves in and out of the story like the world's classiest grandpa reading a bedtime story. While these sort of short films went out of style many decades ago, in viewing them now they're still as heartwarming as ever and a throwback to a bygone age.
As a double feature this Halloween, if you're watching this for the Ichabod Crane story then you'll be fast-forwarding through Mr. Toad's wild ride just to get to "the good stuff". And make no mistake, it is good even if it's also very different from Burton's Sleepy Hollow and the build-up seems incredibly long-winded. Odds are, you still won't be disappointed.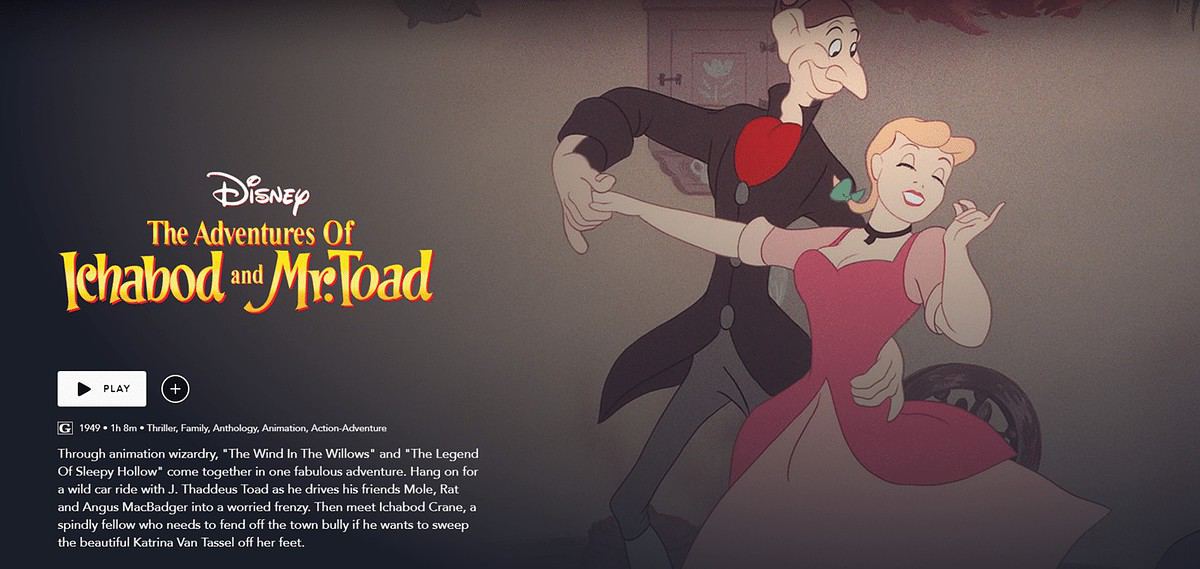 But if you do skip through it, make a note to watch the Wind in the Willows story sometime too, because it's fantastic. While the two stories are very different in nature, making them an odd pairing for a double-feature movie, they're both equally good and well worth a look.
The Review
The Adventures of Ichabod and Mr. Toad
An overlooked Disney classic that does the stories justice.