So… is this season two, or simply part two of season one of Disenchantment? While people continue to debate that, the simple fact is that it doesn't matter. Also, apparently, it's still season one. Make of that what you will.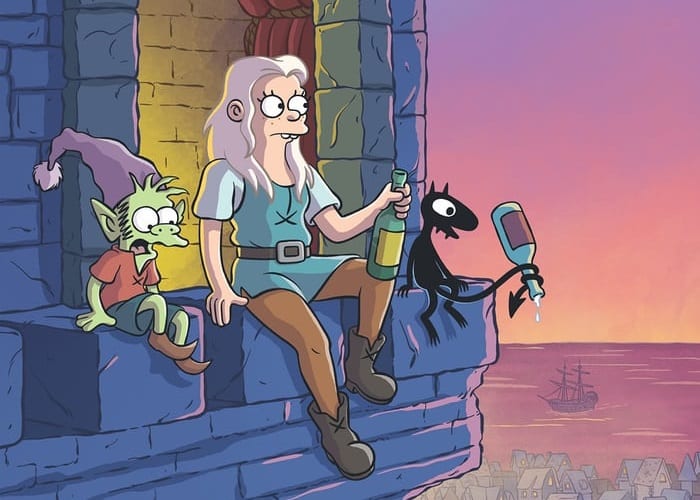 Now then… it's been a year since the first ten episodes of Matt Groening's satirical fantasy sitcom Disenchantment debuted, and there's been a lot to process since then. To start with, it wasn't great; while the concept worked, many of the painfully obvious jokes fell flat and the characters didn't quite connect with viewers as they should have… well, until the last several episodes. Then everything changed.
The show suddenly turned everything on its head, revealing that they'd been doing some incredibly subtle and intricate storytelling all along. Far smarter than it initially lets on, and dropping one of the most hard-hitting season cliffhangers going, Disenchantment suddenly gained a measure of credibility and respect to temper the criticism.
And now it's back, but can this next batch of ten episodes build on the moderate success of before?
Dreamland is in turmoil. The mystical kingdom and its inhabitants have been turned to stone by Queen Dagmar, and Princess Tiabeanie's closest friend Elfo having died, all hope seems lost. Even Bean's personal demon Luci has been taken prisoner, while the princess learns the terrifying truth about her mother – along with her other newfound Maru family, the murderous Becky and Cloyd. Desperate to escape and save her homeland, Bean's long road to redemption begins with a journey to the depths of Hell itself.
Meanwhile, politics in Dreamland reaches new lows as the Elves struggle to reintegrate themselves into society. While the candy they make is welcomed by the local population, they're soon struck by plague and high levels of taxation. As King Zog attempts to ignore all the problems he's facing, dark forces try to overthrow him and a new-found magic known as "Stience" enters the land…
To say that these episodes mirror the first ten is pretty accurate. After a strong resolution to that epic cliffhanger to start the season, there's a cooling down period where the creativity and the jokes dry up a bit. Worse, some episodes appear to be little more than uneven time-fillers which offer a few decent jokes but never seem to lead anywhere. Then, almost like magic, the show jumps back on track again in the most wondrous way imaginable for the last few episodes. Another stunning series of twists appear to take viewers by surprise, making it all seem uneven but impressive at times.
So once again, when it works it's fantastic and when it doesn't… well, it's not so much bad as disappointing.
The good news this time around is that both the show itself and the characters in it have found their voice. Despite his superficial appearance, new layers to King Zog are revealed which help to make him an increasingly fascinating and complex figure. Elfo's irritating, passive-aggressive nature is raised to new heights, while Bean truly comes in to her own as neither a stereotypical damsel-in-distress nor an ass-kicking heroine but as a normal person. Unfortunately, there are some losers here too: Luci seems almost irrelevant at times, while Zog's advisors Odval and Sorcerio don't get the spotlight as much as they did before. However, on the whole there's some great work done in making everyone here seem a bit more real.
The comedy in Disenchantment continues to be a mixed bag of lowbrow and highbrow, with plenty of in-jokes thrown in for good measure. It's never quite laugh-out-loud hilarious, but there's usually enough to be amusing even if some of the jokes are in particularly poor and questionable taste. Thankfully, this isn't entirely a comedy and when it reins in the jokes to hit the genuine drama it can be truly riveting. It's clear that there's a wealth of information regarding the lands of Maru, Steamland and more to be gathered, and plenty of hidden details. For that reason, repeat viewings for eagle-eyed viewers are essential.
Hopefully, this show will continue to build in popularity, especially now that it's starting to stand out with its own unique (but sneakily overlapping) identity. It's got a long way to go, but it's getting there. Meanwhile, at this stage it's definitely worth some time, attention and a bit of love. Disenchantment may not be the best show on TV, but at least it's trying.
The Review
Disenchantment Season 1 (Episodes 11-20)
Some improvement as the show finds its own identity.