Here we are again. It's season three, or part one of season two, or part 3 of Disenchantment. Or something. It's up to you, and, honestly, it doesn't make any difference at this stage.
For that matter, neither does trying to follow all the conspiracy plotlines. Honestly, the shenanigans of the Secret Society and other ne'er-do-wells in the show have become so convoluted that it's enough to induce a migraine. Layers of plots, sub-plots, side-plots and unexplored or under-utilized character motivations stack up like wobbling Jenga blocks – and if you so much as scrutinize one too hard then the whole thing will come crashing down.
Which is why it's so damn impressive that, incredibly, it manages to stay balanced.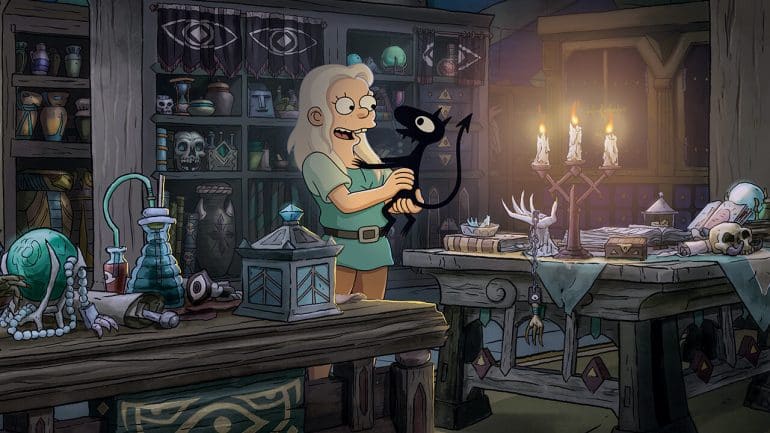 Sure, there are plenty of faults with Disenchantment: as a comedy, it increasingly falls flat and the sparse jokes barely raise a smile; Elfo's annoying nature reaches new heights, as his constant whining only pauses briefly enough for him to romance a severed head and… a boat which gives him a spanking; and barely an episode goes by where the creators pile on unexplained Lost-like mystery box writing without delivering any payoff whatsoever.
So yes, watching Disenchantment Part 3 can be a frustrating experience at times… especially when things happen for no reason whatsoever. A good example is Prince Derek suddenly being in a relationship with Snarla when, just episodes before, he was involved with Sagatha. What changed? Did we miss something?
However, it can also be incredibly rewarding.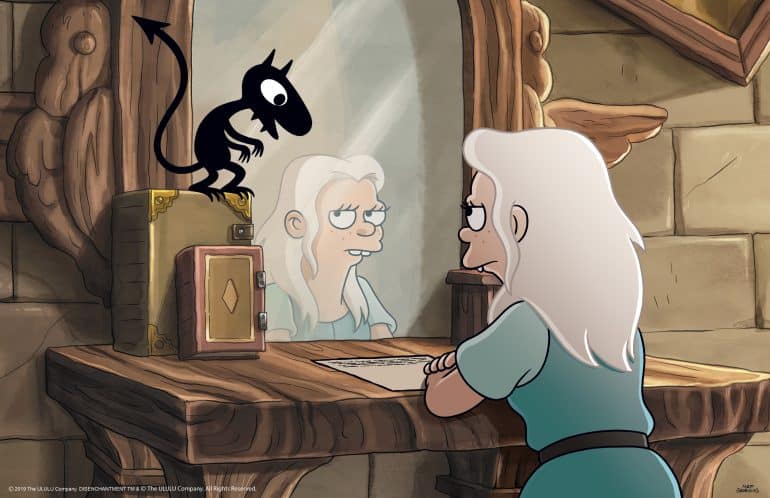 As Dreamland's King Zog recovers from the failed assassination attempt on his life, his son Derek becomes the kingdom's new figurehead ruler. With all decisions being made by the evil religious theocracy behind the scenes, it seems like nothing can save Zog and his homeland. Meanwhile, Princess Tiabeanie – Bean – and her friends Luci and Elfo learn the dark truth of her mother Dagmar and the mysterious beings known as Trogs.
Bean is now the only hope for Dreamland's survival, and her quest will take her from underground civilizations and mermaid-inhabited islands to the technological society of Steamland and the elitist Bentwood. With conspiracies and new enemies everywhere, she will face perils she never imagined and find a new power which lies within her…
Disenchantment smartly plays to its strengths and openly makes light of its weaknesses by occasionally piercing the fourth wall. It knows where its plot holes are and blatantly points them out. For all the wonky plotting, it's still a fascinating and entertaining adventure full of creativity. And surprising sensitivity at times, too. Despite the lack of development for Elfo and Luci, moments like Derek coming of age and Bean and her stepmother Oona's drug-fuelled bonding session are heartfelt and genuine.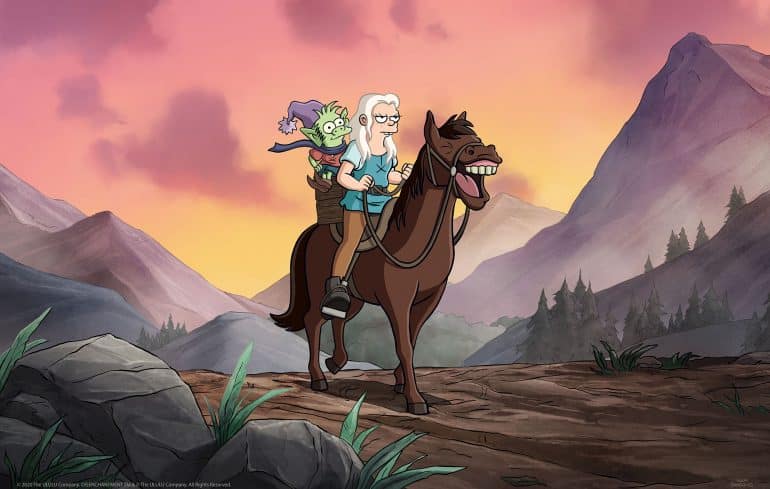 And then, of course, there's the wonderfully offensive, appalling, unscrupulous thug of an overlord known as King Zog. Seeing his slow, painful demise this season is emotional torture of the highest order, and maybe heartbreakingly hard to watch for some viewers. In my case, it had me in tears.
The casting of this show, while at times hit-or-miss, seems more on-point with Disenchantment Part 3, with some inspired choices. The addition of Richard Ayoade joining some of his fellow former IT Crowd colleagues again is a highlight, bringing his trademark voice and adorkable nature to his character. Meanwhile, the regular returning actors seem more comfortable in their performances and it's a smoother production all around.
If this were to be looked at logically then this show would be a hot mess. But as the old saying goes, just repeat to yourself "It's just a show, I should really just relax." In this case, the show itself is so instantly disarming and the story flows so effortlessly that all logic and complaints seem irrelevant. It isn't that the show is above criticism, but it's certainly an improvement from the earlier instalments – and a hell of a lot of fun too.
Disenchantment Part 3 works even in spite of itself. It may not suit everybody's taste, but if you've been on the fence about it up until now then this may be what finally helps you decide it's worth it.
The Review
Disenchantment Part 3
Less laughs and a lost plot, but lots more story.