Unfortunately, Disenchantment lives up to its own name just a little too much. The problem isn't that Disenchantment isn't funny, because it is. There's plenty of jokes, from slapstick and groan-inducing puns to highbrow intellectual humour. Sadly though, the timing of it almost always feels off, with just too many moments of boredom between gags and action sequences that seem to suck the energy out of scenes. It simply doesn't pull viewers in.
Disenchantment Season 1
Disenchantment is set in the medieval kingdom of Dreamland, where a young princess called Bean lived…and she liked to party! While Bean's father wants to force her into an arranged marriage, all she wants to do is drink, get drunk, and have some fun – preferably with as few consequences as possible. The solution is simple: run away! Meanwhile, an elf called Elfo is bored with his life on the candy production line in his own village, and has grown sick of the constant cheerfulness and optimism of his fellow elves. His solution is simple, too: run away!
It's obvious that Bean and Elfo's paths will cross, and before long they're sharing adventures in irresponsibility. Of course, it doesn't help that Bean has a personal demon called Luci, who's always trying to lead them even further astray.
When the news broke that there would be a new show coming from Matt Groening – creator of The Simpsons and Futurama – I let out a personal cheer. Futurama was one of the greatest comedies of all time, sadly denied the respect it deserved, and Disenchantment had the potential to be even better. Plus, what better place for the new show than Netflix, where it can make some real waves without any major studio interference? A comedy that inverts the clichés of fantasy stories, even the ironic title seemed to work.
Like I said, it just doesn't pull the audience in. Partly that's because of the characters. Bean is great, and it's good to see a capable female lead character, but she also seems inconsistent. Is she a fun-loving goofball, a strong independent person, or an irresponsible brat? It's hard to tell from one story to the next. Elfo, by contrast, works only in small doses as the eternally cheerful innocent who constantly suffers. Then there's Luci, who should have been a scene-stealer but isn't. There's nothing wrong with having a lovable villainous rogue with a sly tongue – but whining constantly that people should "Do it!" and give in to their dark urges, it's dull. He just isn't funny, and without having gusto he's boring.
Then, of course, there's the other thing. Haven't we seen this all before?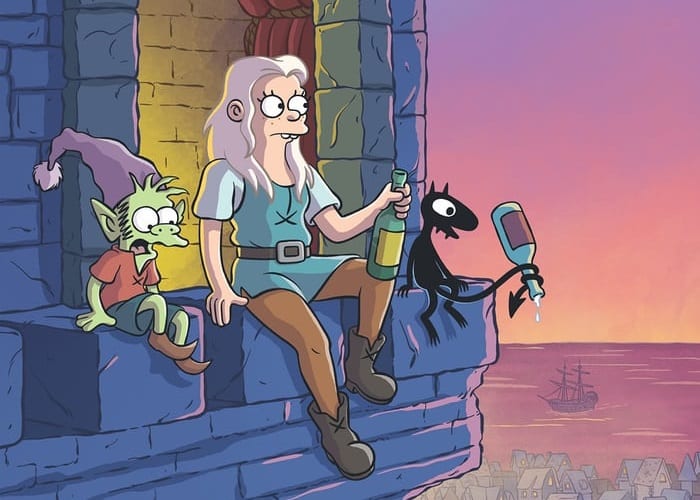 While hardly a crowded market, the fantasy-comedy genre still has its fair share of classics. The Princess Bride, Shrek, Galavant, they all got here first. Plague jokes, not-quite-mermaids, fairy prostitutes, a repulsive king, an arrogant prince, every comedy cliché is there. There's not enough originality on display here, and seems almost too tame. It's good that it isn't too adult, but it's hard to push boundaries and make it look impressive while a show like Rick and Morty smashes through them on a daily basis with ease.
There's potential here, real potential, for Disenchantment to kick in to a higher gear when the second block of episodes drops. Personally, I hope it does. For anyone interested it's worth a look and you'll find some fun, but don't expect greatness. At least, not yet…
Disenchantment Season 2
So… is this season two, or simply part two of season one of Disenchantment? While people continue to debate that, the simple fact is that it doesn't matter. Also, apparently, it's still season one. Make of that what you will.
Now then… it's been a year since the first ten episodes of Matt Groening's satirical fantasy sitcom Disenchantment debuted, and there's been a lot to process since then. To start with, it wasn't great; while the concept worked, many of the painfully obvious jokes fell flat and the characters didn't quite connect with viewers as they should have… well, until the last several episodes. Then everything changed.
The show suddenly turned everything on its head, revealing that they'd been doing some incredibly subtle and intricate storytelling all along. Far smarter than it initially lets on, and dropping one of the most hard-hitting season cliffhangers going, Disenchantment suddenly gained a measure of credibility and respect to temper the criticism.
And now it's back, but can this next batch of ten episodes build on the moderate success of before?
Dreamland is in turmoil. The mystical kingdom and its inhabitants have been turned to stone by Queen Dagmar, and Princess Tiabeanie's closest friend Elfo having died, all hope seems lost. Even Bean's personal demon Luci has been taken prisoner, while the princess learns the terrifying truth about her mother – along with her other newfound Maru family, the murderous Becky and Cloyd. Desperate to escape and save her homeland, Bean's long road to redemption begins with a journey to the depths of Hell itself.
Meanwhile, politics in Dreamland reaches new lows as the Elves struggle to reintegrate themselves into society. While the candy they make is welcomed by the local population, they're soon struck by plague and high levels of taxation. As King Zog attempts to ignore all the problems he's facing, dark forces try to overthrow him and a new-found magic known as "Stience" enters the land…
To say that these episodes mirror the first ten is pretty accurate. After a strong resolution to that epic cliffhanger to start the season, there's a cooling down period where the creativity and the jokes dry up a bit. Worse, some episodes appear to be little more than uneven time-fillers which offer a few decent jokes but never seem to lead anywhere. Then, almost like magic, the show jumps back on track again in the most wondrous way imaginable for the last few episodes. Another stunning series of twists appear to take viewers by surprise, making it all seem uneven but impressive at times.
So once again, when it works it's fantastic and when it doesn't… well, it's not so much bad as disappointing.
The good news this time around is that both the show itself and the characters in it have found their voice. Despite his superficial appearance, new layers to King Zog are revealed which help to make him an increasingly fascinating and complex figure. Elfo's irritating, passive-aggressive nature is raised to new heights, while Bean truly comes into her own as neither a stereotypical damsel-in-distress nor an ass-kicking heroine but as a normal person. Unfortunately, there are some losers here too: Luci seems almost irrelevant at times, while Zog's advisors Odval and Sorcerio don't get the spotlight as much as they did before. However, on the whole, there's some great work done in making everyone here seem a bit more real.
The comedy in Disenchantment continues to be a mixed bag of lowbrow and highbrow, with plenty of in-jokes thrown in for good measure. It's never quite laugh-out-loud hilarious, but there's usually enough to be amusing even if some of the jokes are in particularly poor and questionable taste. Thankfully, this isn't entirely a comedy and when it reins in the jokes to hit the genuine drama it can be truly riveting. It's clear that there's a wealth of information regarding the lands of Maru, Steamland and more to be gathered, and plenty of hidden details. For that reason, repeat viewings for eagle-eyed viewers are essential.
Hopefully, this show will continue to build in popularity, especially now that it's starting to stand out with its own unique (but sneakily overlapping) identity. It's got a long way to go, but it's getting there. Meanwhile, at this stage it's definitely worth some time, attention and a bit of love. Disenchantment may not be the best show on TV, but at least it's trying.
Disenchantment Season 3
Here we are again. It's season three, or part one of season two, or part 3 of Disenchantment. Or something. It's up to you, and, honestly, it doesn't make any difference at this stage.
For that matter, neither does trying to follow all the conspiracy plotlines. Honestly, the shenanigans of the Secret Society and other ne'er-do-wells in the show have become so convoluted that it's enough to induce a migraine. Layers of plots, sub-plots, side-plots and unexplored or under-utilized character motivations stack up like wobbling Jenga blocks – and if you so much as scrutinize one too hard then the whole thing will come crashing down.
Which is why it's so damn impressive that, incredibly, it manages to stay balanced.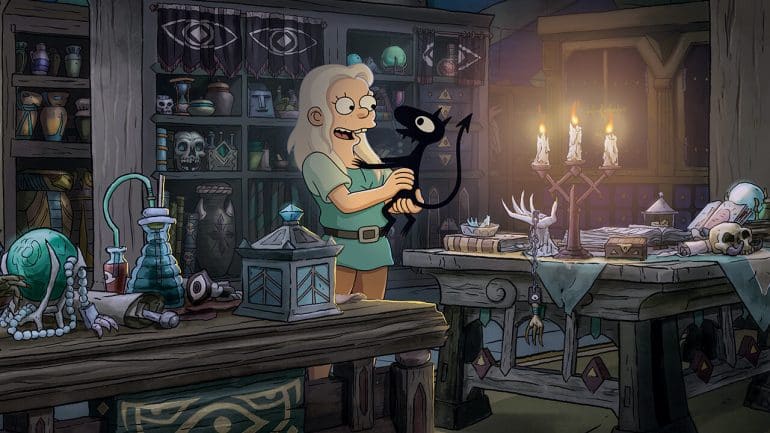 Sure, there are plenty of faults with Disenchantment: as a comedy, it increasingly falls flat and the sparse jokes barely raise a smile; Elfo's annoying nature reaches new heights, as his constant whining only pauses briefly enough for him to romance a severed head and… a boat which gives him a spanking; and barely an episode goes by where the creators pile on unexplained Lost-like mystery box writing without delivering any payoff whatsoever.
So yes, watching Disenchantment Part 3 can be a frustrating experience at times… especially when things happen for no reason whatsoever. A good example is Prince Derek suddenly being in a relationship with Snarla when, just episodes before, he was involved with Sagatha. What changed? Did we miss something?
However, it can also be incredibly rewarding.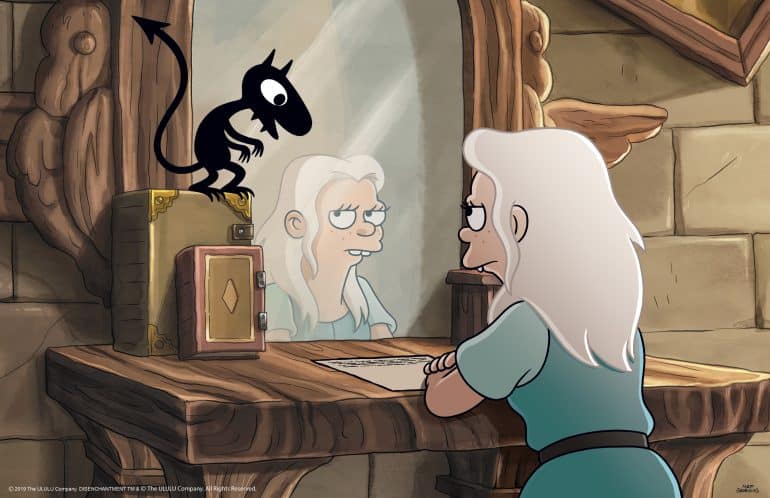 As Dreamland's King Zog recovers from the failed assassination attempt on his life, his son Derek becomes the kingdom's new figurehead ruler. With all decisions being made by the evil religious theocracy behind the scenes, it seems like nothing can save Zog and his homeland. Meanwhile, Princess Tiabeanie – Bean – and her friends Luci and Elfo learn the dark truth of her mother Dagmar and the mysterious beings known as Trogs.
Bean is now the only hope for Dreamland's survival, and her quest will take her from underground civilizations and mermaid-inhabited islands to the technological society of Steamland and the elitist Bentwood. With conspiracies and new enemies everywhere, she will face perils she never imagined and find a new power which lies within her…
Disenchantment smartly plays to its strengths and openly makes light of its weaknesses by occasionally piercing the fourth wall. It knows where its plot holes are and blatantly points them out. For all the wonky plotting, it's still a fascinating and entertaining adventure full of creativity. And surprising sensitivity at times, too. Despite the lack of development for Elfo and Luci, moments like Derek coming of age and Bean and her stepmother Oona's drug-fuelled bonding session are heartfelt and genuine.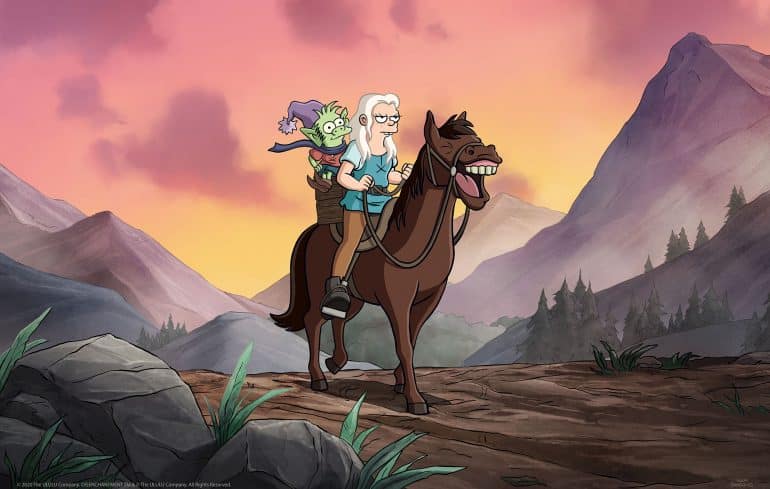 And then, of course, there's the wonderfully offensive, appalling, unscrupulous thug of an overlord known as King Zog. Seeing his slow, painful demise this season is emotional torture of the highest order, and maybe heartbreakingly hard to watch for some viewers. In my case, it had me in tears.
The casting of this show, while at times hit-or-miss, seems more on-point with Disenchantment Part 3, with some inspired choices. The addition of Richard Ayoade joining some of his fellow former IT Crowd colleagues again is a highlight, bringing his trademark voice and adorkable nature to his character. Meanwhile, the regular returning actors seem more comfortable in their performances and it's a smoother production all around.
If this were to be looked at logically then this show would be a hot mess. But as the old saying goes, just repeat to yourself "It's just a show, I should really just relax." In this case, the show itself is so instantly disarming and the story flows so effortlessly that all logic and complaints seem irrelevant. It isn't that the show is above criticism, but it's certainly an improvement from the earlier instalments – and a hell of a lot of fun too.
Disenchantment Part 3 works even in spite of itself. It may not suit everybody's taste, but if you've been on the fence about it up until now then this may be what finally helps you decide it's worth it.