In the supposed words of George Washington, "I Can't Tell a Lie." The topic in question is which of the two main racing genres I prefer: arcade or simulation. Over the past decade, I've switched mainly to simulation racers. I stated as much in my recent review of Project CARS 3.
As a result, I was a bit hesitant to review the latest entry to the Dirt franchise. That said, I am a huge fan of Codemasters, with an almost exclusive list of racing titles over the past decade. Some of these were the reason I got into simulation racing. So, perhaps, Dirt 5 wouldn't be a racing title I'd be opposed to.
Upon booting up the game for the first time, you're met with an over-the-top cartoonish UI. It has very simple navigation with a light feel to traversing the menus, despite the graphics. While the UI screams '90s-style arcade, it feels a lot more modern and streamlined.
In addition to the classic, bright colours, the background soundtrack matches the aesthetic in Dirt 5. The punk-style, heavy guitar track is reminiscent of the era. The soundtrack is interrupted at times by means of the of radio-style podcasts from AJ (Troy Baker) and Bruno Durand (Nolan North).
This isn't your average voice cast, with Baker and North featured among some of the more popular titles, including The Last of Us and Uncharted, respectively.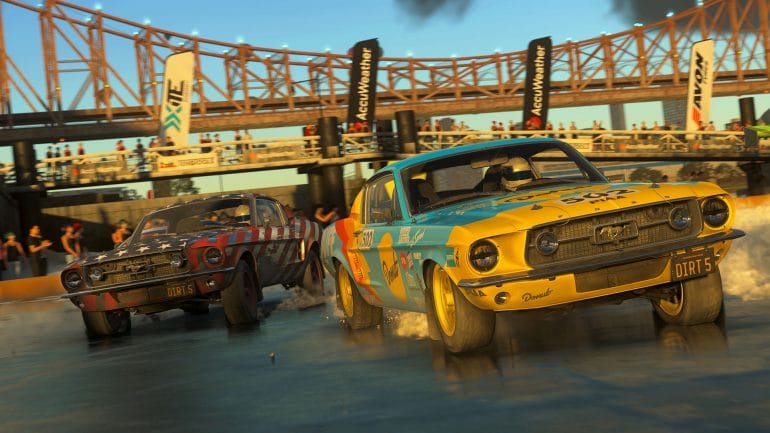 Despite this A-level voice cast available in Dirt 5, it feels unnecessary. It comes across as chatter you'd hear on the radio while on a drive as opposed to guiding you through the game's career mode. There isn't any useful information broadcast from the podcasts. Instead, what you get are two guys having a casual chat among themselves. And this makes it easily ignorable. And I proceeded in just that manner.
It's easy to skip through all the glitz and glam Dirt 5 attempts to provide as a side piece. And I actually think it's designed that way. For those who don't care much for any of it, you can simply keep hitting the skip button and proceed to what the game does best: race.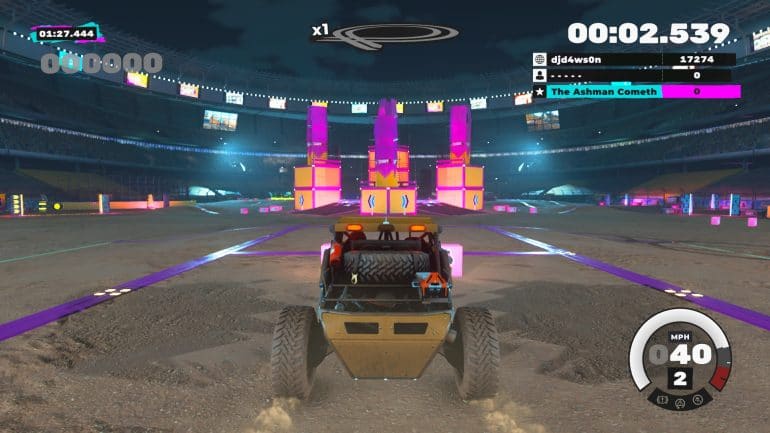 There are a few options to choose from when you're ready to hit the track. The most meaningful of these being the Career mode. This is no surprise, the basic premise of almost all modern racing titles. Here you'll find 60+ cars to choose from across 13 classes. But unlike the standard classes of most racing games, Dirt 5 offers a great mix of off-track cars. From your standard rally car to trucks and tractors and everything in between. It's a nice change-up over what I've become accustomed to.
In addition to the classes of cars available, there are a number of different types of settings when it comes to races. For example, the rally cars allow you to drive across your standard rally circuits, as well as the more obscure ice tracks. There are various stages of difficulty to be had with each type of track. Each of them also requires a unique driving style. Some you can go full-throttle gaining advantage from raw pace, while others need a finesse on the throttle to keep the car in control.
The variation of cars also requires their own driving style. Rally cars provide a more expected race, while the likes of the trucks are high torque but poor cornering creating, needing you to pay careful attention around the tighter bends. My most dreaded race is that of the tractor, with high speed and zero control. That, however, is the idea.
In addition to the multitude of cars, there are plenty of tracks in Dirt 5. The career progression takes racers across the globe, from Italy and Greece in Europe, to Cape Town and Morocco in Africa. There are 10 tracks available at launch, with plenty more to come I'm sure.
But if that isn't enough for you, there is the option to build your own track in Playgrounds. This level creator allows you to take the reins of setting the stage for your next victory. Every element you can imagine is available for you to enjoy. As a result, you can spend hours at a time painstakingly creating your desired track. Players can save and upload their tracks to the community and even download other custom tracks created by others. This means that there's potentially an endless list of tracks to enjoy whenever you decide to pick up the controller. This creates a massive world to dive into.
Further to the many tracks available, default or custom, there is a fundamental element that changes every track for the better: the weather. The varying weather and environmental elements have an effect on the state of the track. Wet conditions can create a muddy race, with heavy downpour creating standing water. There are even the likes of snow to change things up even further.
But, my favourite feature of the environment is that of the surroundings. Tracks can lie along with coastal towns, where waves crashing against the rocks can also hit the track and cause a change to the track. The unexpected timing of these waves, for example, can even mean it lands as you hit the area, sometimes creating unexpected aquaplaning.
The mix of cars, tracks, environments and weather conditions make for an ever-evolving experience. It's extremely unpredictable. Dirt 5 is a 2020 racer going back to its 90s arcade roots.
Apex Interactive provided a digital key to Fortress of Solitude for the purposes of this review.
The Review
Dirt 5
Dirt 5 is a fast-paced arcade racer with very little room for mistakes. This is what makes it a great high-octane, adrenalin-filled title.
PROS
Pick-up and go racer
Beautifully crafted environments
Great frame rates
Choose how much of the story you want to explore
CONS
Unnecessary storyline
No real car customisations
Review Breakdown
Gameplay

0%

Graphics

0%

Replay Value

0%

Sound and Music

0%