Although all signs pointed to the fact that we would get a Constantine 2 with Keanu Reeves reprising his role as John Constantine, everything is still being determined. As Reeves reveals more about the current state of the movie at DC, it is starting to look like James Gunn and Peter Safran might cancel Constantine 2.
RELATED: HBO Max Has Cast Its New Constantine Actor
Not A Sure Thing
Although Akiva Goldsman teased a script for the sequel to everyone's favourite demonologist, Constantine, Keanu Reeves seems to think that the movie could be much better, mentioning that the entire concept is being re-evaluated at DC. While promoting the upcoming release of John Wick 4, which is hitting theatres on the 24th of March, 2023, Keanu Reeves was asked about Constantine 2 and had some unfortunate news for hopeful fans.
According to The Matrix actor, DC is re-evaluating whether they want to make a Constantine sequel with him in the movie to reprise the role, recast the position, or scrap the film altogether. Reeves is keeping his fingers crossed to see the results, and I'm sure plenty of fans are crossing their fingers with him. Reeves also recently responded to a Reddit "Ask Me Anything (AMA)" fan, saying that he hopes the movie gets made, confirming once again that the film isn't a done deal.
RELATED: Constantine 2: How Keanu Reeves' Antihero Could Unite the DCEU
Rumours About Constantine 2 Cancellation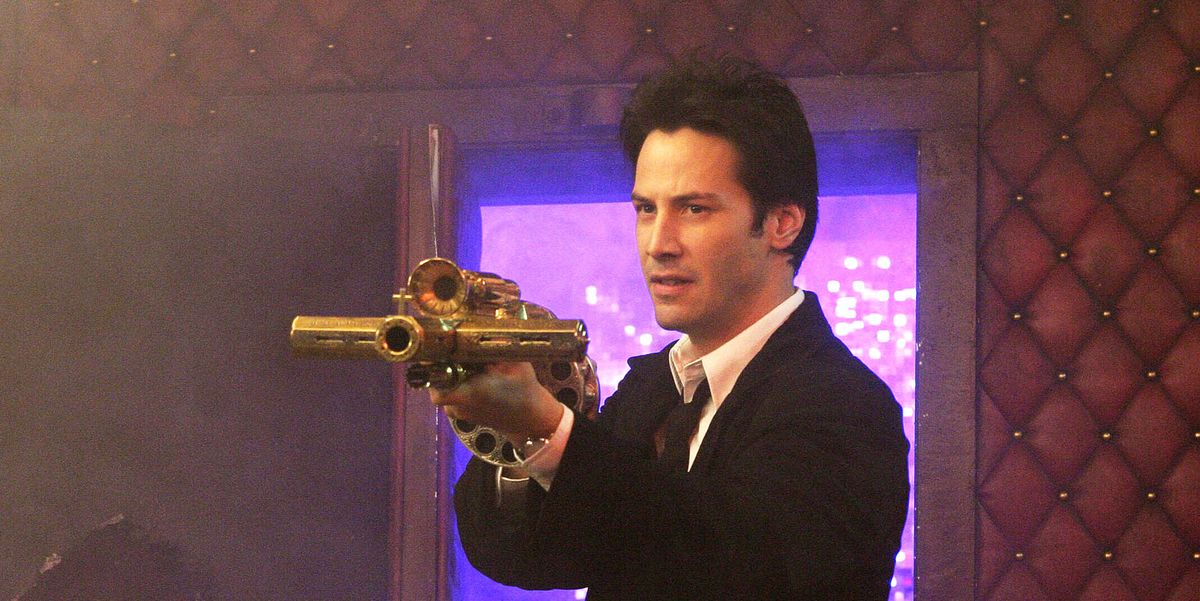 A rumour started in February that Constantine 2 had been cancelled because Keanu Reeves would be "jumping ship" from DC and was Marvel bound. However, this rumour was quickly put to rest when an official announcement was made that the sequel would be moving forward, that Reeves would be reprising his role and an extra excellent tip that Francis Lawrence would also be returning to direct the sequel.
Akiva Goldsman, who seems to be in charge of the script, said, "We're starting with two projects that are fun and very much Warners; the sequel to I Am Legend, with Will and Michael B. Jordan, and the sequel to Constantine with Keanu Reeves that Francis Lawrence is going to direct. So I'm coming out of the gate fast. We're doing it with JJ Abrams, and Francis and Keanu and I have been pretty deep in the story-breaking stage."
RELATED: The Mystery Meanest Teacher Is Basically John Constantine in a Goosebumps Story
Keanu Reeves on Constantine 2 and His Interview with Cinema Blend
Despite the excitement for the character, Reeves previously told fans that DC was re-evaluating whether they should follow through with Constantine 2 or not. However, when asked about the film during an interview with Cinema Blend's Assistant Managing Editor Eric Eisenberg, he neither sounded nor looked particularly hopeful about his future as Constantine. "We're trying," he said, not looking particularly hopeful about it. "I don't know if it's going to happen."
Eisenberg decided to remain more optimistic and then asked if Reeves was planning on going blonde if he got to play the character again. "I know, I'm playing a different Constantine than the comic, you know and I… I do get a bit of trouble for that. But then I would be grey. Yeah, I don't… I don't know if I look good as a blond, but uh… but I appreciate that, and I do… yeah… Hopefully, I get to do it [shakes head], but I don't know."
It Could Be A Part Of Elseworlds
Now that James Gunn and Peter Safran have been named the heads of the new DC Studios, everything is changing. Before the two took over, Warner Bros. was apparently talking about giving away some of their DC IPs to whoever was interested in them, which might be how Constantine 2 almost became a reality. During Reeves' interview, Eisenberg hinted that Reeves' Constantine 2 could still feature as part of DC's Elseworlds, to which Reeves replied: "Yeah, yeah. Hopefully, we get to play."
Now that Black Adam, Man of Steel and other JJ Abrams DC projects have been cancelled. However, other movies like Joker and Matt Reeves' The Batman are still functioning outside of Gunn's new DCEU, it is possible that Constantine 2 could become part of this group of films, which is being called DC Elseworlds, and function separately from Gunn's DCEU. Whatever DC decides, I will be happy with any option that gets me a Constantine sequel with Keanu Reeves as John Constantine.
RELATED: Constantine: Peter Stormare Says A Sequel Is In Development
TL;DR
Akina Goldsman's statements made it seem like Constantine 2 was a done deal.
According to Keanu Reeves, the movie isn't set in stone and is being re-evaluated, so we might never get it.
Constantine 2 could become a part of the DC Elseworlds, allowing it to function separately from James Gunn's DCEU.
Do you want to see Constantine 2 come to life?
Featured image by Spdrmnkyxxii.