Devil May Cry V was one of those games many of us hoped would be made, but didn't really think it likely that it would be. The previous games had come out at a reasonable pace until 2008, when Devil May Cry 4 was released. After that, we had the less-than-adequate reboot in 2013, and it seemed the franchise was dead and buried. But just less than a year ago, the announcement came that we would be getting a proper sequel, 11 years after the game it follows. The hype has been enormous – can anything deliver to that level of expectation? Is it reasonable to expect that it should?
A lot of this won't make sense to newcomers, but after 4 games there's really no way to get around that. I'll try to make it as clear as I can. Devil May Cry is set narratively about 5 years after Devil May Cry 4, and follows series mainstay Dante the Demon Slayer, Nero the young warrior from the previous game, and newcomer V. All three are playable at various stages of the game, but we will get to that. The three are brought together to defeat a powerful demon called Urizen that has infected the city of Red Grave with a gigantic demonic tree called the Qliphoth. Things do not go well, and the trio are forced to retreat, damaged and bruised. The main story picks up a month later, after things have really gone to hell in the city, and to try and save Red Grave once and for all.
The main missions start with Nero, now running his own branch of the demon-killing agency called Devil May Cry. His major motivation is that Urizen cut off his powerful Devil Bringer arm that he used in the previous game. He is joined by mechanical guru Nico, who has manufactured various snap-on and snap-off mechanical arms in place of the missing one, which are named Devil Breakers. Nico is one of the major new characters to the franchise, and you will either love her or hate her. She seems like one of those ones that doesn't inspire a middle ground in people. Personally, I love her, and enjoy her banter-ful relationship with Nero. It's one of the rare cases where a man and a woman in a narrative are just friends, and speak to each other like friends, with no weird romance side-story.
Nico is one of the major new characters to the franchise, and you will either love her or hate her.
V becomes playable later, and Dante even further after that, with all characters playable by the middle of the game. Almost everything about where they were until then and how they got there is a spoiler, so I won't explain too much. The missions jump around in the timeline a little bit, between the course of a month and a half, but the screen constantly tells you what date and time the current mission is taking place, so it's easy enough to keep track of.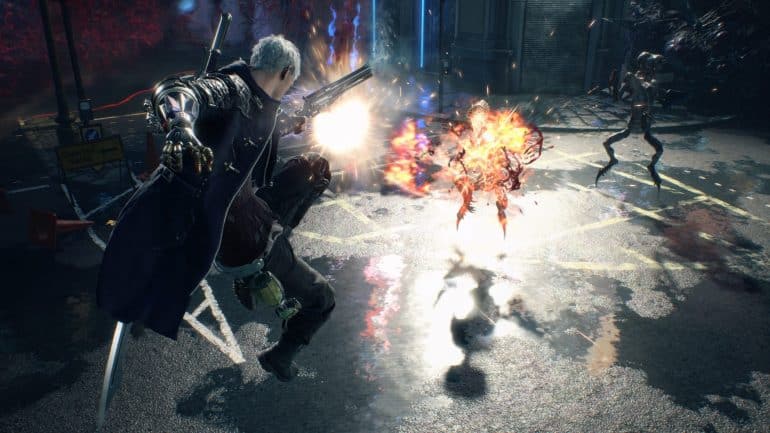 Overall, I think the narrative is good, with some great developments and character building, but on the whole, I don't think it hits the absolute highs of Devil May Cry 3 and Devil May Cry 4, but I also don't think it falls into some of the lows from those games too. The major wasted potential for me is that Lady and Trish are brought into the game basically just to be damsels in distress, so they feel a bit pointless. Devil May Cry, in general, feels like a very compact game compared to others, where plotlines are narrowed down and focused and the overall scope is not so grand. And in many ways, this isn't a bad thing, but it does impact the level design a bit. What I feel it does do very nicely is have several callbacks and mentions to events from previous games in the series, honouring the fact that they happened, but not relying on them solely for fanservice.
What I feel it does do very nicely is have several callbacks and mentions to events from previous games in the series…
I get really into the story myself, but let's face it – most people come here for the gameplay. It is, without hyperbole, excellent – and if you came to this game for that alone, then you will be satisfied. We have three characters, each with their own battle system, but all three maintain the tried, tested and loved Devil May Cry gameplay loop of technical and stylish moves that are scored in real time based on style, and which allow you to do any number of juggles, leaps, twirls, combos and power up attacks. When you get into it properly, it's almost zen-like in how it affects you. And when you hit that elusive SSS ranking, you really do feel like you've earned it.
Each character has ranged attacks, melee attacks and ways to dodge or close distance. Nero still has his trademark Red Queen sword, and his Blue Rose pistol. His new robotic Devil Breaker arm can allow him to grapple to enemies, or pull enemies towards him. His sword can still be revved up for extra damage, as in the previous game (what a sentence!). The biggest criticism about him before was that he felt too boring compared to Dante, but this time the Devil Breakers help fix that. You can equip a variety of them, and they each have a unique quality, from functioning like a drill, shooting out rockets, or bursts of electricity, all the way up to freezing time in an area. If you are hit while using one, it breaks and cycles to the next one. You can also explode one manually to move to the next one, and you can also launch a super move with one that will make it explode when it is done. These are all consumable items, and if they break, you must pick up another one in a level or buy one. The only irritating thing is not being able to switch between them freely in a mission, but I didn't mind it too much.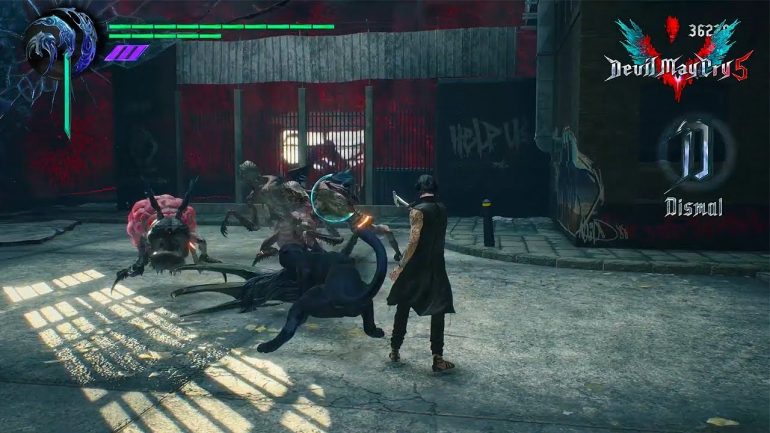 Dante is much the same as before in Devil May Cry 4 – he has his broadsword and his twin pistols as his default, and will acquire other new and exotic weaponry during the game. By the end, he has 4 melee weapons and 4 ranged weapons, and these can all be equipped at once and swapped through in real time during a mission. They all have a range of functions and no one weapon feels like another, so there's always a reason to swap between them or find out which one you like best. I don't want to spoil them all too much, but they range from the functional to the absurd, which I think is a good balance for this series to take in general.
V is the dark horse in this title and has a very unique fighting style.
Dante maintains his 4 Styles, which can be swapped between also in real time. These modify the special skills he can do at any time, and include Gunslinger, Swordmaster, Trickster and Royal Guard. They allow for a variety of gameplay preferences to be used with Dante, and I personally swapped between Trickster for teleportation and Swordmaster for damage. The main thing about Dante is just how much variety he offers, allowing for so much freedom.
V is the dark horse in this title and has a very unique fighting style. He does not attack directly himself, but instead uses two summoned animals to achieve the same thing. His ranged attacker is a raven with lightning powers, and his melee attacker is a panther. His ultimate attack is a giant golem that lasts for a brief period of time, but in which V can even ride the beast around. V can order them to perform combos in the same way a normal character would, and when an enemy reaches low health, V must teleport onto it and strike the killing blow. His summoned animals have their own health bars, and if those are depleted, they must take some time to recharge. It's not as refined a system as the other characters fighting is, but its definitely interesting and fun. It's the closest a real-time action game has had to making a summoner class viable, and I wouldn't actually mind seeing another game copy this system a little bit.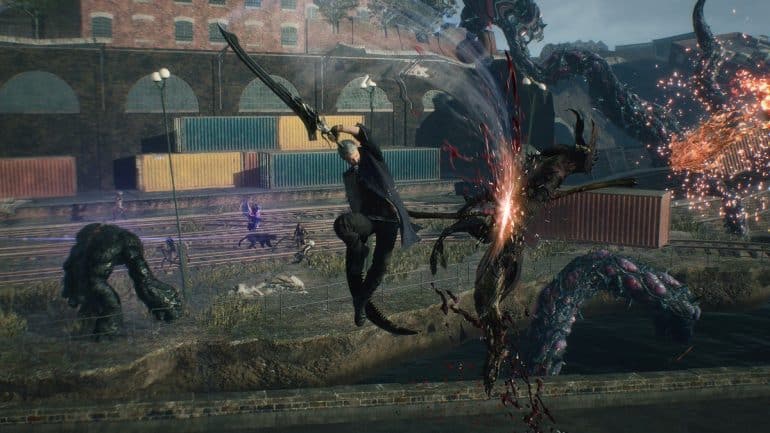 The level design is fine when you look at rooms individually. There is variety, although the demonic infestation is a lot more urban this time than in any other game (barring Devil May Cry 2). I think it's not quite as impressive a series of progression as it was in Devil May Cry3 , where you really did feel like you were climbing up this big tower to get to the top. There are virtually no alternate routes this time, and it can feel a bit like a series of connected rooms where enemies are fought. Enemies themselves have a nice variety, and some of the bosses are okay, while others are merely forgettable.
The graphics and performance in Devil May Cry V is outstanding, and it really looks amazing in motion.
The graphics and performance in Devil May Cry V is outstanding, and it really looks amazing in motion. Characters look emotive and expressive when they talk, the voice acting is great, and the small effects are everywhere. Cut-scenes are wonderful and have that same frenetic, crazy style of visuals that match the gameplay and tone of Devil May Cry as a whole. My favourite small effect was seeing how Dante, after a regular fight, had blood from an enemy still stuck in his hair in a realistic manner.
The music is good too, with Nero's theme song becoming especially addictive. It ties into the gameplay very well, with the battle music being muted at first but getting more audible and louder as you start to do better and more stylishly in battles, which is an excellent incentive. So, if you don't hear the battle music much, start playing better.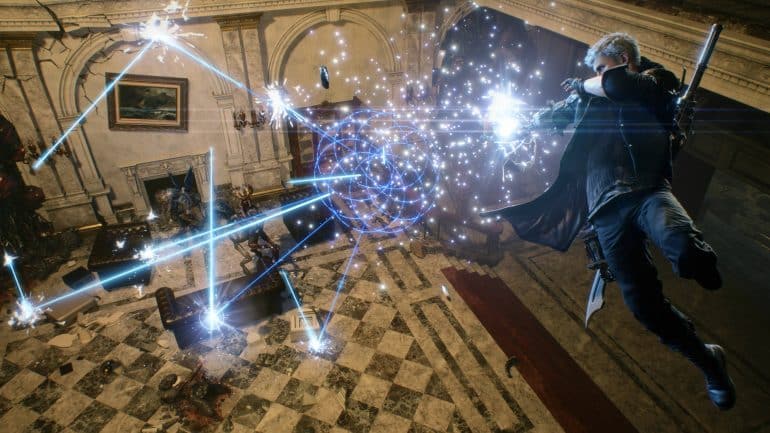 There is an interesting idea for an online mode here too, although not very complex. At times, you can see other characters from separate levels travelling through the same general area as you, and these characters can be played by actual human players online. It's a nice touch, but not strictly speaking necessary. I think I only saw another human player once, although the game told me they were there more often. At the end of a level, you can rate the human players for their performance.
The main campaign is not exceptionally long, but is designed for replayability, with increasing difficulty levels and new powers still being unlocked as you go. In this way, Devil May Cry V offers much for casual and professional players, as the pros will definitely go all the way up to the most hardcore mode happily, while casuals can still enjoy the game for what it is on the basic mode.
My final opinion on Devil May Cry V is that the gameplay is as refined as the series has ever been, the character interactions are fantastic, the graphics and music are great. The plotline is acceptable but not standout, and the level design is lacklustre in part.
The Review
Devil May Cry V
Is it the best game of all time? No. Is it one hell of a Devil May Cry game? Absolutely.
PROS
Character interactions
Graphics
Music
Review Breakdown
Storyline

0%

Gameplay

0%

Graphics

0%

Replay Value

0%

Sound and Music

0%